The Danforth, also known as Greektown, is stacked with indie boutiques, vegan-friendly/eco-chic shops and (of course) grade A Greek restaurants. While all of these are awesome, they don't come in very handy when you're trying to put together a wedding. Luckily, there are a few under the radar treasure troves that'll make planning easy as pie - you just have to know where to look.
Here's how to plan the ultimate Danforth wedding.
Venue: The Forth (629 Danforth Avenue)
If you're looking for a place that does it all, make a beeline for The Forth, a restaurant/venue hybrid that's perched near the corner of Pape and Danforth. It provides two floors of impeccably decorated space, on-site vendor management, audio-visual services, tech services and more. It's conveniently located a few strides from Pape Station, so your guests won't need a costly shuttle service to get to your venue - they can just hop on the subway.
Dress: Becker's Bridals (387 Danforth Avenue)
Becker's Bridals opened in 1946, making it Toronto's oldest wedding dress shop. Aside from carrying the lines of well-known designers like Paloma Blanca, Watters and Pronovias, it also makes frocks in-house under the Barbra Allin label. The shop sells dresses of all shapes, sizes, styles and prices, so you should have no problem saying yes to a dress. Tip: if you need a bit more variety, head across the street to Vogue Sposa (304 Danforth Avenue) - it carries brands that you won't find at Becker's, like Tara LaTour, Rosa Clara and Anais Anette.
Suit: Korry's (569 Danforth Avenue)
A few shops east from the corner of Carlaw and Danforth you'll find Korry's, a menswear mecca filled with designer and private label menswear. Its stock has been handpicked by owner Saul Korman - a man once dubbed "the Duke of Danforth" by the city's mayor - who's been tailoring and selling suits for over half a century. Inside you'll find duds by Canali, Coppley, Eton of Sweden, Z Zenga and more.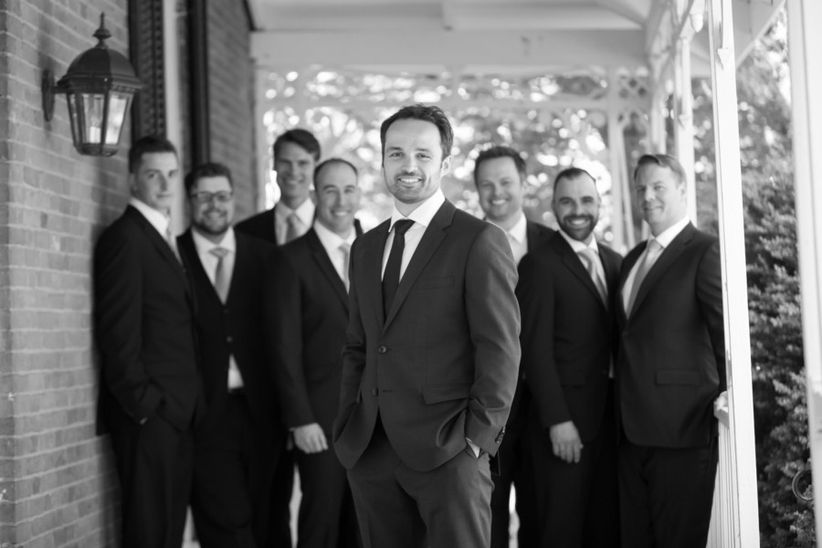 Flowers: Percy Waters Flower Market (1360 Danforth Avenue)
Founded in 1911, the Percy Waters Flower Market has been selling blooms on the Danforth for over a century. Its florists are well-versed in the world of wedding flora and fauna, having crafted vibrant bouquets, monochromatic centrepieces, flower crowns, ornate boutonnieres and everything in between. If your looking to limit your search to the Danforth's west side, Fresh Floral Creations (179 B Danforth Avenue) and Peter Paul's Flowers (319 Danforth Avenue) are worth looking into.
Cake: Pâtisserie La Cigogne (1419 Danforth Avenue)
With all the amazing Greek bakeries on the Danforth you may be tempted to forfeit the cake altogether and fill your sweet table with loukoumades and bougatsa instead. While you should probably visit Athens to pick up a couple dozen desserts, it couldn't hurt to have a cake to cut into on your big day. Luckily, Pâtisserie La Cigogne is a mere few blocks away. The bakery crafts stunning wedding cakes in all styles, from sleek all-white confections outfitted with sugary flowers to modern, multi-coloured cakes. It also does croquembouches if you and your S.O. prefer pastries.
Catering: Elle Cuisine (56 Hampton Avenue)
Slightly south of the Danforth on Hampton Avenue sits Elle Cuisine's catering kitchen. While the dishes here are ever-evolving, some current options are seared ahi tuna ceviche, grilled whitefish tacos, handmade buffalo ricotta ravioli and slow-cooked chicken confit. Whether you want to stack your reception with hors d'oeuvres or add an extra element of interest with interactive food stations, this company can handle the job.
Favours: AVOCA (176A Hampton Avenue)
While you're on Hampton, stop into AVOCA to order some favours for your wedding guests. The shop just opened its doors, so not only will you be gifting them with some tasty chocolates and truffles, you'll also be introducing them to their new favourite shop for sweets and treats near the Danforth. Image: Jeff Bowen via Flickr
Rehearsal Dinner: Globe Bistro (124 Danforth Avenue)
Globe Bistro is a neighbourhood favourite that serves up farm to table eats in its swanky modern space. On the menu you'll find dishes like elk loin, Fogo Island cod and beef cheek ravioli (drool!). Head past the first floor's hustle and bustle and you'll find a private dining space on the second level fit for a rehearsal dinner. It has a capacity of up to 50 seated diners, so you can invite a few extra friends along or even host an intimate wedding here. Images: Vanessa Galle (left); Robert Skuja (right).
Registry: iQLiving (542 Danforth Avenue)
Want your guests to help you outfit your home with some new kitchen gadgets and dinnerware? Make your way a little west of Carlaw and Danforth and you'll find iQLiving, a homeware haven filled with all the appliances, bakeware and bath goodies you'll need to turn your house into a home. Remember to throw the necessities on there along with some fun gizmos like spiralizers and mandolines. Pictured here: The Le Creuset Oyster collection available at iQLiving.