8 Essential Questions to Ask a Men's Formal Wear Shop
Ready to start hunting for your wedding ensemble? Don't forget to ask these questions when you hit the stores!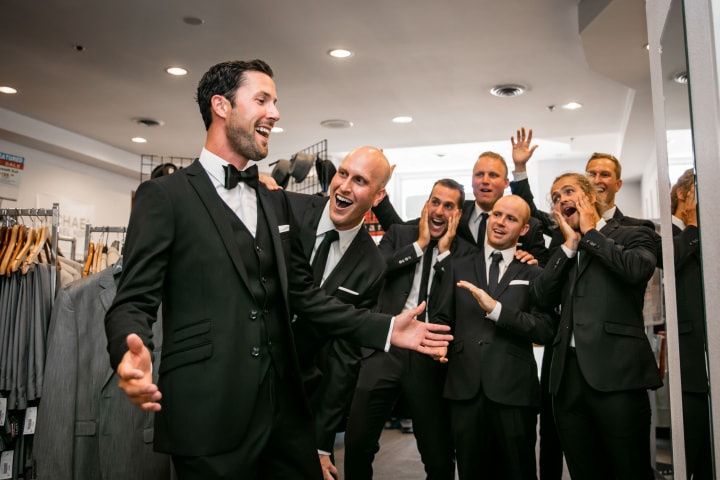 It's time to get your wedding look worked out! No, finding your perfect suit probably won't be as taxing as bridal gown shopping, but it can still be tough. Before you head out into the wonderful world of formal wear, there are a few Qs you'll want to keep in mind. These will help you find the best suit and supplier for your big day.
Here are a few essential questions to ask a men's formal wear shop.
How many people can I bring along to my appointment?
Different stores have different rules when it comes to party size. You'll want to ask how many guests you're allowed to bring along so that you don't show up with too many folks. We suggest sticking to four or five people so that you don't have too many cooks in the kitchen offering up their opinions.
Do you carry a number of styles in-store?
Depending on the type of store you're going into, you may not even be able to try on a suit. Some spots will allow you to look through catalogs and view the suits on mannequins, but won't have an in-store supply. Others will have a bountiful supply but very few customization options. Make sure you know what type of appointment you're looking at before setting foot in the store.
Can I customize my suit?
Some gents are fine with buying off the rack, while others prefer putting a little bit more TLC into their wedding look. If you fall into the latter category, you'll want to ask the store if they offer suit customization. Some will allow you to tweak existing designs while others will build you a one-of-a-kind ensemble from the ground up.
How long does it typically take for a suit to come in?
Every store is different, so it's important to ask this question. If you're getting a custom made suit, it may take months to craft. However, if you're visiting a shop where they stock all their suits in-store, you may not even need to wait.
Do you offer alterations?
Unless you're truly #blessed, the suits you try on probably won't fit you like a glove. You may need the pants hemmed or the jacket taken in a few inches and that'll require the helping hands of a tailor. Ask if they do in-store alterations or if they have any tailors to recommend, otherwise you'll need to hunt one down on your own.
Do you stock accessories?
No groom's ensemble is complete without a few bells and whistles. Ask if the store carries extras like shoes, printed socks, ties, belts and pocket squares so that you can take your outfit to the next level. If they don't, you may need to make multiple stops at specialty stores.
Are there any additional fees I should know about?
The price tag on the suit is rarely the amount you'll actually be paying, so be wary when shopping. If you need a ton of alterations or custom features added to your suit, you may be looking at a heftier bill than expected. If you're renting a tux or suit you'll also want to inquire about damage fees (you never know what'll happen on your wedding day!).
What is your return policy?
If you're renting a suit or tuxedo, this question is an absolute must. Make sure you know the ins and outs of the store's return policy so that you don't get stuck with any extra fees after your wedding. You'll want to know exactly when you need to have your outfit (and any accessories) returned by so that you can schedule a trip to the store before jet setting away on your honeymoon. Pro tip: don't have the time to stop by the shop? Ask one of your trusty groomsmen or a family member to drop it off for you!