7 Essential Grooming Products Every Groom Needs for His Wedding Day
Grooms, don't forget to throw these products in your bag before getting ready for your wedding ceremony!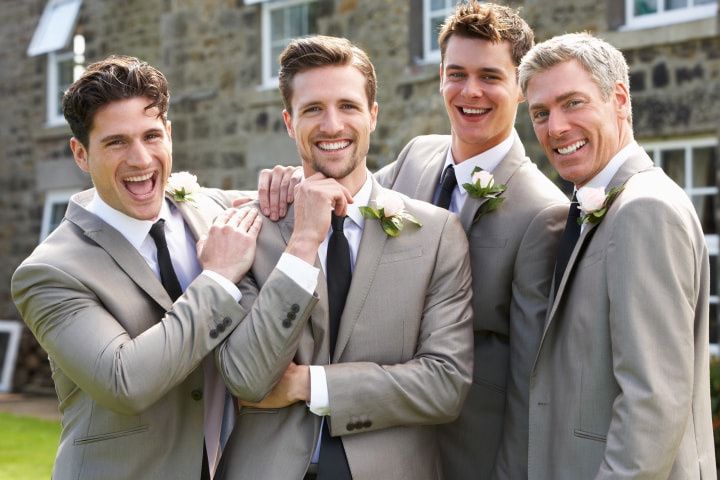 While your grooming routine will probably be far less complicated than any bride's, it does have a few essential steps, and these require the right grooming products. From the right cleanser to a nail kit, this is everything you'll want to have in your bag on your big day. Keep in mind that, depending on your look, you may want to add a few more lotions and potions - these are just the basics.
Here are a few essential grooming products that every groom needs.
Cleanser + Moisturizer
Starting off with a good skincare system can do wonders. Whether you were way too excited to sleep the evening before your wedding or indulged in a few too many drinks at your rehearsal dinner, cleansing and moisturizing will rejuvenate your skin and leave you with a fresh face on your wedding day.
Beard Oil
Have you followed Jake Gyllenhaal, Ryan Reynolds and Ben Affleck's lead and grown out your facial hair? Well, you're going to want to invest in some beard oil. This handy dandy grooming product will smooth and condition your beard as well as the skin underneath. I guarantee you'll be using it even after your wedding day, so the purchase will be well worth it.
Comb
If your hair isn't buzzed, you probably run a comb through it just about every morning - and your wedding day should be no different. Pack it along so that you can style your locks with more than just your fingers.
Gel, Pomade or Hairspray
Step two to styling your hair is adding a bit of product. Now, you probably know what you like in this department, so roll with that. If you style your locks with pomade on the daily, don't use your wedding day to give hairspray a try. You want it to last from dawn until long after dusk, so you should be confident that it's locked in.
Cologne
Smelling good is almost just as important as looking good. Spend a little time selecting that perfect wedding cologne and don't forget to throw it in your bag before heading out to your venue (you probably don't want your Old Spice deodorant to be your signature scent on your wedding day). Think about the types of fragrances you love, the types of fragrances your partner loves and try to find the perfect middle ground.
Concealer
Don't be afraid! Yes, concealer is "makeup" but that shouldn't put you off grabbing some for your big day. It can do wonders for you if you don't get any sleep or if you face an acne flare-up on your big day (sometimes the odds just aren't in our favour). While you may be tempted to steal some from your partner's makeup bag, we highly suggest picking up your own so that the colour match is on point.
Nail Kit
You should be looking like photo-ready from your head to your toe(nail)s, so bring along a nail kit. Even if you got a manicure before your wedding, it's good to have in case anything goes awry. After all, you don't want to risk having to deal with a pesky hangnail without any nail scissors! Bonus: they usually come with tweezers, so you can also get rid of any stray hairs that may have popped up overnight.
Find wedding formalwear and grooming gear on WeddingWire »