3 Wedding Dress Alternatives for Unconventional Brides
Don't want to say yes to any wedding dress? Good news, there are other options out there for brides.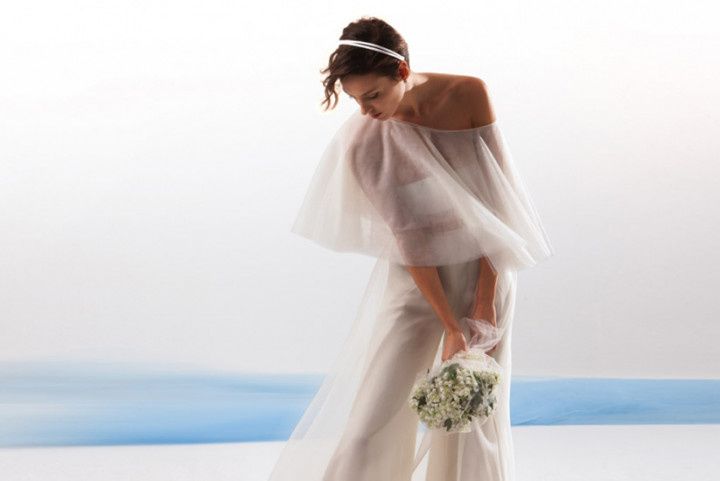 Wedding gowns certainly aren't for everyone. Some ladies dream of walking down the aisle swathed in layers of organza, tulle and taffeta, while others cringe at the idea of anything involving a bustle. And you know what, that's totally fine! If you fall into the latter category, we recommend ditching the dress. Nowadays many designers are crafting fashion-forward designs for brides who'd prefer to skip the classic silhouettes in favour of something different.
Here are a few of our favourite wedding dress alternatives.
Tuxedo (or Suit)
Tuxedos and suits are typically reserved for the men in the wedding party, but don't be afraid of donning one yourself. Even A-listers have traded in their swanky ballgowns for form fitting tuxedos on the red carpet as of late, and, honestly, if they're good enough for Victoria Beckham, Jessica Alba and Emma Watson, they're good enough for me. Power suits have the ability to make you look like a total HBIC on your wedding day and are usually much more comfortable than layers of heavy material. Plus, they're pretty easy to hunt down nowadays. Plenty of bridal brands carry them in-store, but if you can't find one you love, you can always turn to a tailor for a bespoke suit.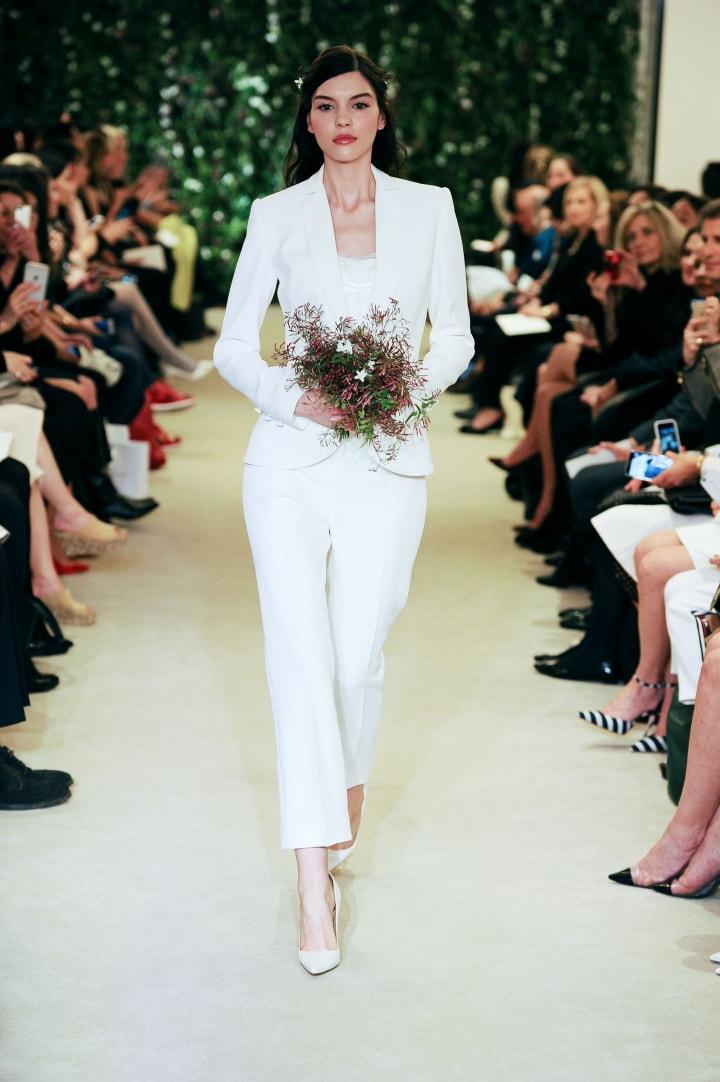 Jumpsuit
If you live in rompers during the summer time, the jumpsuit may just be the outfit for you. This option is a touch more feminine than a tux, making it the perfect middle ground between a dress and a suit. You can find them in a variety of colours and styles, from beach-worthy ivory numbers to bold lacy pantsuits. Need more proof of how awesome they are? Solange Knowles and Lauren Morelli (writer and wife of Samira Wiley) both wore them on their big days (so they've got the celeb seal of approval).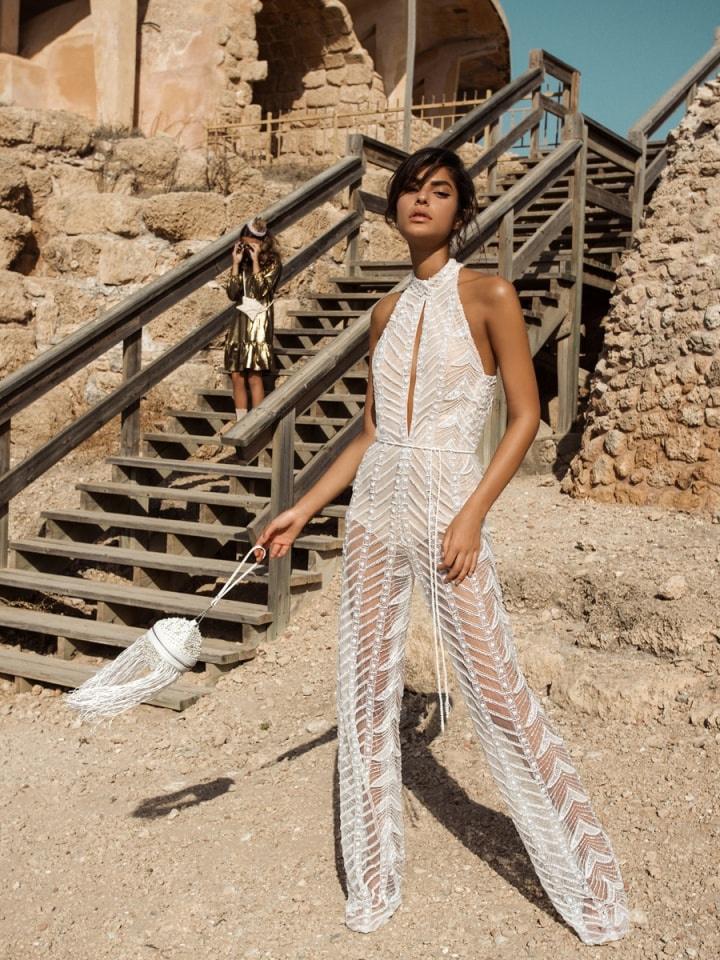 Two Piece
With a two piece you've got a ton of wiggle room. You can mix and match style, colours, necklines, hem lengths and even designers. You can swap in a skirt for pants, do a crop top or even wear a bodysuit. Really, the options are endless with this one, so get creative. We suggest trying a few different combos before saying yes to anything.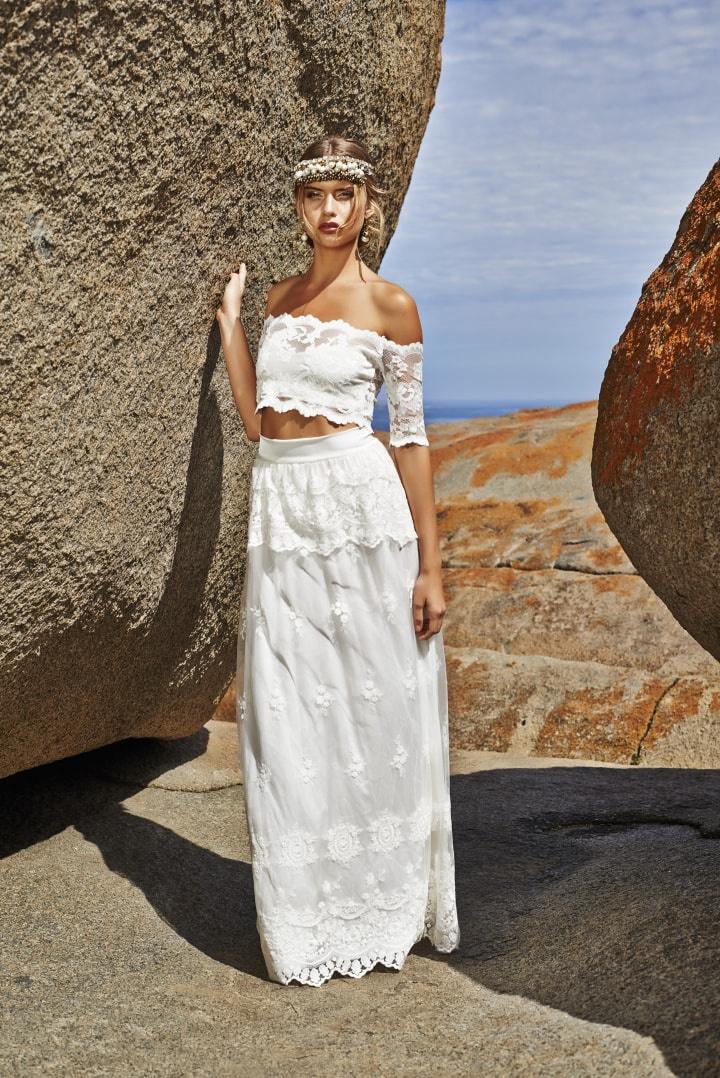 Browse our wedding dresses galleries by silhouette, neckline and designer.