Looking for some Quebec City bachelorette party ideas? While it may be a bit tamer than bustling North American municipalities like Montreal and New York, you can definitely throw a killer stagette in Quebec City. Its streets boast amazing restaurants, clubs, spas, bars and more, so you're bound to find something that suits the bride-to-be in your squad.
Here are a few awesome Quebec City bachelorette party ideas.
For the party animal: Dagobert
If your guest of honour wants to spend her last night of freedom throwing back shots and doing her thing on the dance floor, head to Dagobert. This club is known for its music events, light shows and dance parties, so brace yourselves for a real rager. Word to the wise, you'll definitely want to hire a car service if you go this route, nobody wants to get stuck being the DD at a bachelorette party.
For the foodie: Chez Muffy
Chez Muffy is the perfect Quebec City bachelorette party idea for the lady who knows all the latest food trends and is down to try just about any dish. It's one of the city's top eateries and boasts an impressive menu filled with European farm-to-table eats and a wine cellar brimming with bottles - seriously, it's home to over 700 different labels - so you can sample some splurge-worthy vino, too. The warehouse-style space is split into two levels and you can book a private section for your group if you want a little privacy for your event.
For the ameteur mixologist: Ateliers & Saveurs
Want to make your celebration an educational one? A workshop at Ateliers & Saveurs is the Quebec City bachelorette party idea for you. It offers mixology classes where you and your squad can learn to craft impressive bevvies and sample top-notch liquors. You're guaranteed to leave a little buzzed and a lot more knowledgeable when it comes to mixing drinks. P.S. If that's not your style, it also offers wine tastings and cooking classes, so there really is something for everyone.
For the snow bunny: Le Relais
If snow sports are your bride-to-be's cup of tea, take a trip out of the city to Le Relais (don't stress, it's only a half hour away). You'll get to spend your day skiing, snowboarding and hitting a bar for your obligatory apres-ski drinks. Pro tip: Stoneham, which is about an hour-long drive from the city, is another solid option.
For the zen bride: SKYSPA
So, you've spent the past few weeks trying to help the bride-to-be conquer seating charts and decor plans? She might be a little burnt out (totally understandable). If this is the case, invite her for a day of pure spa bliss at SKYSPA instead of a crazy club. It offers group packages that include access to steam baths, cold pools, saunas and relaxation areas so that your squad can get some R&R together. Want to go the extra mile? Add some massages and facials to your itinerary and you'll all leave feeling recharged and ready to tackle those wedding tasks.
For the gamer: MacFly Bar Arcade
MacFly Bar Arcade specializes in three things: arcade games, beer and grilled cheese (AKA the makings of an awesome night). Inside you'll find everything from pinball to pacman as well as a roster of amazing drinks and bar snacks, so you won't even need to change bars when you get those late night hunger pangs. We suggest heading here a little earlier than usual so that you get first dibs on machines.
For the fitness junkie: Studio Paralléle
If your guest of honour is absolutely obsessed with working out, skip the gym sweat sesh and take her to Studio Paralléle for her bachelorette party. Its pole dancing package includes a warm up, choreography class and beverages, so you won't even need to BYOB. Bonus: your class definitely won't take up your entire evening, so you can totally pair it with another option on this list.
For the sophisticate: Champlain
Afternoon tea at Champlain, a restaurant in the ritzy Fairmont le Château Frontenac, is the ideal Quebec City bachelorette party idea for the bride-to-be that wants something on the more sophisticated side. Book a table and spend your day enjoying decadent scones, finger sandwiches, cakes and (of course) tea in its luxurious dining room. P.S. The dress code is smart casual, but we suggest taking your ensembles to the next level with fancy hats or fascinators inspired by Kate Middleton and Meghan Markle.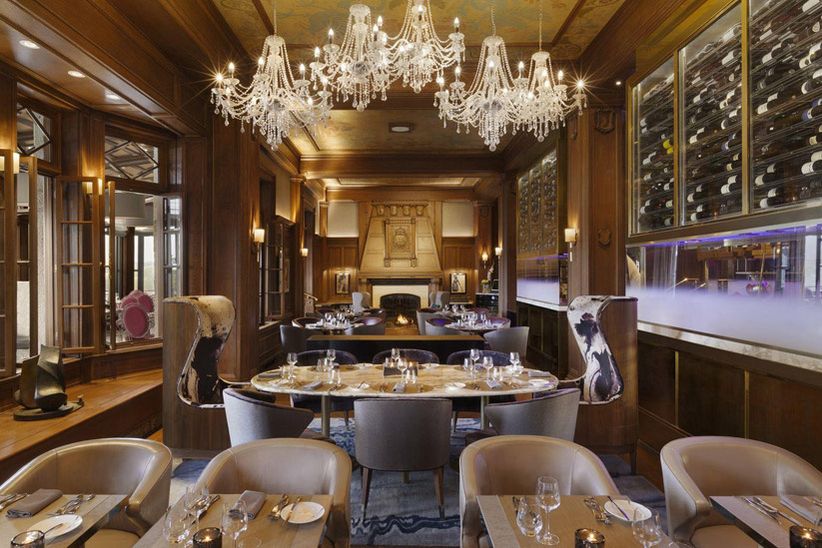 For the adventurer: Canyon Sainte-Anne
Want to spend this bach bash hiking, climbing and ziplining? Canyon Sainte-Anne is the place to go. It offers plenty of wilderness activities that'll get your adrenaline pumping and your muscles moving. You'll probably be too tired to party til dawn if you spend the day here, but you'll definitely be able squeeze in a fancy dinner once you're done.
For the nature lover: Mont Sainte-Anne Campground 
If the bride-to-be wants to get out of town, grant her wish by bringing her to the Mont Sainte-Anne Campground for a night or two. It'll take you 45 minutes to drive there and the journey alongside the St. Lawrence River will be well worth it. Reserve a campsite next to the stream and enjoy lots of activities (on-site and nearby) including swimming, hiking, mountain biking, golf and horseback riding.
Create a Quebec City bachelorette party hashtag with our Bach Party Hashtag Generator »