The Top 43 Country Wedding Songs for Your First Dance
Trying to find a country wedding song with a little bit of romance for your first foray onto the dance floor as newlyweds? Look no further.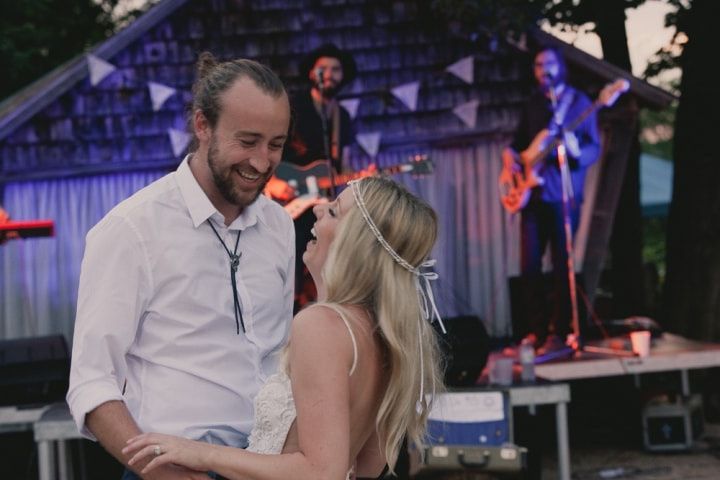 Looking for a romantic country wedding song for your first dance? From Taylor Swift to Tim McGraw to Kacey Musgraves, pretty much every country legend has penned a swoon-worthy love song. With lyrics like "Oh, if all I got is your hand in my hand / Baby, I could die a happy man" (Thomas Rhett) and "'Cause I'm keeping you forever and for always / We will be together all of our days / Wanna wake up every morning to your sweet face" (Shania Twain) it's easy to see why people fall in love with crooners in cowboy boots. These slow jams are definitely worth a listen if you haven't found the perfect soundtrack to your first dance.
Here are my picks for the top country wedding songs for your first dance.
Die A Happy Man - Thomas Rhett
Forever And For Always - Shania Twain
What I Never Knew I Always Wanted - Carrie Underwood
She's Everything - Brad Paisley
To Know Love - Little Big Town
Wanted - Hunter Hayes
You're Still The One - Shania Twain
When You Got A Good Thing - Lady Antebellum
Like I'll Never Love You Again - Carrie Underwood
Little Moments - Brad Paisley
H.O.L.Y. - Florida Georgia Line
Mine Would Be You - Blake Shelton
Making Memories Of Us - Keith Urban
Bless The Broken Road - Rascal Flatts
Nobody But Me - Blake Shelton
I Need You - Tim McGraw & Faith Hill
Crazier - Taylor Swift
To The Moon and Back - Luke Bryan
Makin' Plans - Miranda Lambert
I Cross My Heart - George Strait
When You Say Nothing At All - Allison Krauss
I Keep On Lovin' You - Reba McEntire
I Don't Dance - Lee Brice
It's Your Love - Tim McGraw & Faith Hill
In Case You Didn't Know - Brett Young
10,000 Hours - Dan + Shay & Justin Bieber
You Make It Easy - Jason Aldean
The Bones - Maren Morris
Look What God Gave Her - Thomas Rhett
Greatest Love Story - LANCO
Heaven - Kane Brown
Beautiful Crazy - Luke Combs
Then - Brad Paisley
Amazed - Lonestar
Golden Hour - Kasey Musgraves
Crazy Beautiful Sexy - Old Dominion
Drunk On Your Love - Brett Eldredge
Blessings - Florida Georgia Line
Anything She Says - Mitchell Tenpenny & Seaforth
What I See - LANCO
The Rest Of Our Life - Tim McGraw & Faith Hill
I Hate Love Songs - Kelsey Ballerini
Yours - Russell Dickerson
For more country wedding song ideas for your first dance, consult with a wedding DJ or band on WeddingWire »