Planning a marriage proposal is no easy feat - you've got to find the perfect ring, put together an epic surprise and find a location that fits the bill. If you're stuck on that last part, we're here to help. We've crafted a list of the most romantic places to propose in Calgary to make finding your engagement destination a little bit easier.
Here are the most romantic places to propose in Calgary.
Blink Restaurant & Bar (111 8th Avenue Southwest)
You really can't go wrong with a restaurant proposal, especially if your partner is a foodie. Instead of heading to your go-to dinner spot or ordering takeout, shake things up and book a spot at a fancy establishment like Blink. The restaurant is intimate, romantic and has an impeccable menu stacked with Canadian dishes and wine making it one of the best places to propose in Calgary. If you really want to go all out, book the private room and tuck yourselves away from the crowd for your big moment.
Le Germain Hotel (899 Centre Street Southwest)
Your proposal is a great excuse for a staycation! Make it extra memorable by booking a room at one of the most luxurious hotels in town, Le Germain Hotel. You'll get to spend your mini getaway indulging in room service, getting pampered at the spa and sleeping in late. While there are plenty of places in the hotel worthy of a proposal, we love the idea of keeping it intimate and popping the question in the comfort of your room (you won't even have to change out of your robes).
Carburn Park (67 Riverview Drive Southeast)
Take a break from city life and head to Carburn Park for a romantic outdoor proposal. We suggest packing a picnic basket with your S.O.'s favourite snacks and wine (obvi) and having a date by the edge of Bow River before getting down on one knee. If you want to steal a bit of inspo from The Notebook you can rent a canoe and do a bit of paddling, too.
The Botanical Gardens of Silver Springs (Corner of Crowchild Trail and Silver Springs Gate)
Looking for places to propose in Calgary that'll give your engagement a little bit of flower power? The Botanical Gardens of Silver Springs is a swoon-worthy proposal spot. It has fourteen separate gardens filled with fruit, shrubs and blooms, so you've got plenty of spaces to choose from for your big moment. Tip: if the weather is acting up, you can always go to the indoor Devonian Gardens, instead.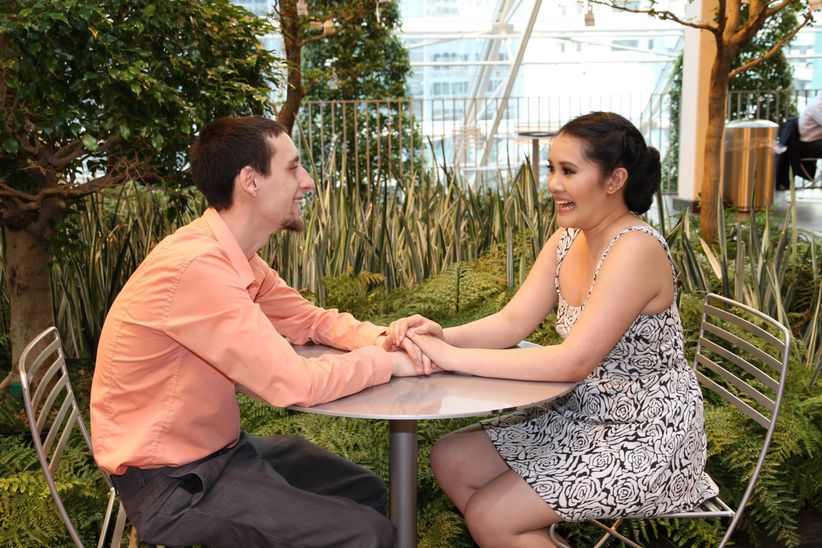 Glenbow Museum (130 9th Avenue Southeast)
If you consider your relationship a real work of art, why not pop the question in a gallery? Glenbow Museum boasts pieces by Frida Kahlo, Emily Carr, Edward Burtynsky and more, making it the perfect place to bring a lover of the finer things in life. Pro tip: if you want to make it extra special, get to know your partner's favourite artists in advance and impress them by getting down on one knee in front of one of their pieces.
Calaway Park ( 245033 Range Road 33)
If you and your partner are just a couple of big kids, Calaway Park might be the perfect proposal spot for you. Spend the day indulging in fair food, riding roller coasters and trying to win big at carnival games. Once the sun starts to set, gear up for your big moment and drop down on one knee. If you want to take it to the next level, you could even do it on the ferris wheel (just make sure you have a steady grip on that rock!).
Calgary Tower (101 9th Avenue Southwest)
Do you and your partner love being a tourists in your own city? Well, the Calgary Tower may be the perfect place for your proposal. Make it extra special and book a table at the Sky 360 Restaurant and take in the views over an amazing meal before asking your partner to marry you. Pro tip: you'll want to aim for a time when it's not overrun by vacationers, so skip holidays and weekends.
Untitled Champagne Lounge (620 8th Avenue Southwest)
Celebrating your engagement with bubbly is almost mandatory, so why not stage your proposal in a champagne lounge? Untitled offers a stunning space and a menu stacked with delicious cocktails, champagne and canapes (there are pricey and inexpensive options, so don't stress), making it a romantic place to propose in Calgary. You probably want to save your engagement for a quieter night, so consider choosing a weekday instead of a weekend.
Dinosaur Provincial Park
Calling all nature lovers! Dinosaur Provincial Park is the perfect place to bring a guy or gal who can't get enough of the great outdoors. It boasts hiking trails galore, campgrounds and beautiful sights to see. While you could pop the question after a day of exploring, we suggest spending the night in a souped up tent and saving your big moment until sunrise. Keep in mind that it'll take you a bit of a drive to get to it, but the trip is well worth it.
Rocky Mountaineer
Got a bit of time on your hands? Hop aboard the Rocky Mountaineer for the ultimate Canadian vacation and marriage proposal. This train is far more than just a ride, it's an experience. You'll be treated to top notch service, amazing meals and unparallelled views of the Rockies. Most packages that leave from Calgary will land you in Vancouver (with a few stunning stops along the way, of course), where you can celebrate your new relationship status.
Capture the big moment! Find Calgary professional photographers on WeddingWire. »