So, you've purchased an engagement ring, you've got an amazing speech planned and you're ready to get down on one knee. Well, you're missing one thing - your location! There are plenty of romantic places to propose in Montreal - beautiful parks, gardens and restaurants worthy of your big moment, all you have to do is pinpoint the right one. Lucky for you, we're here to help.
Here are the most romantic places to propose in Montreal.
Montreal Botanical Garden
Montreal may not exactly be tropical (okay, it's not even close to being tropical) but you can still pop the question while surrounded by palms and exotic blooms - just go to the Montreal Botanical Garden. This indoor oasis is what proposal dreams are made of. Don't forget to enlist a photographer, it makes for an amazing engagement photo backdrop.
Fairmont The Queen Elizabeth
Treat yourself and your partner to a staycation at the luxurious Fairmont The Queen Elizabeth in downtown Montreal. This hotel is one of the city's best and offers a killer romance package complete with a room, dinner, champagne and rose petals. Basically, they'll handle all the heavy lifting for you - all you need to do is pen an adorable speech, grab a ring and prepare to pop the question.
Mount Royal
This probably doesn't come as a shock to you, but Mount Royal's viewing deck (pictured at top) is no stranger to marriage proposals. It offers a great view of the city and a bit of an escape from the hustle and bustle of the busy streets below making it one of the best places to propose in Montreal. If you love the idea, but would prefer a more natural backdrop, pop the question among the trees on the Mount Royal Trail, instead.
La Fontaine Park
Everybody loves a romantic picnic and La Fontaine Park is one of the best spots in the city for one. Spend a little time in the kitchen whipping up your partner's favourite meal and bring them to a secluded spot for some one-on-one time in nature. When the time is right, pull out that sparkler and pop the question.
Rio Tinto Alcan Planetarium
Your love was written in the stars and you can celebrate that by bringing your bae to the planetarium for your big moment. Though a science museum may not seem like one of the most romantic places to propose in Montreal, we can't forget how well this approach worked for Ross and Rachel in Friends. If you want to kick things up a notch, you could even name a star after the love of your life.
Clock Tower Beach
Waterfront proposals will always be a fan favourite, and while you won't be able to find a spot as picturesque as a Bahamian beach in Montreal, there is Clock Tower Beach. Cozy up on the sand and spend your day relaxing and basking in the sun (and your love). If you really want to up that romance factor, we suggest planning your perfect proposal for sunset.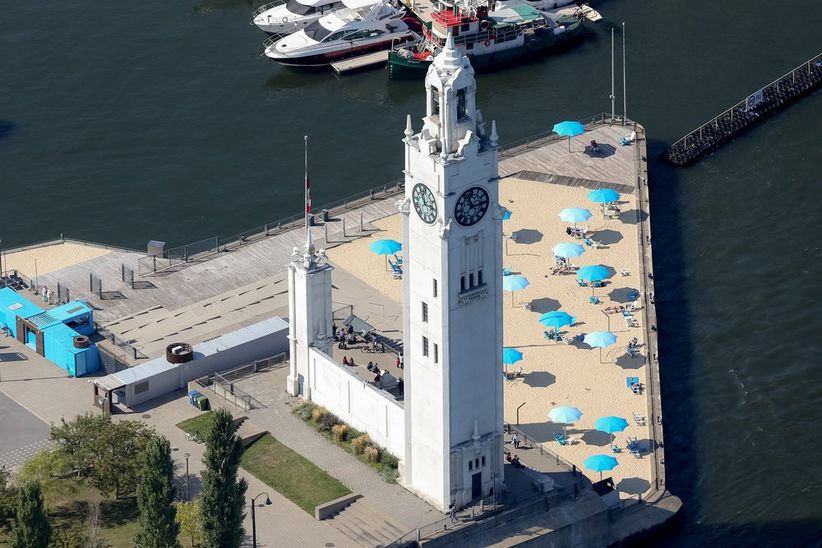 Beaver Lake
Beaver Lake in Mount Royal Park is another amazing waterfront proposal spot worth considering. Unlike Clock Tower Beach, it's surrounded by a grassy park, making it perfect for picnicking. If you want to steal a bit of inspo from The Notebook, in summer, you can rent a rowboat an do a bit of paddling or if you're aiming for a winter proposal, bring your skates and do a few laps before dropping down on one knee. P.S. it's shaped like a four leafed clover, so Lady Luck will be on your side when you propose.
Pullman
Turn your proposal speech into one big toast at Pullman! This bar boasts an impressive list of reds, whites and bubbles that'd make any wine fanatic swoon. If you want an audience for your proposal, go ahead and make a rezzy for a weekend night, but if you're aiming for something a bit more intimate, try a weekday. Tip: There's also La Champagnerie, if you're looking for a place that really celebrates bubbly beverages.
Montreal Museum of Fine Arts
Nothing impresses an art lover more than a romantic gallery date, so if your S.O. absolutely adores painting, portraiture and everything in between, the Museum of Fine Arts may just be the perfect place to propose in Montreal. Because it holds so many amazing works it can get a bit hectic, so aim for a time when it won't be brimming with tourists and families (or just sneak into an empty gallery for your big moment).
On the St. Lawrence River
Set sail on the most romantic ride of your life! Navark has several boats available (from luxury yachts to more low-key boats) for private hire, so you won't have to join a tourist group. Each trip can be customized to suit your needs, so whether you want a romantic dessert date or a two-person cocktail party, the folks here can make it happen. Pro tip: you'll want to make sure you have a firm grip on your ring when popping the question - you definitely don't want it to fly into the water.
Capture the big moment! Find Montreal professional photographers on WeddingWire. »