How to Survive Your First Holiday as a Married Couple
Ready to celebrate your first holiday as a married couple? We've got a few helpful tips for you, newlyweds.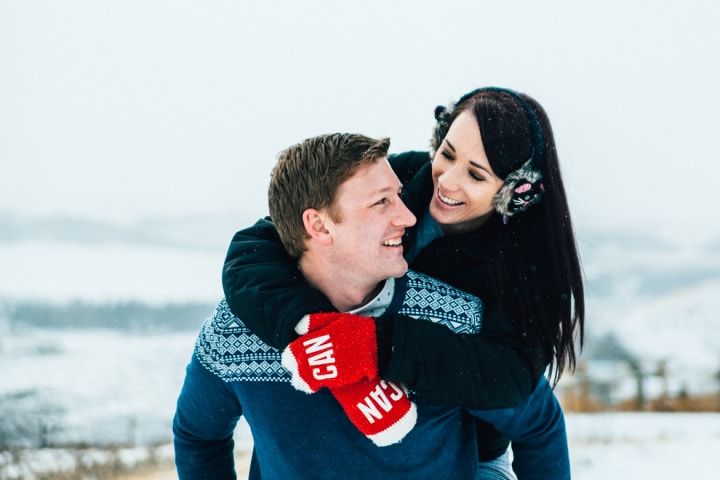 Having trouble sorting out your holiday plans? You're definitely not the only ones. Now that you've tied the knot you've got a whole new family to factor into your holiday celebrations. While this can be overwhelming, you shouldn't let the stress of seeing all your loved ones kill your festive vibe. These tips for your first holiday as a married couple should get you through the season happy, healthy and stress-free.
Here's how to survive your first holiday as a married couple.
Start with a plan
If you and your partner have been spending holidays together for years, you most likely already have a game plan in place, but if you don't, listen up. You're probably used to spending special days with your own family, but now that you've got a new set of in-laws, you may have to make some compromises. Sit down with your partner and sort out which holidays you'd like to spend with your relatives and which holidays you'd like to spend with theirs. You can always trade from year to year, or, if your families live close to one another, see them both on the same day.
Prepare to lend a helping hand
Unless you and your S.O. are hosting your holiday soiree (in which case you'll be doing the bulk of the work), you should find some way to chip in. Offer to bring a dish, curate a playlist, help decorate the place or set the table for the meal. Any way you lend a hand will be greatly appreciated by your 'rents or in-laws.
Don't turn it into a contest
Know that every family has their own holiday traditions and nobody's are "better" than the others. Remember, the goal here is not for you and your spouse to one-up each other with a more epic event, it's for you to enjoy spending time with your loved ones. It doesn't matter whose dad is better at roasting a turkey or whose brother is more hilarious. The key is to focus on the fun you are having, not what you could be doing elsewhere.
Welcome new traditions
As mentioned before, your new family probably won't do things exactly the way your family does, and that's A-OK (variety is the spice of life, after all). Instead of scoffing at the idea of a Thanksgiving sack race or Christmas bake-off, get on board and have fun with it. Who knows, you may end up loving their traditions so much that you pass them down to your kids one day.
Take the time to breathe
Holidays can be mentally, physically and emotionally exhausting, so don't forget to take a little time for yourself during your first holiday as a married couple. If you start feeling overwhelmed, make a point to give yourself a timeout or offer to run some errands. You definitely don't want to snap at your new in-laws (or your own family) about something silly.
Reach out to your relatives
If you're spending a holiday with your new in-laws instead of your own relatives, you'll want to reach out to your family and send them best wishes from afar. Remind them that while you're sad you couldn't be there, you'll celebrate with them soon enough. Bottom line: a little Facetiming goes a long way, so make time for it.
Don't stress about bumps in the road
If your first holiday as a married couple doesn't go off without a hitch, don't stress. You'll have plenty of events in the future to make up for it. Take it all in stride and know that next year will be better.
Join the "Just Married" discussion in our community forums »