Choosing a Wedding Officiant for Your Same-Sex Wedding
The wedding officiant is experiencing something of a revival in weddings today, with more couples than ever selecting non-traditional officiants, like friends or family members, to lead their ceremonies.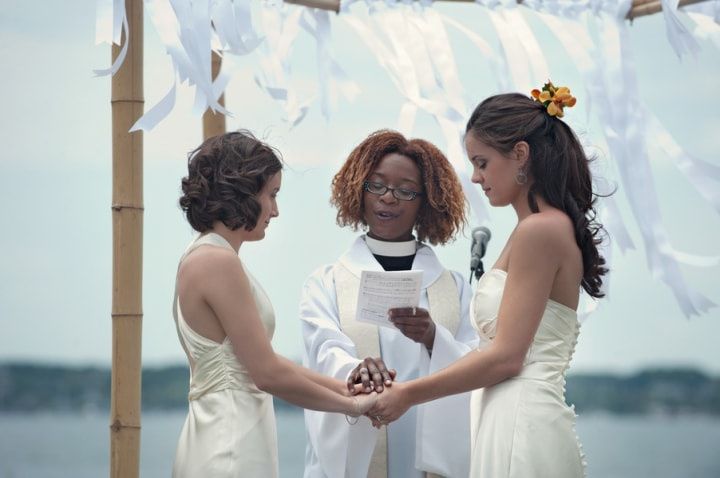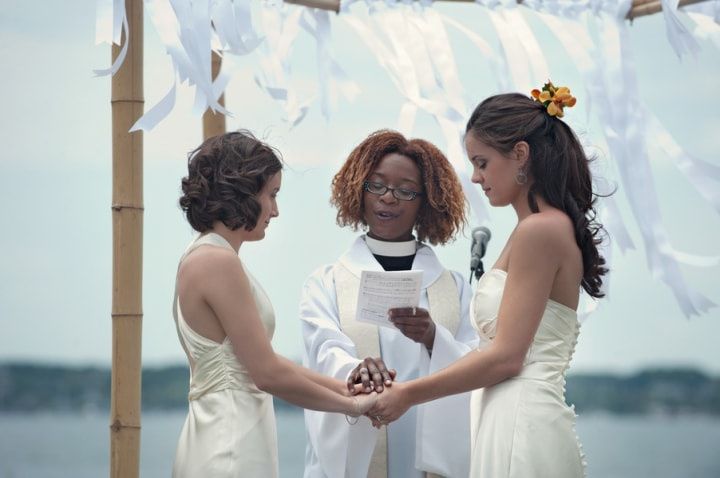 The wedding officiant is experiencing something of a revival in weddings today, with more couples than ever selecting non-traditional officiants, like friends or family members, to lead their ceremonies. For you and your partner, the choice of wedding officiant may be a bit trickier as you want to ensure whoever you choose, be it a religious leader or your best friend, is supportive of your relationship and prepared to help you create the ceremony of your dreams.
Before you begin the search for the perfect officiant, have a conversation with your partner about your ceremony. Think about what part religion will play in the ceremony, if it will have any bearing at all. Also, consider whether any cultural rituals may be important to you and your partner. These might include the African-American tradition of jumping the broom, the Jewish tradition of being wed under a chuppah or hands decorated with henna at an Indian wedding. Once you decide which traditions you'd like to include (or totally avoid), you'll have a clearer picture of the kind of officiant you'll need.
The type of ceremony you're hosting—religious or secular—will also dictate your search. Here's what to look for in any situation:
ELOPEMENTS AND DESTINATION WEDDINGS
If you plan to get married outside of your home territory or province, it's really important you find someone who is authorized to officiate your ceremony in that place. It will also be helpful to find an officiant who is familiar with the regional laws of that territory or province, as they may vary slightly. For example, there are mandatory waiting periods in some places, like Quebec, where you must file an intent to marry at least 20 days before obtaining a marriage license. Whichever territory or province you choose will also be able to provide you with a list of authorized officiants.
MUNICIPAL OR CITY HALL
Before you begin the search for an officiant to lead your civil wedding ceremony, it's important to know the local rules. In some Canadian provinces and territories, like Ontario, it is only possible to be married by a recognized religious leader or a government official, like a judge or justice of the peace. In Newfoundland Labrador, only members of the clergy, appointed marriage commissioners, provincial court judges or the mayors of some towns may perform legal marriages.
Since these rules vary so much by region, if you plan to have a legal, municipal ceremony, your first step in finding an officiant is to discover how stringent the officiant rules are in your province or territory.
RELIGIOUS CEREMONIES
Though there are some considerations when hiring a clergy member to officiate your wedding, your search will be very straightforward. If you or your partner belongs to a religious community already, this should be your first stop in finding an accepting officiant to conduct your ceremony. You might also be able to take advantage of pre-marital counseling when you go this route as well.
Otherwise, you'll want to search for a rabbi, minister, priest or other religious clergy who is totally accepting of your relationship and will properly honor your marriage. Start with vendor directories especially created for LGBTQ couples and consider asking your other gay-friendly vendors for recommendations.
If you find a religious officiant who is experienced with same-sex weddings, your job will be a bit easier. If your wedding is the person's first LGBTQ ceremony, you might want to discuss how you will adapt or omit some traditional readings or rituals to accommodate your gender.
Regardless of the type of ceremony you're planning, your officiant should be totally welcoming and supportive of you and your partner. Discover this by being upfront about your intentions to host a same-sex wedding ceremony and inquiring as to whether the person has officiated a same-sex wedding before. If you like the person, but they are inexperienced with same-sex weddings, it's not necessarily a deal-breaker. Simply be prepared to do a bit of education prior to the ceremony.
{Photo by: Carla Ten Eyck Photography}