5 Ways NOT to Embarrass Yourself On the Dance Floor
Prone to pulling out dance moves that should have been forgotten at the start of the millennium? We're here to help.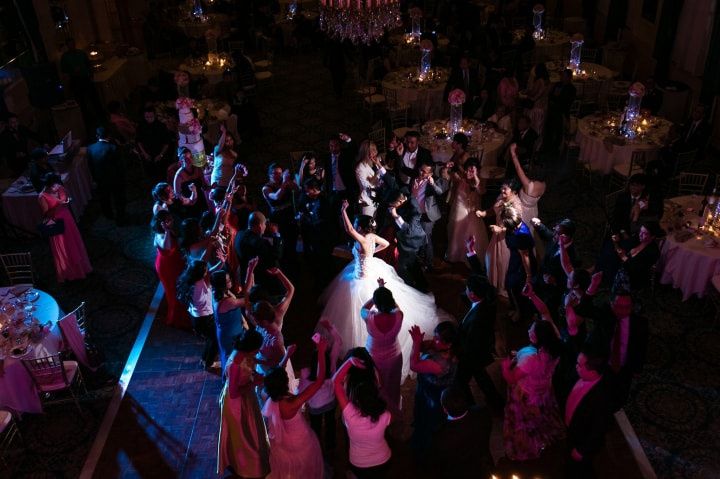 Unfortunately, not all of us were blessed with the natural ability to shimmy and shake like the Hough siblings, but that doesn't mean you can skip sashaying out onto the dance floor during your reception. Nobody's expecting the newlyweds to take the floor with an award-worthy first dance routine, so the pressure is minimal. However, you should familiarize yourself with a few simple steps to save yourself from waking up to some cringe-worthy snapchats the morning after your reception.
Here are a few ways not to embarrass yourself on the dance floor.
Hire a pro
Hiring an instructor can really do wonders. I mean, if you've ever watched Dancing with the Stars you know that the right teacher can take your moves from drab to fab in a matter of classes. Yes, you could attempt to self-teach yourself ballroom dancing with the help of YouTube videos, but those will only get you so far. Pencil in at least one or two appointments with a seasoned pro just to help you get the basics down.
Video: Dance2Impress
Curate your playlist
Knowing what songs will play is a huge lifesaver when it comes to dancing. It allows you to practice your moves to the exact tracks that will be playing over the course of your reception. Pro tip: slow jams like John Legend's "All of Me" and Etta James' "At Last" are not times to break out your best Beyoncé moves.
Practice
You may have danced around your house a million times, but that doesn't mean you're ready for your wedding day. Remember to do a couple trial runs wearing an ensemble similar to what you'll be sporting at the reception. Trust me, 4-inch heels can make a huge difference.
Don't get too tipsy
Yes, having a small dose of liquid courage is fine, but you don't want to go overboard. Have one or two glasses of champagne instead of throwing back shots like you're attending your last university frat party. You don't want your videographer to capture you stumbling around instead of waltzing during your first dance.
Skip the awkward moves
Just because certain dance moves are iconic doesn't mean they're a good idea. Your foray onto the dance floor shouldn't look anything like "The Evolution of Dance", so be mindful of your go-to steps and consider saving "The Sprinkler" and raising the roof for dancing around your kitchen.
Find your wedding DJ or band on WeddingWire »