43 Best Non-Traditional Processional Songs
Need the perfect song for when you walk down the aisle? Here are a few of our favourite options if you'd rather skip Wagner.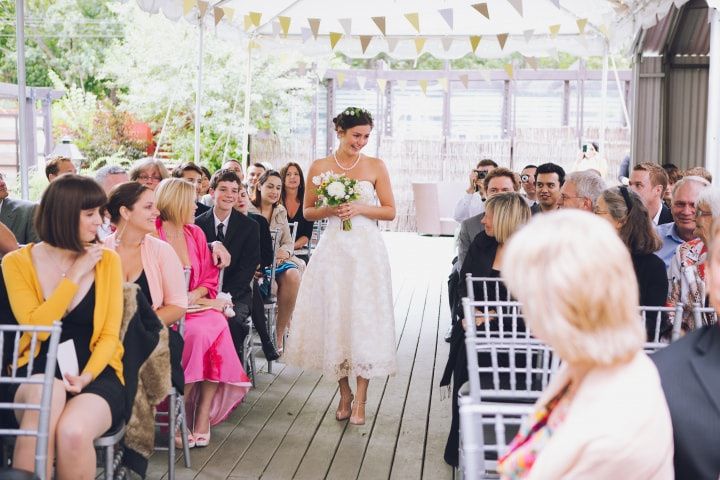 Take a deep breath! It's time for you to walk down the aisle. This is one of the most important moments of your wedding ceremony, so you'll need just the right song to fit the bill. If you want to forego the classic wedding march, consider picking contemporary bridal processional music, instead. We've rounded up a few of our favourite non-traditional bridal party processional songs to give you a bit of inspiration.
Here are my picks for the best non-traditional wedding processional songs.
My Heart is Set - Handsome and Gretyl
Your Love - Little Mix
Pink Skies - LANY
Slow Love - Michael Alvarado
I Was Made for Loving You - Tori Kelly & Ed Sheeran
I Do Adore - Mindy Gledhill
I Like You - Ben Rector
I Choose You - Andy Grammer
Sweet Love - Phillip Larue
Take the World - Johnnyswim
You're My Best Friend - The Once
Hearts Don't Break Around Here - Ed Sheeran
My My Love - Joshua Radin
You Shine - Andrew Simple
How Long Will I Love You - Ellie Goulding
Angel - Jack Johnson
Yours - Ella Henderson
Higher Love - James Vincent McMorrow
Dream A Little Dream of Me - Michael Bublé
Such Great Heights - Iron & Wine
Baby I'm Yours - Arctic Monkeys
A Thousand Years - Christina Perri
Better Together - Us the Duo
Your Song - Elton John
Halo - Ane Brun & Linnea Olsson
Forever Like That - Ben Rector
Tenerife Sea - Ed Sheeran
This Woman Loves You - Wet
Big Jet Plane - Angus & Julia Stone
Do You Realize?? - The Flaming Lips
Dead Sea - The Lumineers
I Will Love You Still - Titus Haug
No Matter Where You Are - Us The Duo
I Am So In Love With You - Ball Park Music
Good Day For Marrying You - Dave Barnes
XO - John Mayer
You Are Mine - Spencer Combs
She Is Love - Parachute
Archie, Marry Me - Alvvays
I Love You Will Still Sound The Same - Us The Duo
Be My Forever - Christina Perri and Ed Sheeran
I Like To Be With Me When I'm With You - Drew Holcomb & The Neighbors
I Will Spend My Whole Life Loving You - Imaginary Future and Kina Grannis
Find your wedding DJ and ceremony musicians on WeddingWire »