Reviews
4.9 out of 5 rating
Quality of service

4.9 out of 5 rating

Response time

4.9 out of 5 rating

Professionalism

4.9 out of 5 rating

Value

4.9 out of 5 rating

Flexibility

4.9 out of 5 rating
98%
Recommended by couples
Awards
186 User photos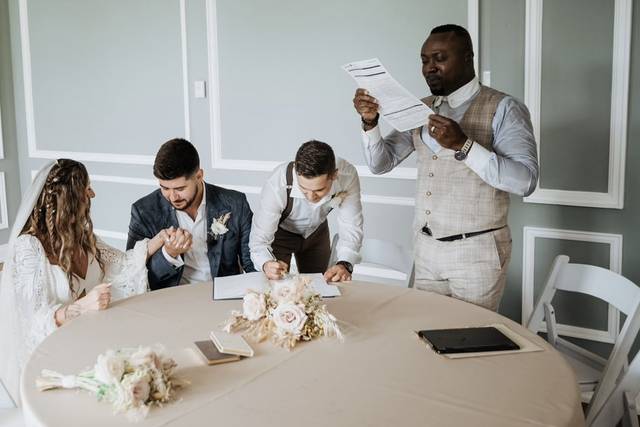 + 182

Photos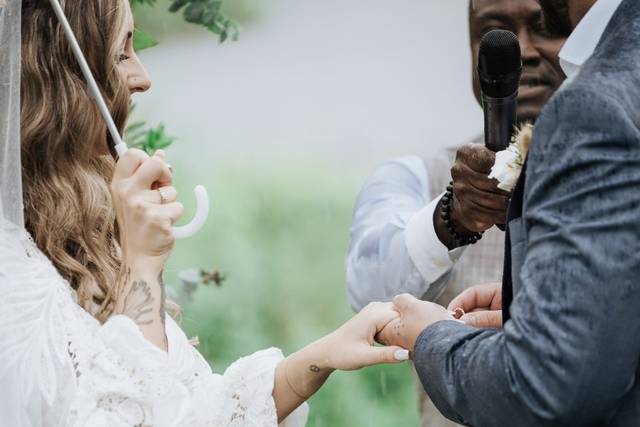 Featured

Jessica G.

Married on 08/10/2022

The fairy God father to our happily ever after!!

10/10 would recommend!!! Dominic was personable, professional, and overall amazing. He put life into the ceremony and our friends and family are STILL talking about him. He adds humor and love into everything and is willing to work with any request put his way. Youre not doing it right if you aren't getting married by Dominic and the Wedding Officiant Canada team!! Amazing.

Noah C.

Married on 10/11/2023

It's in the past at this point

I got married Nov 2023, Dominic was our officiant. Everyone said the ceremony was great, which I would agree, from the outside looking in, it was.

I did not enjoy my wedding, but my husband and our guests did so that seems to be all that mattered.

I had 2 problems with the ceremony.

1. I asked for Dominic to please let guests know at the beginning of the ceremony that guests shall not use their phones during the ceremony; I don't know if he just didn't mention this or if my guests were just disrespectful, but as soon as the doors opened for me to walk down the aisle, all I saw were people with their phones out.

2. Maybe I'm a new school woman, but I did not want to have my father "give me away" during my ceremony. I filled out the form with what your officiant will say or do for your ceremony and I think maybe that should have been on the form or confirmed with me before hand.

That's my 2 cents.

Wedding Officiant Canada's reply:

Dear Noah,

Thank you for taking the time to share your valuable review. I genuinely appreciate your feedback, and I would like to address your concerns with utmost courtesy and understanding:

1. I empathize with your perspective on guests taking photos during the ceremony. As a personal preference, I always make it a point to kindly inform guests before the ceremony commences about the significance of refraining from taking photos. Regrettably, despite my sincere efforts, there are instances where some guests and family members may choose to disregard this request. I share your sentiment that this can be perceived as disrespectful and potentially impact the overall quality of your cherished photos. Please be assured that I diligently managed this situation to the best of my ability, ensuring that it did not impede the sanctity of your special day.

2. I would like to clarify that I never explicitly ask parents the question, "Who gives this woman away?" During the ceremony, I did make a light-hearted remark and sought your father's permission for your husband to proceed with the first kiss. I apologize if this may have been misconstrued as your father being asked to give you away. In fact, your father approached me during the reception to express his heartfelt appreciation for the unique and personalized ceremony, which he felt genuinely reflected the essence of both you and your husband.

I sincerely hope that this response effectively addresses any misunderstandings that may have arisen. Once again, I want to express my deepest gratitude for granting me the honor of being a part of your extraordinary day.

Warmest regards,

Dominic

Sean Y.

Married on 26/10/2023

Very accommodating and supportive

One of the best service we've ever purchased; flow was very fluid and easy to understand, hosts are professional and accommodating. Would recommend to anyone is in need.

Are you interested?

Send a message

Hisashi N.

Married on 21/10/2023

Welcoming, Inviting and Affordable

Exceptional Professional Service, Easy to work with flexible timetable

Jilliana L.

Married on 13/10/2023

Exceeded our expectations

Got married on Fri, Oct 13, 2023 at YMG2. Our officiant was Q Wilson.

The hubs and I had a good feeling after our initial consultation with him. There wasn't much communication since then and I reached out by a month before our wedding to get a feel as I'm unsure how officiating goes and what the process and expectations were. I had an expectation that it is the officiant's job to get to know us as a couple and then incorporate that in our ceremony so when I hadn't heard from Q I was worried with how the ceremony would be like even though we requested a simple, straight-forward ceremony with no personal vows.

A week before the wedding I reached out if there needs to be a final consultation to which Q responded if we needed it, we could but otherwise he was good on his end. I also provided FYIs and announcements/requests and left the rest to Q.

Fast forward to wedding day, it was more than we expected. Q went through our announcements and requests with ease and turned out to be a wonderful and no-hitch ceremony! He executed it beautifully and our guests said the same! I may have been anxious prior to the wedding but all of that went away and I had absolutely nothing to worry about! Our guests agreed that the ceremony went well too and was "one of the best" they've attended in a while!

Thanks so much for everything Q. Wishing you all the best! Appreciate you helping us on our big day!

- Josh & Jill

Demi M.

Married on 08/10/2023

Excellent officiating

Dominic, our officiant, has been incredible. From the start of the process to the wedding day, he made it seamless. His expertise and guidance throughout have been welcome. He is responsive with our inquiries and answered questions and concerns that we had. During the ceremony, Dominic made it lively and personalized. The service that Dominic and his team provides is highly recommended.

Mary Z.

Married on 07/10/2023

Fantastic!

We are so grateful to have Dominic as our Officiant. Dominic is responsive and made time for us whenever we needed to speak to him. As I am a nervous bride I had asked for Dominic to have an rehearsal prior to our wedding and he was able to work around his schedule to attend despite having other obligations. I would highly recommend him!

Ashley G.

Married on 30/09/2023

Dominic was great!

We decided to book wedding officiant Canada based on reviews and we were not disappointed. We chose Dominic to be our officiant based on his profile on their site and thinking he would be able to officiate in style.. and he did just that! He was funny, got some laughs from our guests & he delivered the ceremony seamlessly! We made the right choice with this company and choosing Dominic!

Jasmine

Married on 30/09/2023

Dominic was great!

We had a small wedding and Dominic took the time to know us and who was going to be a part of our day. He made us feel comfortable and special and included elements of our lives and our people in his readings. We had plenty of laughs and couldn't have asked for a more beautiful ceremony to represent us!

Erin H.

Married on 23/09/2023

Great service!

We loved Q, he was a great officiant and helped make our ceremony fun like we wanted. Highly reccomend.
Are you interested?
Send a message