Reviews for Makeup By Chelsey B
Awards
9 User photos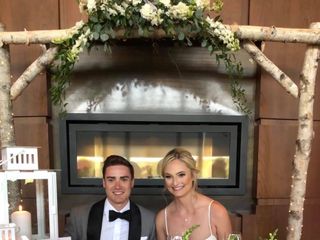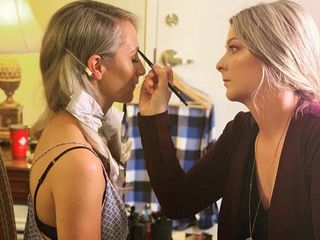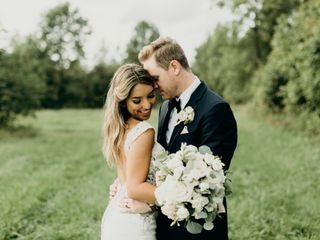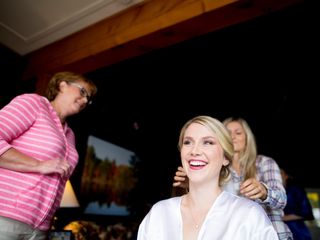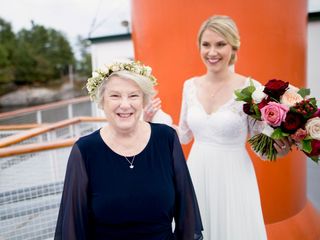 Brooke Steele · Married on 10 of August of 2019

Would highly recommend

Chelsey did a wonderful job with all the makeup for my wedding! She was very helpful right from the beginning. When I had my trial makeup session with her, she worked with me to find a time and place to meet that worked for both of us. She also did a great job introducing me to different makeup looks for my wedding day, as well as listening to what I wanted. On the day of my wedding, she arrived early to set up and worked throughout the morning. All my bridesmaids and I absolutely loved our makeup as she listened to what we each individually wanted and gave us the looks that made us look and feel great! I would highly considered Makeup by Chelsey B for your wedding!!

Sent on 25/08/2019

Sarah · Married on 09 of July of 2019

Amazing make-up artist

Chelsey was incredible. She did my wedding make-up, my bridesmaids and mother of the bride and mother of the groom. Everyone loved the job she did! She was so helpful leading up to the wedding giving me tips and helping to plan the getting ready schedule and she is so sweet and fun! I highly recommend Chelsey.

Sent on 10/07/2019

Makeup By Chelsey B's reply:

Thank you so much for your kind words, Sarah! It was so lovely working with you. I can't wait to see your photos! :)

Shelley Hazen · Married on 15 of June of 2019

Chelsey is AMAZING!!

Chelsey is an absolutely incredible makeup artist! I opted for a trial a few months before my wedding. We sat down together to discuss the look I was going for, talk about colours, etc. I had never tried airbrushed makeup before but wanted to test it out. Chelsey wrote down all of the products used during my trial and took photos. I let the makeup sit for a full 8 hours to see if there was anything I wanted to change. I wasn't in love with the airbrushing and decided on the day of my wedding that I wanted something lighter and some different eye colours. Chelsey was AMAMZING in knowing which other products and colours to use to give me the look I wanted. On my wedding day, she would do a little bit, show me, repeat, just to make sure I liked everything she was doing. We had a total of 7 ladies getting their makeup done and every single person LOVED their makeup. The makeup lasted all day and night, I've never felt more glamorous! I can't wait to use Chelsey again for events.

Sent on 28/06/2019

Makeup By Chelsey B's reply:

Thank you so much for your kind and honest review, Shelley. It was so lovely meeting you and I can't wait to work together in the future! :)

Blythe Barker · Married on 27 of October of 2018

Great experience!

As a very particular makeup wearer, I had a lot of questions, concerns and requests and Chelsey handled them all. I felt that she really wanted to make sure I was happy (which I was!), and she was very professional throughout both the makeup trial and on the wedding day. She has a lot of knowledge about products and application, and followed all of my directions with respect to my bridesmaids' makeup. I had a wonderful experience with Chelsey and would highly recommend her.

Sent on 20/05/2019

Makeup By Chelsey B's reply:

Blythe, it was an absolute pleasure to meet you! You ladies were a joy to work with. Thank you so much for your kind words and I wish you the best in the future :)

Hannah Duncan · Married on 27 of September of 2018

Great makeup

We had such a great experience with Chelsey! The makeup looked amazing and we enjoyed her company while she did it! She was organized and flexible. I had originally told her no eyelashes and changed my mind and she came prepared for everything :)

Sent on 28/01/2019

Makeup By Chelsey B's reply:

Hannah it was such a pleasure to meet you and your wedding party! Thank you so much for your kind words :)

Kerry Mclaven · Married on 22 of September of 2018

Friendly, Skilled & Adaptable

Chelsea was amazing! She arrived on time to get me ready for my cottage wedding, she set up super quick and was off to the races in no time.

We had some power challenges at the cottage where Chelsea came to do our make-up and she just made it work. My ladies and I felt flawless all day and did not worry one bit about my make-up.

Chelsea also did makeup for my elderly grandmother, my mother-in-law as well as my younger wedding party and everyone looked stunning!

Sent on 26/11/2018

Christina · Married on 02 of September of 2018

Most Amazing Make Up Artist!!!!!!!

I married the love of my life in September and I was so happy to have Chelsey as the makeup artist at my wedding! I had reached out to her months before for a trial and knew instantly that I trusted her for the big day. She is so organized, knowledgeable and gave me all the best tips/tricks/feedback leading to my favourite look for the big day. She did the make up for myself, my mom, my MOH/sister and my 3 bridesmaids. Not only is she crazy talented and unreal at what she does, she is super sweet, professional and positive. She tailored the make up to meet everyone's needs and wants and we all LOVED our make up. We loved feeling both natural and dramatic. We all felt like it was light/airy but also stood out both in person and in pictures and was flawless all through the humid ceremony, reception and dancing. Thank you Chelsey for making me feel so beautiful and confident and for being a part of the best day of my life!

Sent on 12/12/2018

Makeup By Chelsey B's reply:

Christina, thank you so much for your kind and thoughtful words, it was so great getting to know you. I hope our paths cross once again in the future! You were a dream to glam up and I'm so glad we met. Best wishes for you, your new husband and your family

Michelle Bishop · Married on 25 of August of 2018

Highly Recommend

Chelsey did a great job on my bridesmaids, my mothers and my make-up. Everyone loved their make-up. She was great to communicate with, very professional and very sweet. I would highly recommend Chelsey.

Sent on 04/09/2018

Makeup By Chelsey B's reply:

Thank you so much Michelle! It was so great meeting you and your wedding party. Best wishes in the future! :)

Robyn F · Married on 14 of July of 2018

Incrdible experience!

I am so grateful I found Chelsey through her website for our Muskoka 'destination wedding'! She was so easy to communicate with via email, which was helpful since I was planning from a distance. She was flexible and made it easy to meet up for us to do a trial in advance, and she took the time to understand what I was looking for (even though I didn't have the language or savvy to explain it!). I've never had such natural-looking (false) eyelashes! They were so beautiful, but even my family didn't know they were artificial! She was so easy going and was enjoyable to have around on our low-key wedding day! She helped us run on time and was so organized which was much appreciated. She was also wonderful with our grandmother (in her 90s!) and helped everyone feel their most beautiful selves and helped us all create natural looks that suited the setting and our personalities. Our sisters, bridesmaids, mothers, step mothers and grandmother were all so happy - such a feat! I would wholeheartedly recommend Chelsey for any special occasion :)

Sent on 29/07/2018

Makeup By Chelsey B's reply:

Robyn, it was an absolute pleasure to be apart of your special day! You and your wedding party were a joy to spend the day with. Thank you so very much for your kind words!

Melissa Brule · Married on 05 of May of 2018

Outstanding service and skill!

My entire bridal party and I were beyond happy with services received by Chelsey! Everyone received exactly what they were looking for and she managed to get through 12 girls with only herself doing makeup, and her partner doing our hair! Couldn`t have found more fun, professional and skilled artists to help with my wedding! Thanks again Ladies! Was a pleasure meeting you both!

Missy

Sent on 16/05/2018

Makeup By Chelsey B's reply:

It was a pleasure meeting you Melissa! Thank you so much for your kind words, it means so much to us to have such meaningful reviews from our wonderful brides and clients :) we are so thankful to have such amazing clients like you! :) We wish you the best, take care!