The Ultimate Bachelor Party Playlist
Every bachelor party needs an awesome soundtrack. We've crafted you the perfect one so that you can spend your time planning instead of playlisting.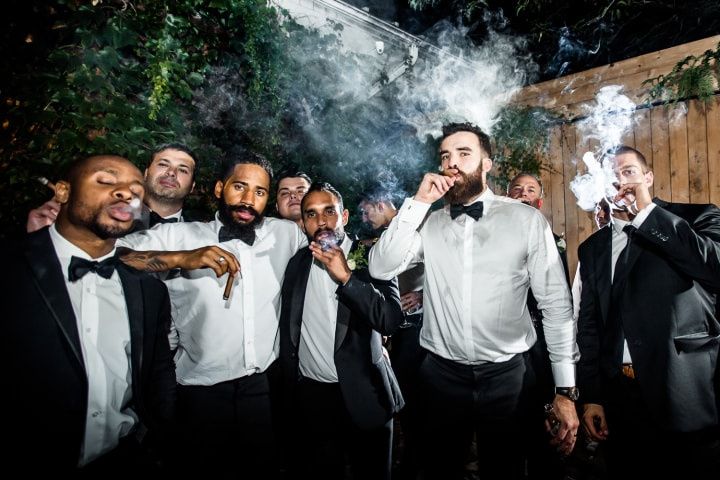 You know what every good bachelor party needs? A killer playlist. Yes, your focus should be on the (possibly) drunken debauchery that you and your fellow groomsmen get up to, but that doesn't mean you can slack on the music. From Weezer to Yeezus, this playlist has everything you could possibly want for your night out to remember.
Here is your ultimate bachelor party playlist.
What's My Age Again? - blink-182
Take Me Out - Franz Ferdinand
Thank God for Girls - Weezer
Joker and the Thief - Wolfmother
In Da Club - 50 Cent
Yeah! - Usher ft. Lil Jon, Ludacris
The Glory - Kanye West
So Fresh, So Clean - OutKast
Pretty Fly (For a White Guy) - The Offspring
Shape of You - Ed Sheeran
Tipsy - J-Kwon
Money Maker - Ludacris ft. Pharrell Williams
How We Do - The Game ft. 50 Cent
Passionfruit - Drake
HUMBLE. - Kendrick Lamar
Slide - Calvin Harris ft. Frank Ocean, Migos
I Feel It Coming - The Weeknd ft. Daft Punk
Still Got Time - ZAYN ft. PARTYNEXTDOOR
iSpy - Kyle ft. Lil Yachty
Swalla - Jason Derulo ft. Nicki Minaj, Ty Dolla $ign
I Want Something Just Like This - Cooper Lee
Jugglin (For Nothin?) - Nick Gray
Ascension - Gorillaz ft. Vince Staples
One More Time - Daft Punk
All of the Lights - Kanye West
Heatstroke - Calvin Harris ft. Young Thug, Pharrell Williams, Ariana Grande
Lock - Seth Dyer
Why You Always Hatin? - YG ft. Drake, Kamaiyah
Good Life - G-Eazy ft. Kehlani
Dirt Off Your Shoulder - Jay-Z
Hypnotize - The Notorious B.I.G.
This Is How We Do It - Montell Jordan
Rock Your Body - Justin Timberlake
Follow WeddingWire Canada on Spotify for wedding song ideas and playlists »