53 Country Songs That'll Get Your Guests Onto the Dance Floor
Want to get your guests stomping their boots at your wedding? Here are the best country dance songs that need to be added to your playlist.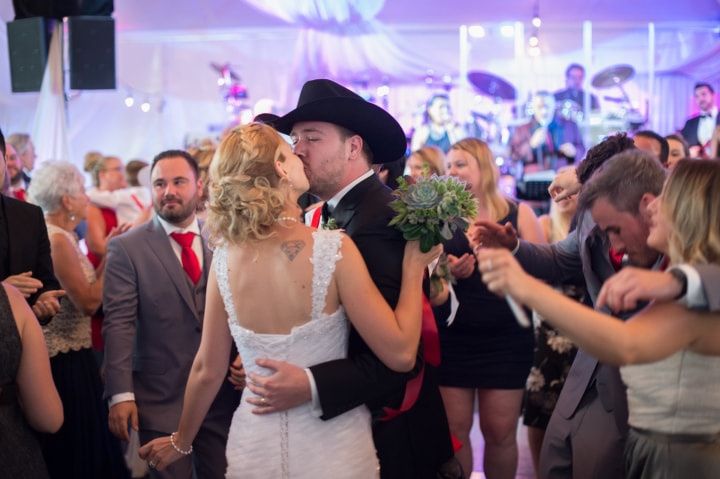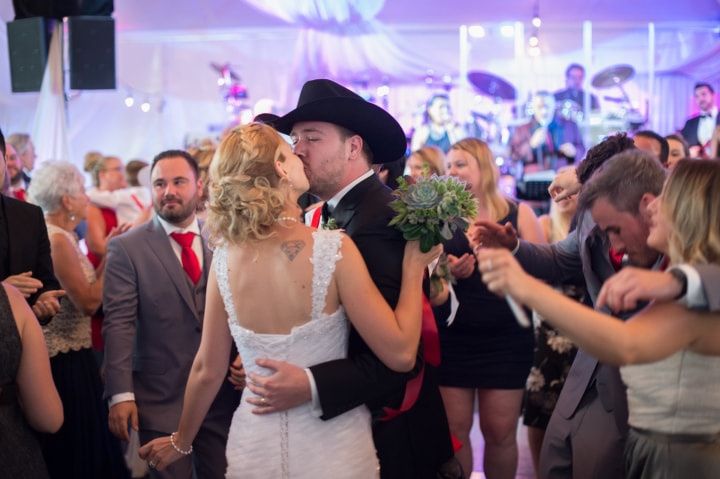 No wedding reception is complete without a killer playlist. If you want to make your post-ceremony party as epic as Boots and Hearts (and you probably do), you're going to need some upbeat tunes on your track list. These country dance songs are sure to get your guests dipping, twirling and square dancing until the wee hours of the morning.
Here are the best country party songs to get all your guests onto the dance floor.
Up! - Shania Twain
This Kiss - Faith Hill
This One's For The Girls - Martina McBride
Life Is A Highway - Rascal Flatts
Red Solo Cup - Toby Keith
Chicken Fried - Zac Brown Band
House Party - Sam Hunt
Unforgettable- Thomas Rhett
Honey Bee - Blake Shelton
John Cougar, John Deere, John 3:16 - Keith Urban
Biscuits - Kacey Musgraves
I Know Somebody - LOCASH
Country Girl (Shake It For Me) - Luke Bryan
Nothin Like Us - Josh Gracin
Do I Make You Wanna - Billy Currington
You Belong With Me - Taylor Swift
It's Five O'Clock Somewhere - Alan Jackson & Jimmy Buffett
Anything Goes - Florida Georgia Line
Play Something Country - Brooks & Dunn
She Thinks My Tractor's Sexy - Kenny Chesney
Here For A Good Time - George Strait
Sweet Home Alabama - Lynyrd Skynyrd
That Don't Impress Me Much - Shania Twain
How Country Feels - Randy Houser
Cruise - Florida Georgia Line
Shore Thing - Luke Bryan
Drunk On Your Love - Brett Eldredge
Last Name - Carrie Underwood
My Maria - Brooks & Dunn
Only Prettier - Miranda Lambert
H.O.L.Y. - Florida Georgia Line
Body Like A Back Road - Sam Hunt
Nobody But Me - Blake Shelton
Dime Store Cowgirl - Kacey Musgraves
Unforgettable - Thoms Rhett
I Want Crazy - Hunter Hayes
This Kiss - Faith Hill
Man! I Feel Like A Woman! - Shania Twain
I'm Gonna Getcha Good - Shania Twain
Wagon Wheel - Darius Rucker
Soak Up The Sun - Sheryl Crown
Speakers, Bleachers, and Preachers - Brandon Lay
I'll Name The Dogs - Blake Shelton
Small Town Boy - Dustin Lynch
All On Me - Devin Dawson
Craving You - Thomas Rhett and Marin Morris
My Church - Maren Morris
Dibs - Kelsea Ballerini
Look What God Gave Her - Thomas Rhett
90's Country - Walker Hayes
A Song For Everything - Maren Morris
Somethin' 'Bout A Truck - Kip Moore
Redesigning Women - The Highwomen
Now that you've got lots of country dance music ideas, find your wedding DJ or band on WeddingWire »