Reviews for Lilies and Lace Beauty Co.
Awards

63 User photos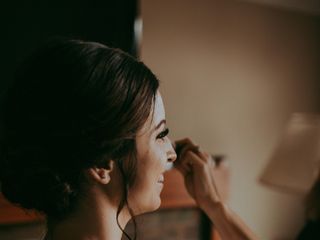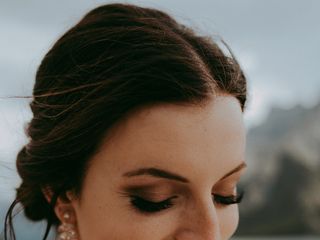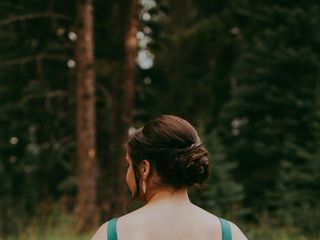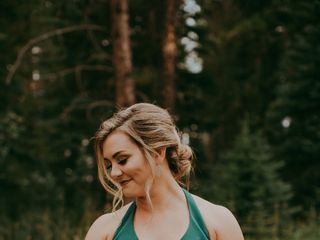 · Getting married on 09/10/2021

Amazing, very accommodating

Lillies & Lace was very responsive to my emails and very accommodating to my needs. Highly recommend if you need your hair and make up done.

Sent on 12/12/2019

Lilies and Lace Beauty Co.'s reply:

Thanks so much! We're always happy to hear great feedback like this, and thrilled to have been a part of your day. Thanks for having us and all the best to you & yours in married life!

Kaitlynn · Married on 08/03/2020

Great experience

I had a great experience with Lillies and Lace. They were very professional and responsive in communications leading up to my wedding day. On the day of, both the make-up artist and hairstylist from Lillies and Lace were wonderful and very talented!

Sent on 08/03/2020

Lilies and Lace Beauty Co.'s reply:

Thanks Kaitlynn,

Happy to have been a part of your big day, thanks for having us and wishing you all the best!

Kendra Kohanchuk · Married on 15/09/2019

Important part of our day!

My wife and I eloped in September, at Emerald Lake Lodge. Its hard to look stunning and stand out, in a place that has so much of it's own beauty. Jordanna was responsive via email, and made the booking process easy. Our stylist and make up artist were amazing, they listened to what we wanted, and truly made us look like ourselves - only better! We weren't able to travel before our wedding for hair and makeup trials, so we really had to trust the professionals; and we're so glad that we did. Thank you so much for being there for us on our favourite day ever!

Sent on 12/02/2020

Lilies and Lace Beauty Co.'s reply:

Kendra thank you so much for your kind review! You both looked stunning and we're thrilled to have been a small part of your beautiful day!

Chris & Leah Grann · Married on 24/08/2019

Perfect wedding day hair and makeup!

I couldn't be happier with how my hair and makeup turned out for my wedding. I communicated with Jordanna, the owner, who was easy to work with to get everything scheduled with the hairstylist and makeup artist. She sent several emails prior to the event with detailed instructions for the trials and wedding day which was very helpful. I'm from the states so we came into Canmore/Banff the week before our wedding to meet vendors, tie up loose ends, and do engagement photos. It worked out perfectly that I was able to set up my hair and makeup trial to be done right before my engagement photo session. It was great to meet Amy (makeup) and Natalia (hair) prior to the wedding day to make sure we were all on the same page. They both listened to what I wanted and executed perfectly. The day of my wedding they both showed up on time to the Rimrock Resort (7am on a Saturday!) and worked well as a team to get me made up and finished ahead of schedule. They both did such a wonderful job and I was so pleased how everything turned out. Thank you for everything!

Sent on 01/09/2019

Lilies and Lace Beauty Co.'s reply:

Thanks so much Leah! We do really appreciate the time you took to write us a review as it's so important this day & age! Glad we were able to help and be a part of your big day. Thanks again and enjoy being a Mrs!

Kortney · Married on 23/08/2019

Best in Canmore

What a team!!! We had the lovely Jordanna & Christine for hair and Lori & Amy for makeup and they all did such an incredible job!!!! Our hair and makeup looked amazing from the morning all the way 'til the early hours of the next morning (after lots of dancing and crying our eyes out all day!) I would recommend these lovely ladies to anyone needing hair or makeup done in the Canmore or Banff area. They are super professional and lots of fun!

Sent on 07/02/2020

Lilies and Lace Beauty Co.'s reply:

Thanks so much Kortney! So happy to have been a part of your day, we had a blast with you and your girls.

Lauren · Married on 02/08/2019

True artists! Would definitely recommend

We had the most stunning hair and makeup done by truly talented artists. The hair and makeup artists were very friendly and punctual. I'm so happy I went with this company and would highly recommend!

Sent on 11/08/2019

Lilies and Lace Beauty Co.'s reply:

Thank you Lauren! Means so much to us that you took time to write this review to us. Thank for choosing us, and we wish you a lifetime of love & happiness.

Rachel Kornhoff · Married on 29/07/2019

Lillies & Lace Beauty Co.

I cannot say enough good things about Lillies & Lace Beauty Co. Jordanna and Amy did hair and makeup for my wedding in July of 2019 and were fabulous to work with.

During the planning process, Jordanna was very responsive to emails and made sure I felt comfortable with everything before traveling to Canada for our wedding. I was able to schedule a hair trial with Jordanna, which I highly recommend to other brides as Jordanna was able to style my hair a few different ways to find a style I loved!

On the wedding day, Jordanna was able to do 1 mother of the bride, 3 bridesmaids, and my hair in such a timely manner. Her ability to create amazing styles no matter the length of hair was outstanding. Everyone loved their hair and only wish we lived closer to work with Jordanna again! Only two people in my wedding party did their makeup with Amy (I did my own makeup). Amy's work was phenomenal and when she finished, we all wished we would have had her do our makeup as well.

Both Jordanna and Amy were very professional, punctual, friendly, and extremely talented. I am so happy that I was able to work with them for my wedding and will forever be grateful for the experience they provided.

Sent on 09/02/2020

Lilies and Lace Beauty Co.'s reply:

Thank you Rachel for the sweet words! I'm so happy we were able to meet you and be a part of your day. We really enjoyed our time with you all and anytime we get to go to Emerald lake is a good day! Its' so beautiful there. Wishing you all the best in married life!

Cassie McMann · Married on 27/07/2019

Outstanding Wedding Hair & Makeup

Lillie's and Lace is a fantastic choice for hair and make-up on your special day! The communication was prompt and service was incredible. They are a mobile company who will come to you which relieves much stress and wasted time from the day. I slept in on my wedding day and the girls remained calm and collected and gave me time to get ready before starting. Jordanna did a perfect job on the hair! She has modern style and able to replicate pictures perfectly. Lori did a great job on the make-up and listened to exactly what we wanted. Thank you so much for giving us the perfect look! We are so glad that we chose this highly professional and recommended company!

Sent on 31/07/2019

Lilies and Lace Beauty Co.'s reply:

Thank you so much Cassie! Lori & I really enjoyed our time with you and were happy to help make your day as amazing as it was! Enjoy married life and congratulations again!

Andrea · Married on 18/07/2019

The Absolute BEST

My husband and I traveled all the way from New Zealand to be married back at home in Canmore with our friends and family. In planning for a wedding on the other side of the world, Lilies & Lace was such an easy choice for the wedding hair and makeup. We chose them because of their excellent portfolio on social media and the fact that they are able to travel to you on your big day (one less stress to worry about!).

Jordanna was so amazing to work with in every way! She was very patient and provided all the information I needed when inquiring about the price of their services and how many stylists we'd need to make everything work on the day (and then reconfirming things when numbers continued to change). I was thankfully able to travel back to Canada in the lead up to the wedding and the ability to go in for trial hair and makeup was a godsend. I wasn't actually worried that I wouldn't like what they did, but being able to talk through my ideas and try a few things with them in a low stress environment was invaluable. The stylists were personable and friendly, and I was in love with my wedding look 3 months before the big day! Just another way they put you at ease.

On the actual day we had Jordanna and Natalia as our hair stylists, and Lori and Amy as our makeup artists. They are all so friendly and talented! They made for a really relaxed atmosphere and everyone loved their looks. I honestly cannot thank you and the team enough Jordanna! You all made the morning so fun (even if there were some nerves), your talent amplified everyone's natural beauty without being too much, and the looks held up through some less than great weather so our pictures look amazing too! Special shout out to Lori for being such a master makeup artist and helping me hide a few blemishes on the day. I was stressing hard but you couldn't even tell when she was done. I was wowed. Thank you, thank you, thank you!

I cannot say enough great things about the Lilies & Lace team. I HIGHLY, HIGHLY recommend them to anyone getting married in the Canmore/Banff area! 5 stars :)

Thank you all again! Lots of love from Andrea and Bryce.

Sent on 18/12/2019

Lilies and Lace Beauty Co.'s reply:

Andrea, thank you so much for all these heart warming words! We all are so happy to have been there on your day and my pleasure throughout the planning process. We strive to make it as stress free and put you at ease when we can. You looked absolutely gorgeous and love the photos! Congrats again!

· Married on 15/07/2019

Loved my hair and make up!

Jordanna and Amy were amazing to work with! They both did a fantastic job with my bridal hair and make up! My family members had their hair and make up done as well and were very happy! My hair and make up both held up extremely well as our wedding was outdoors. I wish Jordanna and Amy were in my local area because I would go back for any special event. Highly recommend Lilies and Lace.

Sent on 26/08/2019

Lilies and Lace Beauty Co.'s reply:

Hi Nicole! Thanks so very much, anytime your out this way for a wedding or perhaps an anniversary let us know! We'd love to see you again and help with hair & makeup. Can't wait to see your photos, shoot us an email once you have them. Thanks again for choosing us and congrats!