Reviews
4.5 out of 5 rating
Quality of service

4.7 out of 5 rating

Response time

4.2 out of 5 rating

Professionalism

4.6 out of 5 rating

Value

4.6 out of 5 rating

Flexibility

4.6 out of 5 rating
91%
Recommended by couples
1 User photo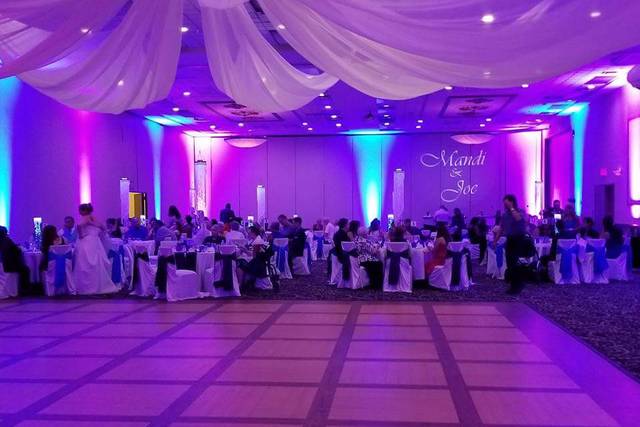 Sharon G.

Married on 21/10/2023

Great music and fun

Love the DJ. He did awesome job.

Crystal Sound's reply:

Good Morning, Sharon!
Thank you for your review. We are lucky to have a group of great DJ's who continue to work harder for our customers!
It was a pleasure working with you. I wish you and Rod all the best!
~ Serena

Lexi K.

Married on 17/09/2023

Definitely Recommend!

We recommend Crystal Sound for DJ services. I know this depends on the individual DJ you are assigned, but we were assigned a very very good one!! He did amazing with the timing of ceremony music, first dances, and getting the party started. He tailored the playlist to us perfectly and we couldn't be more impressed! Good job, Kyle!

Crystal Sound's reply:

Thank you very much for your kind words! With every review we receive, we assess what we can work on, and what we're doing well. I've passed on this message to Kyle, to let him know he can keep on with what he's doing!

My sincerest wishes for happiness to you and John! :)
~ Serena

Janice

Married on 09/09/2023

Professional and a friendly

We had Jeff as our DJ and crystal sound was the contracted vendor through our hotel. They were friendly and prompt in their responses. The only downside to using them is that they can't tell you who the DJ is until a few days before your wedding which is fine for most couples but I am very A-type and wanted to connect with the DJ at least two weeks in advance. Jeff was nice but was limited to what he could play due to license agreements so we made the best of it. I had also given a list of the music I wanted but for some reason it wasn't played and so I had to make a few requests all night so the guest could dance. I don't think this is a big deal as overall they were very accommodating and flexible.

Crystal Sound's reply:

Hey Janice! It was a pleasure working with you. You are correct. We can't schedule our DJ's until the week of for a number of reasons.
1) Illness - There still is COVID 19 around and over the course of 3 years, we've had our DJ's sick, and needing to book off.
2) Injury & accidents - It's happened where our Dj's are in a car accident or gotten a concussion the week before and are physically unable to get to an event.
3) Death - Deaths in the family are hard to take and we don't send out DJ's if they've had this going on.

All of these can happen the day before, the day of, a week before. We try to schedule our DJ's to ensure the person you've talked to, is still the same person you're getting at your event.

As for music choices, all DJ companies must adhere to SOCAN rules, and regulations. We do not live stream Youtube or Spotify, or play downloaded music that's illegal. We ask that when couples send in their forms for their music, that it's within the 4 week guideline to ensure we can legally and properly have the music anyone needs for their special day.

I am happy you had a wonderful day, and that we were a part of it!

Are you interested?

Send a message

Taylor S.

Married on 02/08/2023

It was really good!

Figured out the music that god the crowd moving & kept it up super happy !

Crystal Sound's reply:

Thank you for the kind words, it means so much to us! I sincerely wish you the very best!


~ Serena

Chelsea O.

Married on 29/07/2023

Great! Will recommend!

Great experience with Crystal sound at our wedding last Saturday!
They were perfectly on time with all of our major songs and excellent communication with our DJ throughout the evening.
Our guests loved that they could request whatever they wanted to hear and we had a great night on the dance floor!!

Crystal Sound's reply:

Hey Chelsea!
Thank you very much for your kind words. It's been a pleasure working with you these past few months, and I'm thrilled that it was the outcome that you and your guests wanted. Much love and happiness to you both! :) ~ Serena

Alia W.

Married on 24/09/2022

Worst Part of my Wedding

The DJ they supplied was totally awful and ruined my wedding. We had our wedding at the Manitoba Club and used Crystal Sound, since they are a preferred vendor.

To start, the DJ was dressed completely inappropriately. All vendors need to adhere to the dress code, and he was in jeans and a shirt with sneakers.

He didn't play the type of music we requested for the dinner service, he played songs that were on my "do not play list", he didn't play specific songs that we asked for, HE DIDN'T EVEN PLAY "OUR SONG". And didn't play the final song we asked for either. He even take requests, so I couldn't even ask him to play the songs that we had asking for in our original e-mails.

Plus, they were expensive, so it isn't even as if we used a cheap DJ. The DJ honestly ruined the reception part of the wedding for me. When I emailed after the wedding to voice my opinion, my email was completely ignored.

If you're looking for a good DJ for a social, Crystal Sound might be okay, but if you're looking for a DJ for an upscale dinner and dance at your wedding, I would recommend that you keep looking.



Crystal Sound's reply:

Hi Alia,
I'm sorry, but I'm not on this site very often to read reviews. The DJ you spoke of does NOT work with us any longer. We were appalled to hear of what he did at your wedding, and have chosen to not continue working with him.
Our Dj's that have come on board with us from early last year, unlike the DJ you had, have gone through a rigorous training program, and conduct themselves professionally and dress to the occasion appropriately.
We have implemented refresher courses for our veteran DJ's and reiterate proper dress and conduct with each event that our DJ's are working.
With being a DJ myself, I take much pride in being friendly and professional, and hope you understand that one DJ shouldn't blanket a negative image of a company's standards.

With saying this, I sincerely apologize for this DJ's behaviour, and completely understand your grievances. I sincerely wish you and your partner the most happiness in every day forward.
~ Serena

Terry M.

Married on 10/09/2022

What a great night

Ok well I was at my wife's friends wedding this past weekend at Niakwa Country Club in all my years of attending weddings and my wedding myself I have never seen a DJ that got the dance floor so busy so quick he read the crowd played every request we asked for the maid of honour even mentioned how much her feet hurt from the amount of dancing she did I highly recommend crystal sound and I believe the DJs name was Kirk or Curtis or Chris or something like that but I'm impressed and regret booking roadshow 10 years ago for my wedding

Crystal Sound's reply:

Yay! Thank you so much. In the years I've Dj'd, one of the best compliments (indirectly) is hearing how sore people's feet are! LOL
Thank you for taking the time to send this in to us, much appreciated!

Kellie M.

Married on 09/09/2022

Crystal Sound for my Wedding

We hired Crystal Sound for our ceremony and reception and everything went so smoothly! Dave was an awesome DJ and made sure everything went as planned. He has a calm yet fun demeanour which made me feel at ease! Molly and Serena were great at helping us sort out our music beforehand too!

Crystal Sound's reply:

Thank you very much for the positive review. Dave is continuing to be an excellent part of our team, and we're lucky to have him! We're glad we could have helped you behind the scenes too! We wish you much happiness!!
~ Serena

Meaghan

Married on 03/09/2022

Fantastic!

So much fun, did a great job of following our selections and was just a joy to have at the reception

Crystal Sound's reply:

Thank you for taking the time to review, Meaghan! We are happy to hear that our team made a positive impact on your day!

Sam B.

Married on 20/08/2022

Happy bride!

Crystal Sound had the dance floor busy all night! Open to requests

Crystal Sound's reply:

Hey Sam!
Thank you for sending the review! It means so much to us that our DJ gave you a wonderful evening of dancing!
Are you interested?
Send a message