Reviews for Fruitilicious Cakes
Awards

16 User photos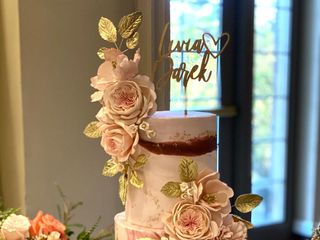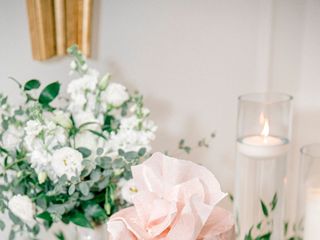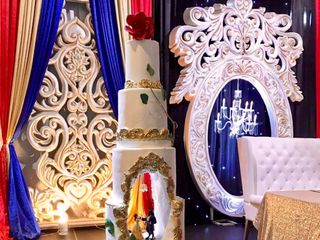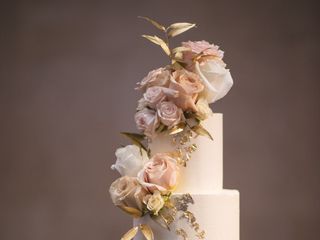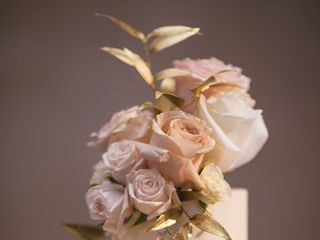 Jessica T. · Married on 30/09/2017

Sandra was a pleasure to work with. From the moment we sat down with Sandra, she helped us create an amazing vision for the cake we wanted. It turned out beautiful and tasted amazing. Thank you, Sandra, for helping make our special day a memorable one.

Sent on 18/10/2017

Fruitilicious Cakes's reply:

My sweet Jessica, you made it so easy to work with you. We had no choice but to go all out for your wedding cake. Thank you for choosing us to share in your special day. Xoxo

Sue · Married on 20/08/2017

The wedding cake from Fruitilicious was both visually stunning and absolutely delicious. It was a blush/ivory ombre buttercreme outer layer with gold drip and flowers. Each layer was a different flavour, and the initial selection of flavours at the tasting was amazing. I was very happy with how the cake turned out!

Sent on 23/10/2017

Fruitilicious Cakes's reply:

Your cake was one of our favourite cakes. Simple but very elegant. We truly appreciate your feedback. Xoxo

Amy E. · Married on 08/07/2017

Our wedding cake was exactly what we asked for and so beautiful and delicious. Sandra was so wonderful when we went for our first tasting she had many cakes and flavors to try. We loved the baileys and strawberry shortcake and chocolate de luche but they are all pretty tasty. Highly recommend them. You won't be disappointed.

Sent on 20/10/2017

Fruitilicious Cakes's reply:

Your wonderful feedback means so much to us Amy!! We're over the moon to know you loved your cake. We want to say thank you for making us a part of your special day. God bless you both! Hugs!!

[Anonymous]

Sandra was very pleasant to work with - she was prompt in responding to my questions and made some great suggestions for our dessert table. The desserts were mini size which I was not aware of but aside from that I was very pleased with the service and all of the desserts were eaten up very fast!

Sent on 26/05/2017

Fruitilicious Cakes's reply:

It was wonderful working with you Lovely couple. We loved being a part of your special day. We wish you all the very best!! Cheers!!

Andrea P. · Married on 22/04/2017

Sandra is awesome to work with. The cake was amazing! All of our guests loved it and it was exactly what I wanted. We had ordered the red belvet and the bailey's creamcheese flavour and they were both to die for.

Sent on 29/04/2017

Fruitilicious Cakes's reply:

Thank you so much Andrea!! We loved the fact that you incorporated new trending drip design to your Buttercream cake making it uniquely to you. Your sweet works are greatly appreciated and what an honour to have been a part of your special day. God bless your union forever!! Xoxo

Natalie P. · Married on 12/03/2017

Hi Sandra,

I cannot describe the feeling I get when I eat your cake!! The cake you made me for my shower was amazing. Everyone ranted and raved about the Mango Passionfruit!! You've surpassed all of my expectations and I am so excited for the wedding cake.
You are fantastic at what you do and I'm so glad I found you!


Sent on 14/03/2017

Fruitilicious Cakes's reply:

You know, you indeed sparkle where ever you go!! You're so sweet a person and I'm happy and honoured to share in your special celebration. Wishing you all the best for the big day girl!! Xoxo

[Anonymous]

I am so thankful to have found Sandra and Fruitilicious Creations & Cakes! Sandra created the most beautiful selection of dessert treats for my wife's special 40th bday celebration. Our guests were blown away by both the presentation as well as how yummy her creations were. On top of everything Sandra was an absolute delight to work with.

Sent on 31/01/2017

Fruitilicious Cakes's reply:

You're such a joy to work with. You're patient and an inspiration. It was a wonderful pleasure being part of your sweet celebration. May God continue to bless your home.

Sandra · Married on 14/01/2017

I was having a major event and wanted a cake that would stand out as a wow factor on my sweet table. Sandra made a cake that my guests couldn't stop talking about. The cake was designed very well and the taste was heavenly. She is the best in city.

Sent on 16/01/2017

Fruitilicious Cakes's reply:

Thanks so much Hun!! I'm sorry it's taken this long to respond to you. We're to know happy you loved your baby shower cake. Your sweet kind words are deeply appreciated. Stay blessed!

Diana · Married on 10/12/2016

My partner and I are fairly nontraditional and decided to have a wedding luncheon. We didn't really have any idea as to what we wanted, but we wanted to make sure that the cake was delicious. Sandra was the first and last person we met for our cake. She's lovely - so accommodating, clearly gifted in her craft and willing to bend over backwards to make sure that your wedding cake is perfect. Would absolutely recommend her to everyone and will use her again (not for another wedding cake because I plan to only do this once LOL, but for any other special occasions).

Sent on 06/01/2017

Fruitilicious Cakes's reply:

I'm so sorry it's taking this long to say thank you for your kind words. I'm so happy and grateful for letting us in your special celebration. We wish you all the happiness you deserve and more.

Melissa K. · Married on 15/10/2016

Sandra was amazing and I'm truly lucky to have found her. I only wanted a small cake to feed the head table and keep the top tier for 1 year anniversary. We chatted over email and text and met at her residence. She had tools to help us decide what size we wanted and we were able to use our own topper and stand. The cake was DELICIOUS! And when I saw the cake on my wedding day set up at the venue I was sooo happy. It was exactly what I had specified. The value was excellent too and included delivery and set up. As a baker / decorator myself I have a eye for detail too and she nailed it. Love all her photos she's been posting as well. Future treats, If i'm not making it myself, I'm going to get Fruitilicious to make it!

Sent on 01/11/2016

Fruitilicious Cakes's reply:

You're so sweet Melissa!! Thank you so much for your wonderful feedback. It was an honour being part of your special day.