Reviews for The Marrying Lady
Awards


68 User photos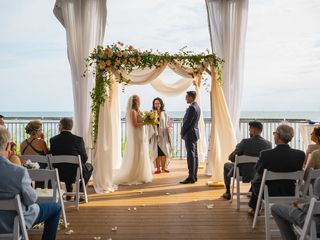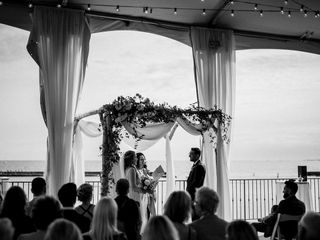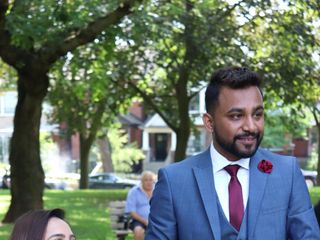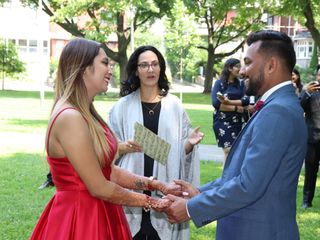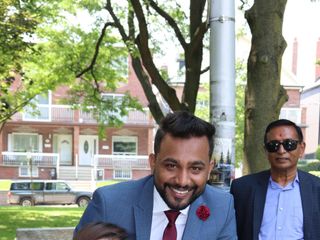 Karan S. · Married on 18/07/2021

Thank you, Tade!

Tade was amazing accommodating our last minute request! She made the entire experience so positive, fun, and memorable. Not only was our simple ceremony beautifully done, but she also spent the extra time explaining next steps, and what we can expect.

Tade is fantastic, and I would recommend her services to anyone in a heartbeat.

Than you again , Tade!

Best wishes,

Karan and Tony

Sent on 20/07/2021

Kyra M. · Married on 12/07/2021

Absolutely amazing officiant!

Tade was beyond amazing for our intimate ceremony. She was very responsive, accommodating and made the day wonderful.

Sent on 21/07/2021

Jennie C. · Married on 22/06/2021

a beautiful ceremony

We were lucky enough to book Tade for wedding ceremony during the covid-19 rush. And it couldn't have been a better experience. When we got there, Tade was already prepared and walked us through the steps. She turned what was supposed to be a tiny event into a beautiful memory. Tade also had her puppy with her, and it added to the wonderful ambience that she created. She guided us through all the necessary steps and the best way to navigate the confusing process of getting the marriage certificate. We couldn't have asked for a better experience and would highly recommend Tade for all your marriage needs. Sangeet & Jennie

Sent on 30/06/2021

Sara S. · Married on 21/06/2021

Wonderful, wise and warm Tade is the best officiant!

We enjoyed working with Tade. She was supportive and helpful every step of the way. She supported us with tips and guidance to bring us to the end of our special day with success! It was an honour to work with Tade and we highly recommend her to anyone searching for an officiant!

Sent on 25/06/2021

The Marrying Lady's reply:

It was my absolute pleasure! I love personal ceremonies that are meaningful and truly authentic. You guys nailed it!

Kaia M. · Married on 15/06/2021

Very professional, makes every ceremony special

Working with Tade was easy and straightforward. She was very responsive to emails, and her packages are very clear: there are tons of options, but they're all very easy to differentiate.

Tade is a PRO. We chose the elopement package, which meant meeting in a local park. Tade has her routine down pat, and was able to communicate that confidence to the rest of the wedding party! Though the entire event was done in 15 minutes (as promised) it didn't feel rushed, nor was anyone scrambling to figure out what was happening because she had prepared us so well.

As others have mentioned, Tade also did a great job of adding little personal touches to the ceremony. I don't know anyone who has eloped, so I didn't know what to expect and she made it very special. I especially appreciate the prompts to take a deep breath and connect with eye contact or holding hands, as it gave both of us a moment to settle back down into the moment and into our bodies and be present.

Hopefully I will never use her services again, but I highly recommend you do!

Sent on 17/06/2021

Yesha E. · Married on 14/06/2021

Professional, Friendly, Awesome!

Tade was absolutely brilliant. She was so willing to work around our annoying schedule changes, and made the two of us getting married in the middle of a park on a sunny day a truly perfect moment. She had the most calming, relaxed tone of voice, made such an effort to make sure that our pictures and video came out in the right light, the right position, and was just all round pleasant to be around - Tade went above and beyond what we had hoped for in an officiant. Tade was so helpful, so lovely, so friendly - we really could not have envisioned a better ceremony!

Sent on 23/06/2021

Nicole P. · Married on 11/06/2021

The best officiant! Look no further!

I can't say enough good things about Tade and our wedding ceremony. I didn't know what to expect, but I had a wedding date in mind and needed to begin searching for an officiant! Luckily, Tade was amazing and our search ended with our first choice.
From the beginning Tade was professional and HELPFUL! The process of marriage is not so straightforward and Tade was instrumental in helping us be prepared.
Of course, we wanted to meet with Tade to ensure she was right for us and within minutes of our first conversation I knew she'd be perfect for our wedding. Tade took the time to get to know us (virtually - thanks Covid) and understand why were marrying one another. She interviewed us as much as we interviewed her. We were so confident at the end of our call, we booked immediately. I am so glad we did. We opted for a pre-wedding rehearsal which was also key to being ready.
Our ceremony went off without a hitch. Tade made sure the ceremony we chose was the right one for us. She guided us through the license process. Tade made us realize just how much there is involved in a ceremony and that made it all the more valuable. She was on time and probably the most efficient officiant I've had the pleasure of meeting.
Thank you Tade - for giving us a memorable ceremony we'll never forget. We'll see you when we need vow renewals!!! :)
Jesse & Nicole

Sent on 26/07/2021

Trish Z. · Married on 04/06/2021

An absolute dream!

Tade was a dream to work with! She explained everything, provided helpful references/info, and she made it fun. Tade's ceremony was great--she spoke loud enough for everyone to hear w/o a mic (it was a covid wedding so lots of distancing), she had some funny moments, and made everyone feel special/included. Even one of our friends' remembered her from her BIL's wedding, and she said everyone loved her there as well.

Sent on 09/06/2021

The Marrying Lady's reply:

Thank you for taking the time to leave a review! Your wedding was such a joy with so many beautiful moments. Thank you for letting me be a part of it and give Odin a doggy hug for me. xo

Kate D. · Married on 23/05/2021

Amazing Ceremony!

Tade is a fantastic and very knowledgeable officiant. She was incredibly helpful and supportive during the process of postponing our wedding due to COVID19. When our wedding day finally arrived, Tade was punctual, informative and very personable! We received so many compliments on the ceremony from our guests (both in person and virtual guests). She has our highest recommendation!

Sent on 25/05/2021

Oli · Married on 15/05/2021

Legal signing ceremony

We booked Tade for a legal signing ceremony. She was very responsive, flexible with timing, and helpful in making sure we had everything we needed. She also added some romance to our legal signing ceremony and took some great photos.

Sent on 17/05/2021

The Marrying Lady's reply:

Thank you so much for taking the time to write this! I was my absolute pleasure and I'm so happy you had me there!