Reviews for Ottawa Wedding Officiants
Awards
24 User photos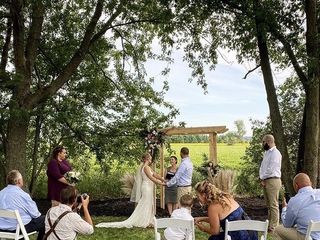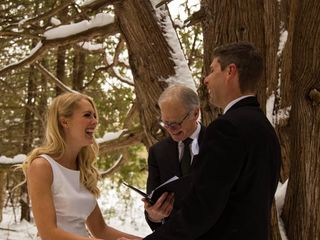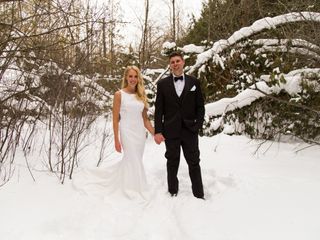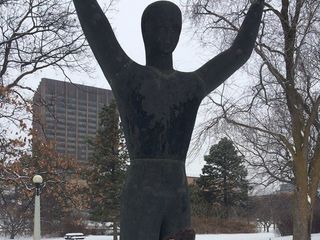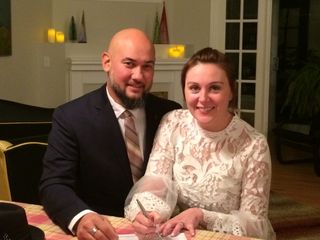 Featured

Laura · Married on 18/01/2020

Elopment ceremony

We had an amazing experience. Jim and Rinette were attentive to detail and gave great suggestions to make our day extra special.Our elopemenmt was tailored to us and they went above and beyond what we expected including helping capture pictures for us! We would highly recommend them!!!!

Sent on 26/01/2020

Ottawa Wedding Officiants's reply:

Thanks Laura & Ray for your recommendation. We are thrilled that you enjoyed an "amazing experience" and that your ceremony truly reflected your personalities and the love you have for one another.

We wish you continue joy, prosperity and unconditional love.

Rinette & Jim

Michelle M. · Married on 24/10/2020

Jim - a true treasure


My husband and I had the immense fortune and pleasure of having Jim Emerson as our officiant recently, and we could not have imagined anyone better. Jim was not only helpful and professional throughout the process, but he made us feel so comfortable and at ease the day of. He ensured our ceremony was tailored to us and made sure that it was personal and enjoyable. If you're looking for an outstanding officiant who will help make your day incredibly special, I would highly recommend reaching out to Jim!

Sent on 13/12/2019

Ottawa Wedding Officiants's reply:

Michelle & Tushar,

To be invited to participate in your wedding ceremony was an honour and the pleasure was all mine.

I thoroughly enjoyed the ceremony you created, and from your guest's laughter and engagement, so did they. I'm thrilled that I helped reduce the stress on your special day so that you could fully enjoy your family celebration.

I hope you are enjoying your new home on the coast and that you will continue to experience abundant joy and prosperity together.

Jim

Tuana P. · Married on 11/10/2020

Jim was truly amazing

We wish we could write down in words how amazing it was working with Jim and his team. He really made our special day even more special. We are sooo grateful we got to work with him, I would recommend him to anyone looking to get married. Our ceremony was small, intimate and Jim was so genuine, friendly. He is truly one of a kind!

Sent on 23/11/2020

Taylor C. · Married on 20/09/2020

Incredibly Professional

Jim Emerson provided us with everything we wanted. We didn't want any humour, but also nothing too serious. It ended up being incredibly special and made everyone cry. Jim worked with us to include our son in the ceremony, and the day ended up perfect.

Sent on 24/09/2020

Ryan · Married on 18/09/2020

Amazing experience

Our Officiant, Jim, helped us every step of the way. He was personal and kind, and made the whole experience very memorable and easy.

Sent on 18/09/2020

Michelle S. · Married on 15/08/2020

Amazing, easy, affordable

We found Jim through an internet search and it was God sending us a blessing. Jim made our wedding ceremony so special. He jumped onto every "odd" thing we suggested and gave it a spin that turned our ceremony vibrant. We couldn't have asked for more. He was easy to work with, and extremely accommodating. I would suggest him to anyone getting married, thanks Jim for all your work and the wonderful laughs.

Sent on 05/12/2019

Ottawa Wedding Officiants's reply:

What a unique way to begin married life – exchanging vows at a spa. Nordik Spa was the perfect backdrop for your wedding celebration. Having your kids sign a copy of your Registry Form was a highlight of your very personal ceremony.

Thank you, Michelle and Mike, I thoroughly enjoyed your ceremony and meeting your family.

I wish you much joy and happiness throughout the years.

Jim

Samantha L. · Married on 25/07/2020

Absolutely incredibly experience!

We were lucky enough to have Rinette perform our ceremony a few weeks ago. Rinette immediately reached out to get a feel for what we wanted our ceremony to look like and was courteous enough to follow up via text and email to answer and questions I had and to make our ceremony fit us perfectly! We couldn't have asked for a better officiant. Rinette was kind and professional while also being very approachable. Our ceremony was perfectly charming, warm hearted and relaxed. We will forever be thankful to her for being so wonderful!


Happy newlyweds ❤️

Sent on 04/08/2020

Candice&Shaun · Married on 04/07/2020

The Best Officiant in the Biz

Due to the circumstances of COVID-19, my partner and I decided postponed our wedding and reception but still wanted to commemorate our original wedding day by signing our papers. We reached out to Jim some few weeks ago explaining our situation and he was extremely understanding and empathetic. It becomes very clear when meeting with Jim that you are meeting with someone who is team #love.

Both Jim and Rinette worked with us every step of the way, providing insightful tips and guidance from their many years of experience in the industry so that our wedding ceremony--regardless of the circumstances-- was one that we would remember forever. Jim's magnetic personality and warm sense of humor makes him the perfect officiant. He was a pleasure to work with and we are so happy we chose him to officiate our wedding.

Sent on 07/07/2020

Brooke B. · Married on 01/06/2020

Great officiant

Best officiant I could ask for during COVID-19. Polite and professional.

Sent on 07/06/2020

Karen B. · Married on 15/02/2020

Excellent experience

Jim Emerson was amazing to work with. He went above and beyond offiating our wedding at a very unique location.
He offered lots of help and feedback in helping us plan out our ceremony. On the day of our wedding he was professional and funny. He really helped set the tone for a wonderful ceremony. I would highly recommend Jim Emerson.

Sent on 02/03/2020

Ottawa Wedding Officiants's reply:

Congratulations Karen & Bryan on creating a ceremony that reflected your adventurous personalities and was as unique as the location you chose for your ceremony. Although it was a bit chilly outside, your words warmed the hearts of those who braved the elements to celebrate with you.

Thank you for your recommendation and kind words of support. I wish you continued joy and love as you begin your life's journey together.