Reviews for Queer As Funk
Awards
17 User photos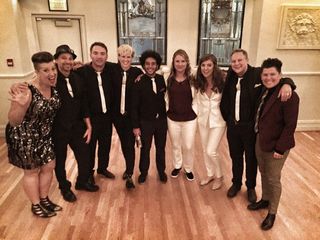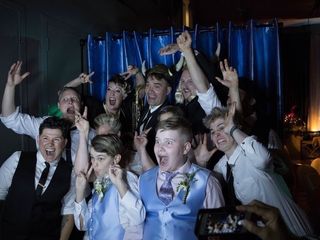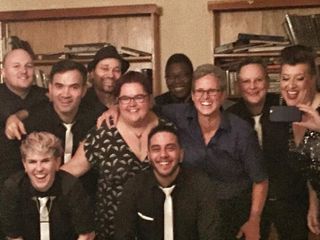 Anne-Marie and Deb Cowper-Long · Married on 28/09/2019

Queer as Funk

Hiring Queer As Funk for the after party to our wedding was the best decision we made (after choosing each other, of course). We live on a small island and invited the whole community to join the party. Months later, everyone is still raving about it and asking when the band is coming back. People were up and dancing from the moment Queer As Funk took the stage until DJ Slade closed out the night. Alison was amazing to work with and the band totally rocked it. We'd hire them again in a heartbeat! Queer As Funk was the perfect way to celebrate our queer love, marriage and community.

Sent on 01/01/2020

Queer As Funk's reply:

Anne-Marie and Deb, thank you so much! What a magical night. We loved celebrating with you, your friends and family, and the awesome community of Quadra Island. We haven't stopped talking about it. Big love to you both!

Halley Keevil · Married on 17/08/2019

Incredibly talented, fun, unique band and GREAT at throwing a party!

My wife and I are SO happy with our decision to hire Queer as Funk for our wedding reception. What a blast it was. They played songs for all generations and are extremely talented. They are also interactive and fun - real crowd pleasers. Alison was incredibly helpful and responsive before the event as well, and even met us for coffee to chat about exactly what we wanted from. We couldn't be happier and can't wait to see them again when they are playing next near us!

Sent on 15/09/2019

Queer As Funk's reply:

Halley and Angie, thank you so much for having Queer As Funk at your reception, it was our absolute pleasure to celebrate with you! The night was amazing - we all still can't get over the Beyonce serenade. Goosebumps!! Thanks friends, all the best.

Michael Howcroft · Married on 15/06/2019

Best Wedding Band You Can Hire!

They are amazing. The dance floor was full and hopping all night long. I have had many of our guests come up to us at and after the wedding to say how great the band was. They were a joy to deal with as well. If you want a great band for your wedding, HIRE THEM!!!!!!!

Sent on 08/07/2019

Queer As Funk's reply:

That night was AMAZING. What an incredible group of friends and family, you are loved by so many. Your wedding was next level. Sending so much love and congratulations from everyone in the band to you both.

Kristen Sands · Married on 25/05/2019

Absolutely Amazing!

I can't even begin to tell you how wonderful, amazing and so so so much fun this band brings to the table!!

Don't hesitate, don't deliberate, just do it. Next to marrying the person you love this will be the next best decision ever made!!

This group of fabulous people know their stuff, they put their heart and soul into their performances and your family and friends will talk about YOUR wedding for a long long time!!

Sent on 11/07/2019

Queer As Funk's reply:

Your wedding was fabulous! It was our absolute honour to celebrate with you and Leigh, as well as your sons on this beautiful occasion. Thank you so much for including Queer As Funk, it was a magical night. Love to you all!

Aviva Finkelstein · Married on 25/08/2018

You need Queer as Funk at your wedding or next event!!

We hired Queer as Funk to play at our wedding in August of 2018 and we can not say enough good things about them. They truly made our wedding an amazing experience and our guests are still talking about them months later. They were a pleasure to deal with, responded quickly to all of our emails and addressed any questions promptly and professionally.

They were, without a doubt, the highlight and our favourite part of our wedding and we can't recommend them highly enough.

Sent on 29/11/2018

Queer As Funk's reply:

Kim and Aviva, thank you so much! Your wedding was fabulous, and we are so honoured to have been a part of it.

Mira Oreck & Stepan Vdovine · Married on 29/07/2018

Simply, the best

When we envisioned getting married, we always imagined having Queer As Funk as part of the day. We are longtime fans of their music (greatest dance band in town!), their politics and the band members as people. Everything about working with them exceeded our expectations. They were flexible, professional, full of great song suggestions and ideas, and most importantly their music was exquisite. We strongly recommend them for any occasion.

Sent on 06/08/2018

Queer As Funk's reply:

Thank you so much, Mira and Stepan! It was our absolute honour to play at your wedding - what a perfect day.

Patti Powell · Married on 15/07/2018

Best Wedding Dance Band Ever

I LOVE this band. They are exciting, tight, playing both old-school r&b, funk and soul AND up to date numbers; the energy never lagged, the band was SO fun to watch as well as dance to. It was my wedding day and I was exhausted, but I could NOT. STOP. DANCING. They even emailed me beforehand to ask what song we wanted for our first dance, and gave me suggestions. And any band that has that much fun on stage should be at your wedding. Great value! Plus, we're as queer as the band is, which is lovely to have that reflection of our community on stage.

Sent on 20/08/2018

Queer As Funk's reply:

Thank you, Patti! We had so much fun with you and Emilie at your wedding, what an amazing night! 💕 You are such a beautiful, generous couple, we wish you all the happiness in the world.

Shelley Moore · Married on 01/07/2018

The. Best. Band.

Queer as Funk was AMAZING! The number 1 response from our guests was, "That band was the best!" Everyone danced and sang along and had the greatest time. Through their music, they bridged generations and perspective, with celebration and love. Im so glad we chose them, I am even more glad that they were available and so proud that they were there to celebrate our special day.

Sent on 26/08/2018

Queer As Funk's reply:

Shelley and Jessica, your wedding was so beautiful, thank you for including Queer As Funk in your special day!

Allison Warren · Married on 10/02/2018

The best band ever

Queer as Funk was the absolute highlight of our wedding. Such talent, such energy, such a great party! They have so much fun on stage, but not even close to how much we were having listening and dancing to them. Highly recommend.

Sent on 07/03/2018

Queer As Funk's reply:

Thanks Allison! Your wedding reception was a PARTY! Thanks for including Queer As Funk, we had a fantastic time celebrating with you and Oran.

Jacqueline Breakwell · Married on 14/10/2017

The main thing we wanted for our wedding guests was to have a fabulous experience and enjoy celebrating our love with us. We new that having a fabulous live band would do just that. I really can't think of any band better than Queer As Funk. The routinely have had sold out shows that myself and friends have attended, and I couldn't believe they did weddings! They have a large range in the way of era's of music, so there is defiantly something for all folks. Their music is high energy - and so are the performers! It is seriously a top end private concert for you and your guests. How often do you see a horn section live on stage these days?!
The liaison for the band - Alison - was very quick to respond and made me feel like I was in extremely capable hands. They were able to accommodate all our needs with set up, sound check, working with the venue - and we even booked the incredible DJ Slade for in between sets and after the band. All in all a killer experience. People still talk to us about how amazing that band was and if they are touring and can see them again. Queer as Funk was definitely the highlight of the night - other than marry the love of my life of course!

Sent on 29/11/2017

Queer As Funk's reply:

Thank you so much, Jacqueline! Your wedding was absolutely magical, thank you so much for including Queer As Funk.