Reviews for Chantal Dube, The Harpist
Awards



4 User photos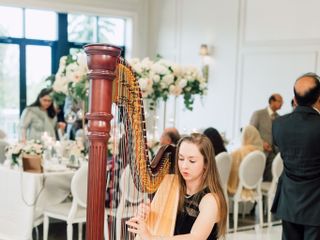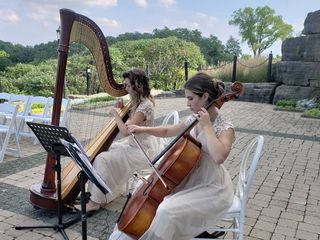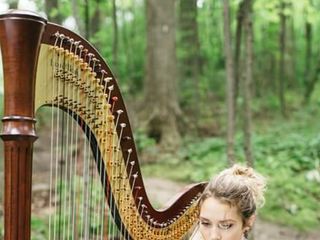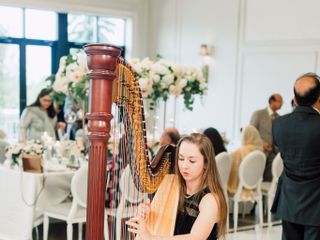 Kadian · Married on 08/08/2020

August 8 2020 wedding

I was so happy that the ladies were able to play at my wedding. Thank you so much, I loved it so much! Would certainly recommend and use again.

Sent on 22/09/2020

Judice M. · Married on 24/11/2019

Everything we expected and More

Rachel did a phenomenal job playing at our ceremony, she went the extra mile by adding musical flourishes and was very flexible with ceremony space. She truly set the ambience and mood for our ceremony.

Sent on 25/11/2019

Melanie B. · Married on 26/10/2019

Excellent Service

Great to work with and the performance was outstanding!

Sent on 29/10/2019

Datb · Married on 22/08/2019

Add a Harp to Your Ceremony - You will not regret it.

Add a harp to your wedding- made such a difference. Chantal Dube was a delight with whom to work - highly recommended.

Sent on 22/08/2019

Chantal Dube, The Harpist's reply:

Thanks so much for your kind words. We really appreciate you taking the time to give us a great rating and review. All the best to you both!

Cecilia L. · Married on 25/05/2019

Beautiful addition!!

I have known Chantal for many years as one of her former harp students. I thought it would be an amazing addition to have my previous harp teacher play at my wedding. She was very welcoming to my family and I, she even let me play my favourite song (she only let me do this because I know how to play) lol but man that experience and those pictures were stunning! Chantal has always been amazing and it was great seeing her again, all of my guests were entertained during the cocktail hour. She played current music as well as your classics. If you're looking for that little bit of personality on your big day you should seriously consider Chantal and her team!

Sent on 29/05/2019

Chantal Dube, The Harpist's reply:

Thanks so much for your kind words! It was an honour to perform for you and your new husband on such a special day. I was so glad I arrived early enough for you to play on the harp a little. It was truly a special moment! All the best! xoxoxox

Jenna K. · Married on 28/04/2019

Harpist for Wedding Receiption Entertainment

Chantal & her team of musicians would be an excellent addition to your wedding function (whether that be ceremony or reception). I had Rachel Dignard (harpist) perform the harp at my wedding reception and we absolutely loved her 1-hour performance. We also got excellent feedback from our guests as well! She was also able to learn and play two songs which originate from the Arab musicians, and performed them seamlessly. Thanks so much for everything!

Sent on 17/09/2019

Chantal Dube, The Harpist's reply:

Thanks so much for your kind words! We are so happy that you were pleased with Rachel's performance and her performance of the Arab music you requested. We are happy to add that to our repertoire. All the best to you both!

Kate · Married on 25/11/2018

Outstanding

Chantal Dube and her team of harpists are outstanding. The attention to detail, care, and level of service are exceptional from the moment you contact Chantal to your most day. On our wedding day Rachel, a harpist within Chantal's team, helped us make a beautiful memory. Highly recommended!

Sent on 03/12/2018

Vanesa V. · Married on 06/10/2018

Amazing experience

We had Rachel play the harp for our wedding last month and she was absolutely incredible. She played beautifully and we were so impressed by her wonderful timing with everything. The music choices were great and this vendor was so easy to work with. It was such a nice touch to have a harp at our wedding and we were so happy to have chosen this music vendor. Thank you guys!

Sent on 11/11/2018

Terry · Married on 23/09/2018

Chantal is awesome!

I couldn't say with enough emphasis that hire the right person for your wedding will make your life that much easier. For that, we are very grateful to have picked Chantal to play for our wedding ceremony this year. With all the planning we had to do, we relied on Chantal's experience and gave her minimal direction to what we wanted her to play at our wedding. She was a great performer and more importantly, had the experience to make sure the music transition for various stages of the ceremony was seamless. Everything was exactly what we had hope for. Hire Chantal with great confidence.

Sent on 05/10/2018

Chantal Dube, The Harpist's reply:

Thanks so much for your kind words! Experience does make it much easier for everyone! Celebrating 23 years of doing weddings this year, I have learned a lot :). All the best to you both!

Diane · Married on 16/09/2018

Beautiful musicianship

The musicians played beautifully and also learned a responsorial plasm for the singers in the ceremony. While not in everyone's budget - if it is, it's wonderful to walk down the isle to a harp and cello and having the beautiful music as part of the ceremony. It was pretty special.

Sent on 26/11/2018

Chantal Dube, The Harpist's reply:

Thanks so much for your review Diane. The harp and cello are certainly very special and are so happy that you were thrilled with the way your wedding ceremony performed. All the best to you both an I will pass along your kind words to Naomi and Heather!