Reviews for Chantal Dube, The Harpist
Awards



2 User photos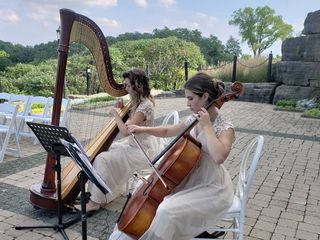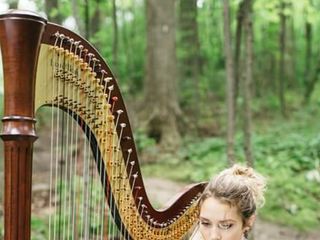 Cecilia Lapadula · Married on 25/05/2019

Beautiful addition!!

I have known Chantal for many years as one of her former harp students. I thought it would be an amazing addition to have my previous harp teacher play at my wedding. She was very welcoming to my family and I, she even let me play my favourite song (she only let me do this because I know how to play) lol but man that experience and those pictures were stunning! Chantal has always been amazing and it was great seeing her again, all of my guests were entertained during the cocktail hour. She played current music as well as your classics. If you're looking for that little bit of personality on your big day you should seriously consider Chantal and her team!

Sent on 29/05/2019

Chantal Dube, The Harpist's reply:

Thanks so much for your kind words! It was an honour to perform for you and your new husband on such a special day. I was so glad I arrived early enough for you to play on the harp a little. It was truly a special moment! All the best! xoxoxox

Kate · Married on 25/11/2018

Outstanding

Chantal Dube and her team of harpists are outstanding. The attention to detail, care, and level of service are exceptional from the moment you contact Chantal to your most day. On our wedding day Rachel, a harpist within Chantal's team, helped us make a beautiful memory. Highly recommended!

Sent on 03/12/2018

Vanesa Vidakovic · Married on 06/10/2018

Amazing experience

We had Rachel play the harp for our wedding last month and she was absolutely incredible. She played beautifully and we were so impressed by her wonderful timing with everything. The music choices were great and this vendor was so easy to work with. It was such a nice touch to have a harp at our wedding and we were so happy to have chosen this music vendor. Thank you guys!

Sent on 11/11/2018

Terry · Married on 23/09/2018

Chantal is awesome!

I couldn't say with enough emphasis that hire the right person for your wedding will make your life that much easier. For that, we are very grateful to have picked Chantal to play for our wedding ceremony this year. With all the planning we had to do, we relied on Chantal's experience and gave her minimal direction to what we wanted her to play at our wedding. She was a great performer and more importantly, had the experience to make sure the music transition for various stages of the ceremony was seamless. Everything was exactly what we had hope for. Hire Chantal with great confidence.

Sent on 05/10/2018

Chantal Dube, The Harpist's reply:

Thanks so much for your kind words! Experience does make it much easier for everyone! Celebrating 23 years of doing weddings this year, I have learned a lot :). All the best to you both!

Diane · Married on 16/09/2018

Beautiful musicianship

The musicians played beautifully and also learned a responsorial plasm for the singers in the ceremony. While not in everyone's budget - if it is, it's wonderful to walk down the isle to a harp and cello and having the beautiful music as part of the ceremony. It was pretty special.

Sent on 26/11/2018

Chantal Dube, The Harpist's reply:

Thanks so much for your review Diane. The harp and cello are certainly very special and are so happy that you were thrilled with the way your wedding ceremony performed. All the best to you both an I will pass along your kind words to Naomi and Heather!

Sharon Kim · Married on 09/09/2018

Elegant and Wonderful!

Working with Chantal Dube from beginning to end was amazing - they were very responsive and even offered suggestions as they've done this many times! We had Naomi and Heather to play the harp and cello for our ceremony and cocktail and couldn't be happier with how everything flowed together. They also braved the chilly outdoor weather as the temperature dropped just below 17C degrees on that day! Thank you, thank you!

Sent on 25/09/2018

Chantal Dube, The Harpist's reply:

Thanks so much for your kind words! I am so happy to hear that everything was a success! Wishing you both the best together!

Amanda Condello · Married on 01/09/2018

Sept 1, 2018 Wedding

Chantal was the epitome of classic. She provided such an amazing atmosphere for our wedding's receiving line. We got so many compliments on her performance and her professionalism is unmatched in the wedding industry. If you are looking for a classic wedding feel BOOK CHANTAL NOW!

Sent on 01/11/2018

Brenda Dremetsikas · Married on 01/09/2018

Absolutely Perfect

Chantal was the perfect addition to our wedding ceremony. She was kind, professional & of course - played absolutely beautifully. Our family & friends have not stopped commenting on her lovely set. Would highly recommend !!

Sent on 09/11/2018

Yusuaf Omarkhail · Married on 31/08/2018

An Elegant and Tasteful Performance

Thank you so much for making our wedding ceremony and cocktail hour musically beautiful to perfection. Chantal and her team were well organized, and set the mood for our wedding with their incredible musical talent.

Sent on 11/10/2018

Chantal Dube, The Harpist's reply:

Thanks for your kind words and the lovely picture of the harp and cello twins! They love to perform and they are truly amazing! One of our most popular packages to book in 2018 was the harp and cello twins! All the best to you both!

Rika Vuong · Married on 26/08/2018

Honest and an exquisite addition to the ceremony

As the bride, I didn't really get the chance to enjoy her music and performance. But I have had many Bride to bes ask me for her contact. She adds elegance to the ceremony and is perfect for pictures. Music was perfection and would added emotions to the ceremony. I now regret not getting a videographer just to see her play.
She was also honest. My venue kicked her out before her time was up, she suggested to be moved, but they insisted on her departure. She could have just left and I wouldn't know, but she notified me and even provided a refund for being kicked out 30 mins early.
You would love her if you want that fairytale wedding, One of a kind music!!

Sent on 30/08/2018

Chantal Dube, The Harpist's reply:

Thanks so much for your review! I'm so sorry you didn't get to hear more of my performance but you had a gorgeous wedding. All the best to you both!