Reviews for MistyBlue Flowers
Awards
1 User photo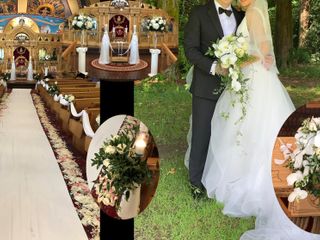 Yoon Y. · Married on 29/05/2021

Beautiful flowers for wedding

She was the florist for my daughter's wedding. It was beautiful! - she was able to capture exactly what we wanted. She even went beyond our expectations in terms of creativity and organization! I felt very at ease when planning and setting up the wedding with her:) I would highly recommend!

Sent on 01/06/2021

James H. · Married on 21/11/2020

High Quality Service!

We just had our covid-micro-wedding in late November right as they announced the updated restrictions on weddings, so needless to say we were frantically making last minute changes up until the wedding day. But MistyBlue Flowers ensured that their decoration was the one thing that we didn't have to worry about!

On the day of the wedding they spent all morning in the freezing cold setting up decorations hours before anyone else had arrived, and they even brought extra decorations that weren't part of the rental just to make sure our wedding turned out beautiful. They also took our separately rented decorations and incorporated them on the spot without blinking an eye. If high quality, ease of mind, and efficiency is what you're looking for then we can definitely vouch for MistyBlue Flowers.

The other reviews are not exaggerating, MistyBlue Flowers is truly a pleasure to work with. They are professional yet courteous, quick to respond, and very accommodating, and we highly recommend them for any wedding. Oh, and the flowers from the wedding are still alive and enjoying the sunshine on our balcony. Thank you again!

Sent on 03/12/2020

Courtney B. · Married on 03/10/2020

Beautiful Flowers, Amazing Service!

I used MistyBlue Flowers for my October wedding. Jamie was professional and kind, and was a pleasure to work with. I showed her pictures of what I had in mind and she made beautiful arrangements that were exactly what I wanted. Everyone at my wedding was blown away by how beautiful the flowers were. She went above and beyond for my wedding! Highly recommend!

Sent on 09/10/2020

Cari · Married on 04/07/2020

I got what I was looking for!

I just want to THANK YOU for the beautiful flower décor at our micro wedding. The Church looked absolutely beautiful with your flowers. Very romantic. I loved the lowers at the alter and how you laid out the petals on the floor. The bridal bouquet passed my expectations. I LOVED IT! We, the bride and groom, were blown away by it. We livestreamed our ceremony and got great comments from all around the world.

I really liked how Jamie handled the Consultation, like a friendly conversation but also in a professional way. She put attention into detail and got what I was looking for. I could tell right away that she is in the right field and flowers are her passion. Her background on design was an extra help. The bouquet was the result of that consultation, she got my personality and what I was looking for, also taking a look of a wedding dress helped.

Even though, I did not have adequate time for properly planning my wedding, I did conduct a lot of research, but had unfortunately runs short of time. So, I required someone that was able to work under pressure and time constraint. And misty blue, really came through. They did a fantastic job (including follow up) and were very professional with guiding me through what I needed for to set a beautiful wedding.

Things might change during the wedding day. However, Mystyblue was very flexible with these changes. I appreciated their hard work.

I highly recommend Misty Blue Flowers for floral weddings décor of any size wedding


Sent on 16/07/2020

Jackie W. · Married on 08/06/2018

Friendly owner and great service

Bora did our wedding flowers and they were beautiful. She was so friendly and helped us picked out the flowers for us. Definitely recommend anyone to reach out to her for any floral needs.

Sent on 27/04/2020

MistyBlue Flowers's reply:

Thank you so much for your kind words, Jackie. We really appreciate you taking the time out to share your experience with us.

We count ourselves lucky for customers like you. We look forward to working with you again in the future!

Dr. A. · Married on 25/08/2012

Breathtaking arrangements

We have used Misty Blue for various occasions and events and have always been blown away with our experience. Each of our arrangement orders have always been promptly fulfilled with elegance, beauty and creativity. The end product has always been way above our expectations. This truly speaks of the heart of what Misty Blue is about. Thank you so much Misty Blue! We look forward to our next order with you!

Sent on 03/05/2020

MistyBlue Flowers's reply:

Thanks for the awesome review, Adrian!

We work hard to meet expectations like yours, and we're happy to hear we hit the mark for you. Come back and see us soon. Cheers!