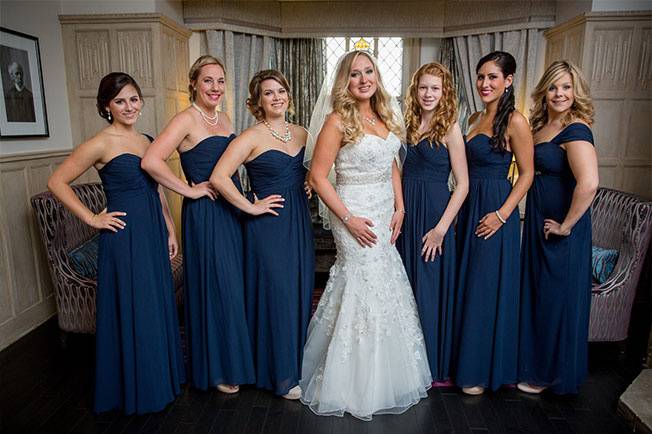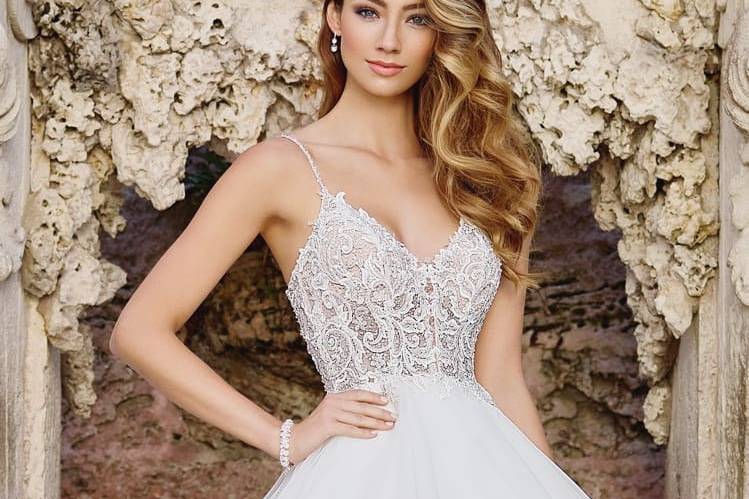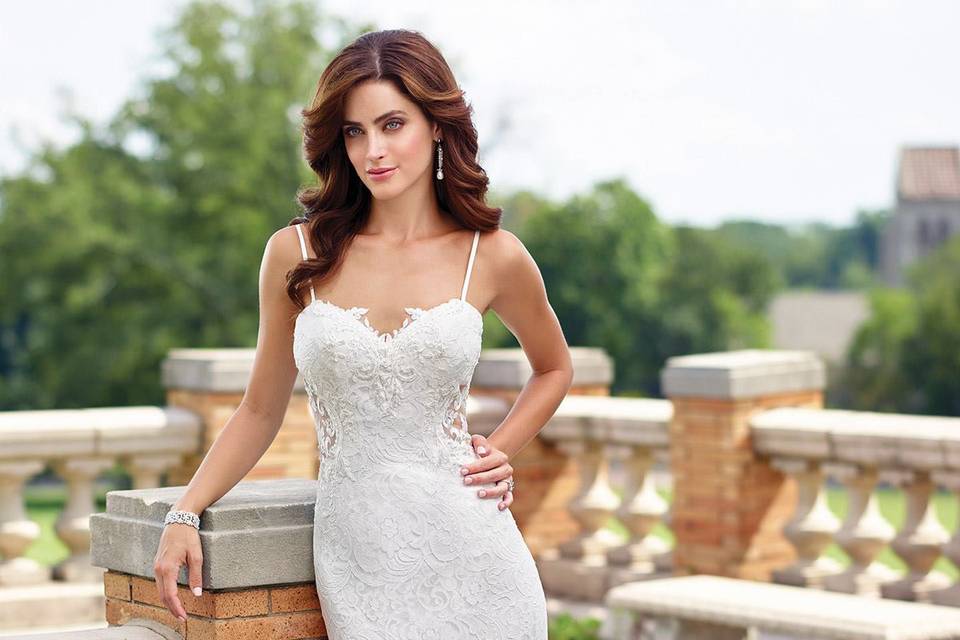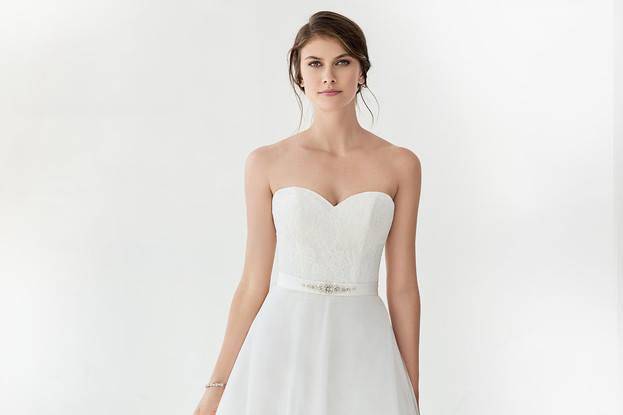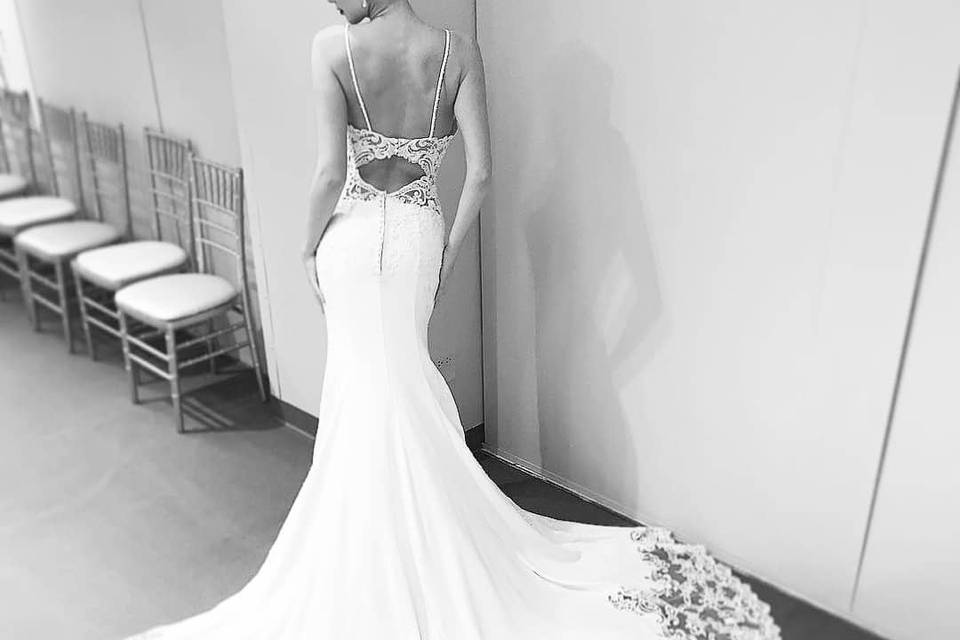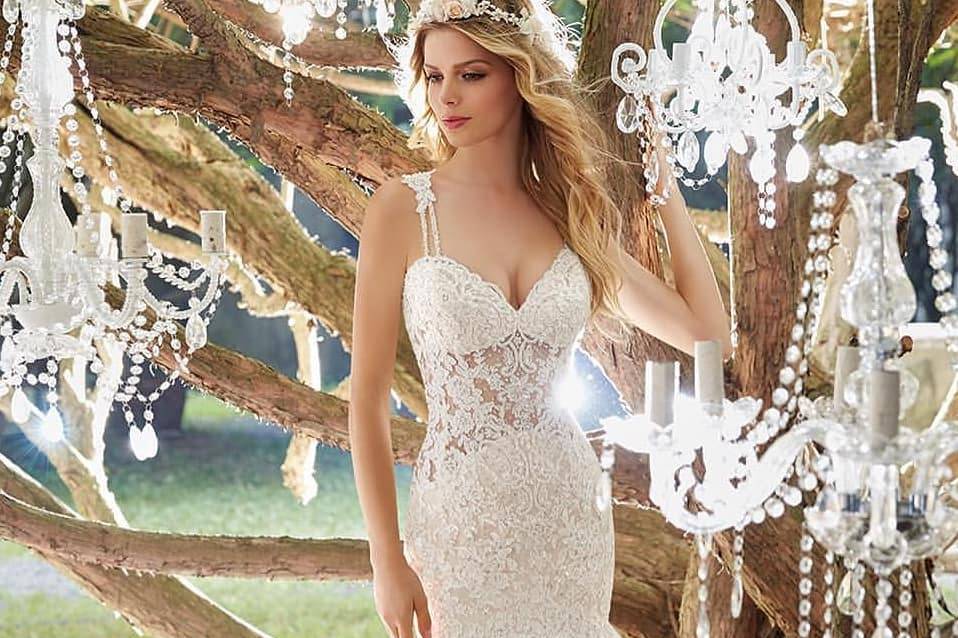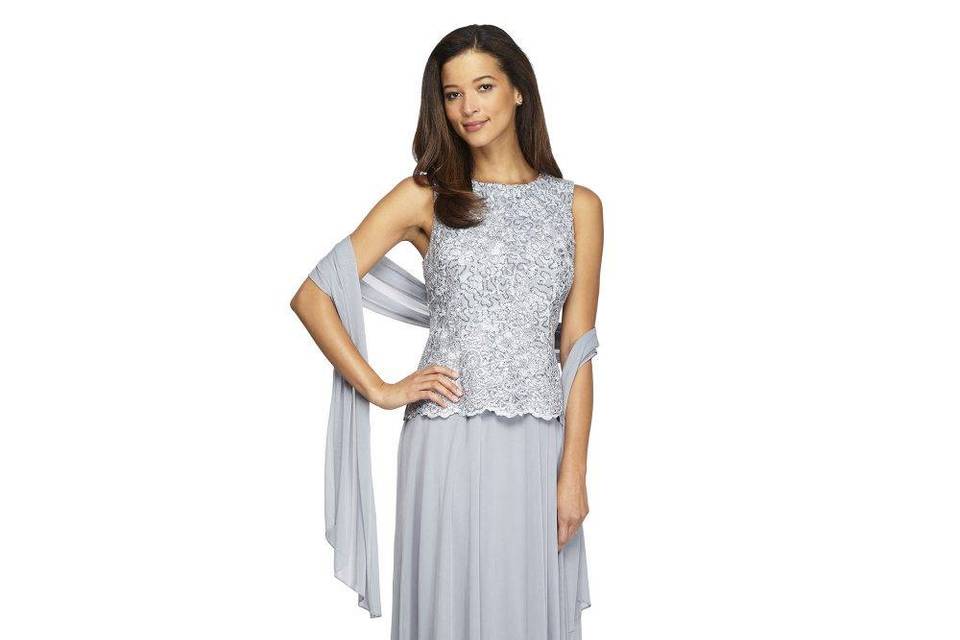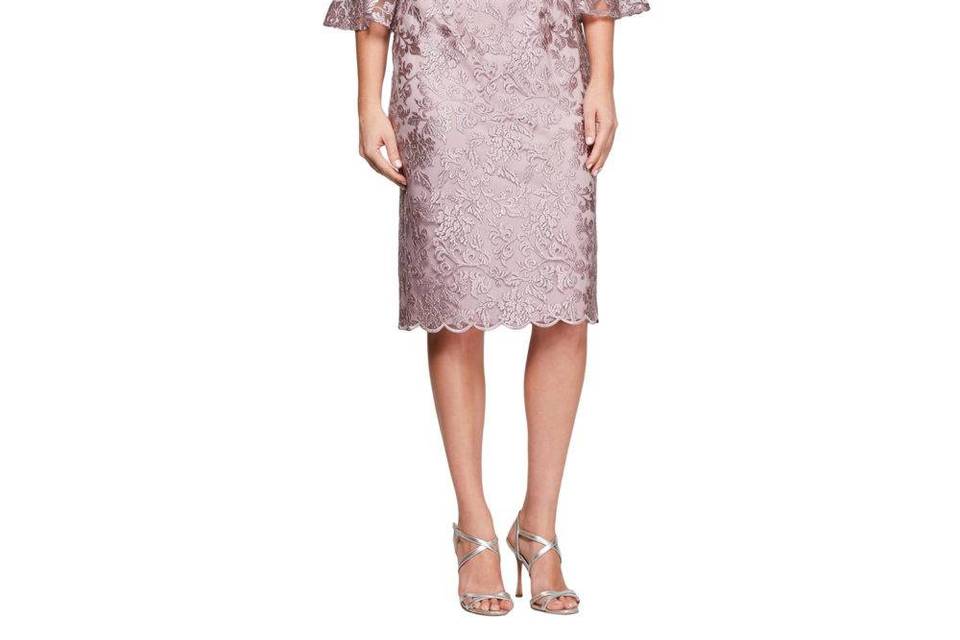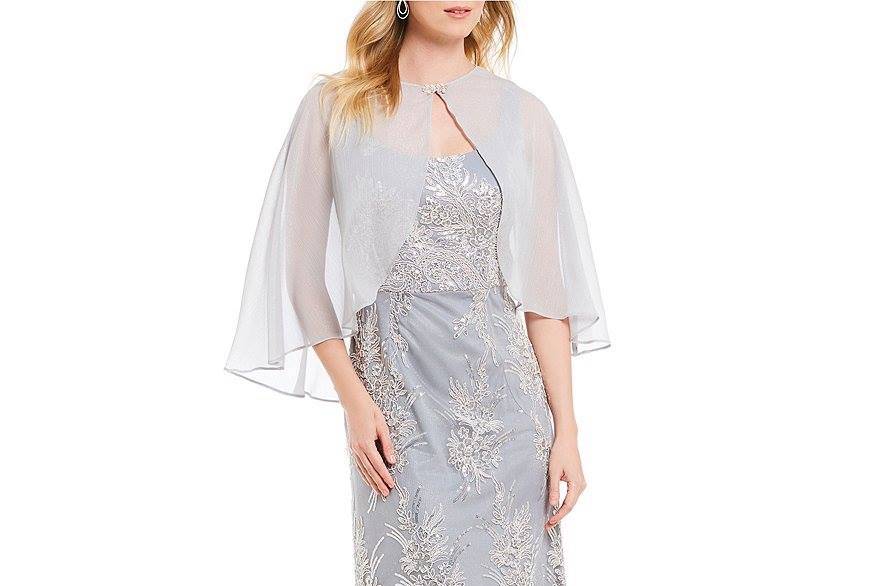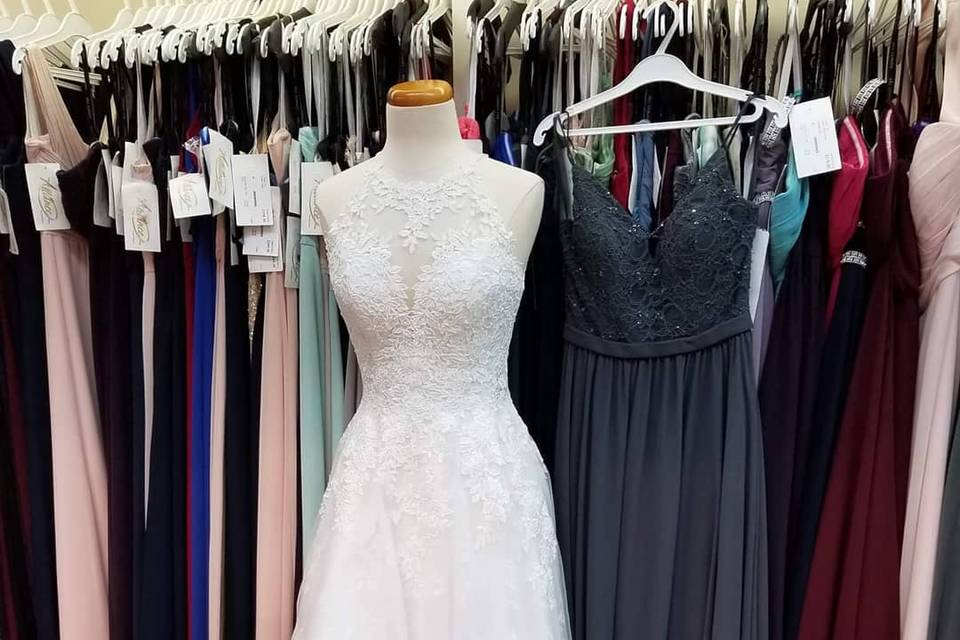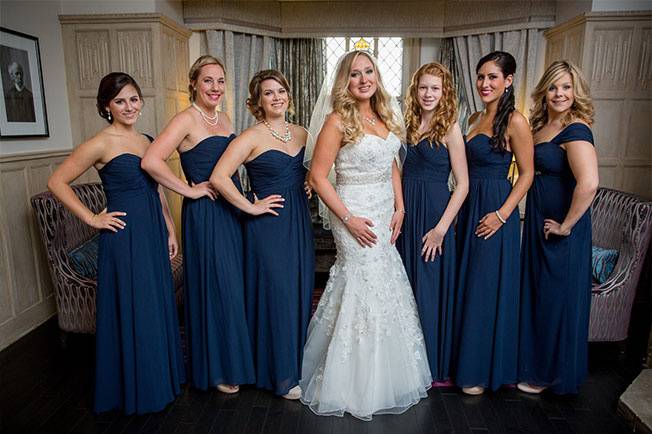 About
Alliance Bridal has family business that started in 1979. Customer service has kept the family at the top of bridal lists. The location seems like it is in the middle of nowhere, but many customers come out due to the huge selection of dresses. The family loves helping brides find the perfect dress, while creating trust between the stylist and bride for the best experience.
Experience
The family have been the owners for three generations, serving brides since 1979. In 2004, the family upgraded to a larger space, which then expanded even more in 2006 by adding a second floor. The large selection of dresses and incredible staff will leave you reassured that you're in good hands. The team consists of numerous people. Antoinette, the bridal seamstress, has been there since the beginning in 1979. She works in the alteration department, also known as the "miracle room." The stylists include Tania, the bridal manager, who has been there for more than 10 years. Shelly, Paulie, Marie Claire, Melanie, and more have been with the family, helping brides find a look with people they can trust.
Designs offered
The family specializes in affordable couture bridal gowns, bridesmaid dresses, and special occasion dresses. The brides have many designers to choose from, such as Maggie Sottero, Allure Bridals, Madison James, Disney's Fairy Tale Weddings, Bonny Bridal, Venus, and more. The family offers the following:
Bilingual service
One-on-one personal service
Newly designed bridal rooms ''
Best brand name gowns (in Canada)
Biggest selection of dresses in Eastern Ontario
Complimentary storage, steaming
Product satisfaction guarantee
In-store seamstresses by appointment (Monday-Friday)
Off-the-rack bridal gowns for those who don't have time to order one
Something blue for brides
How they work
Bridal gowns typically take 3 to 5 months to arrive once it is ordered. The family recommends you start looking for a dress about eight months before your wedding, considering it can be hard to find a dress sometimes. Two weeks before your wedding, you will have your final fitting and find a date to pick your dress up. Appointments are always recommended to ensure you have personal service catered to you.
Highlights
Clientele
Bride, bridesmaids, flower girls, mother of the bride, mother of the groom
Quality of service

Rating 4.6 out of 5

Response time

Rating 4.5 out of 5

Professionalism

Rating 4.5 out of 5

Value

Rating 4.8 out of 5

Flexibility

Rating 4.8 out of 5
Julie D.

Married on 21/09/2019

Management could use customer service training

The owner will talk to other people in the room while you're trying to talk to her (either in person or on the phone), they booked a time for me to come pick up my dress yet when I showed up they told me it wasn't steamed cause they didn't know I was coming (they called me). I waited outside for 30 minutes for them to steam it and it wasn't even done but they were closed so they told me to either take it as it was or to come back. When the owner was looking for me she went outside and started yelling "hello??? Hello?????" Instead of looking next to the front door, on the only bench. It was a weird experience. They want you in and out all the time and I didn't feel welcome there.

Tracey S.

Married on 03/08/2019

Wedding Tracey & John August 3rd

Amazing does not even begin to explain the service we received!

Mathieu

Married on 06/05/2018

Thank you Alliance!

We obtained wonderful all around service from Alliance Bridal in Moose Creek, ON.
The girls were so kind and helpful. They gave great advice on accessories and hairstyles.
Their dress selection is very large and divers and fits all budgets!
I highly recommend checking it out :)

Laura H.

Married on 07/07/2017

I bought my dress and had all my alterations done here. They have beautiful Jewellery and accessories too.
I was really pleased with all the staff and the selection of dresses is great.
They are getting my dress cleaned for me as well, which saved me some hassle of looking around for a good cleaner for it!
All in all an excellent store to visit for anything bridal related!

Chantal D.

Married on 12/10/2019

Wedding Dress

I got my wedding dress from Alliance Bridal. The staff were very nice and professional. I also got my alterations done there and am very happy with the results. I would recommend to anyone.

Amanda M.

Married on 14/07/2017

Alliance was amazing from the moment I walked through the door. I had many appointments the day that I went but ended up cancelling as I found my dress and knew I didn't need to go anywhere else. The customer services was amazing and everybody doated on you like you were the only one in the store. I love my dress and it was everything I could have dreamed about it a wedding dress! I highly recommend Alliance Bridal!

Melanie B.

Married on 03/09/2016

Tanya is a very great salesperson who listened to my needs and was friendly.
But the fittings....another story!


1- I was aware I had to pay for alteration, but nearly 400$ was unexpected. I know my dress wasn't the most expensive one I could have purchased, but it would have been nice to have a "heads up" when I was selecting the gown.

2- My fitting…was…interesting. My mother and friend were talking with the young seamstress who seemed in a hurry and bluntly told them to get out of her way. I found her to be rather on the rude side.

3- I had to have my daughter kept to visit the store on a Thursday night. Between that day and the fitting, one month had passed. The dress didn't fit AT ALL. The seamstress had not calculated the measurements or whatever happened, was very stressful. The few employees that were around me kept asking me if I had gained weight of if I was bloated, I'm even surprised they didn't ask me if I was pregnant. I was worried but no one seemed to care about that. Trust me, at 5'9 and 130 pounds and have been for years, I hadn't gained weight in a month! So I had to return to moosecreek another time. It is an hour drive and not easy with our young daughter.

4- The day I picked it up – another seamstress, that was very nice, came to help me. She told me that she had put back all the material for the dress and no need to take out so much what was originally taken out. So my question, why was I charged nearly 150$ just "to take in the dress" when it wasn't even necessary at first ?

5- The dress needed to be shortened, I paid for that as well. You can actually see where it was cut, and it's all crooked, the finished hem wasn't even apparent any longer.

6- I paid for a bustle that didn't even stay pinned to 30 minutes – the pins broke off and I used the elastic under the skirt – another 100 dollars for no reason !



Chelsea S.

Married on 16/07/2016

I had an aboslutely wonderful experience wedding dress shopping at Alliance Bridal. It was an unforgetable day. I had made 3 appointments and Alliance Bridal was my first and I ended up cancelling the others. I am the most indecisive person so I was surprised. I felt so comfortable and not rushed there at all. They have dresses for every body type and any budget.
The only complaint I have, which is important to mention, was with billing so if you buy a dress at Alliance be sure to keep all of your paper work, as the lady who does the collecting is quite chaotic. I had even paid for more than 50% of my dress upfront, set up credit card payments for the rest and stored the dress at the store! However when she called me she spoke to me as if I had run off with the dress and left the country because THEY had failed to take out one payment on the scheduled date. I also overheard her have similar telephone conversations with other brides while I was in the store for fittings and pickup.
They seem to be pretty disorganized when it comes to billing and collecting. If you keep all of your papers and records of payment you'll be fine but I won't lie it did leave a bit of a sour taste in my mouth after such an amazing experience. I would still recommend Alliance Bridal to my friends.

Marrey M.

Married on 18/06/2016

I cant even begin to tell you all how amazing my experience was!

I have to say i was going in with a very open mind and didnt want to get hooked on a perticular style or dress i guess this helped :)

My appointment was on a saturday very busy day but still all the attention was on me. The lady who took care of me really took the time to understand what i was looking for and worked with my budget. We started with 4 gowns witch were all gorgeous and flattering! Found the gown, gave my deposit and left all in 2 hours time. Oh and i had a big crew with me and it was no fuss (my entourage is pretty easy to work with so yay for me :) )

Sabrina G.

Married on 21/05/2016

I cannot recommend this boutique more! I checked the store out as it was suggested to me by my mother's friend, and was not disappointed! Unlike the dress stores closer to where I live, these ladies were helpful, easygoing and not an ounce of 'know-it-all' personality about them. There was never a point where I felt I was being rushed, which was amazingly refreshing. There is also a huge selection of dresses starting below $1000 (I think the lowest priced one I tried on was $450, on sale - it was gorgeous btw). They also offer great priced alterations. ... and yes, I said yes to the dress here! ;)
Alliance Bridal Real Weddings
Brooke & Jory

32 Photos · 31/Aug/2019

Jenna & Chase

15 Photos · 17/Aug/2019

Stephanie & Tyler

37 Photos · 15/Jul/2018

Jennifer & Bergil

51 Photos · 29/Jul/2017

Taylor & Carl

20 Photos · 02/Jul/2016
Map
Moose Creek K0C 1W0 Moose Creek&nbsp(Ontario)