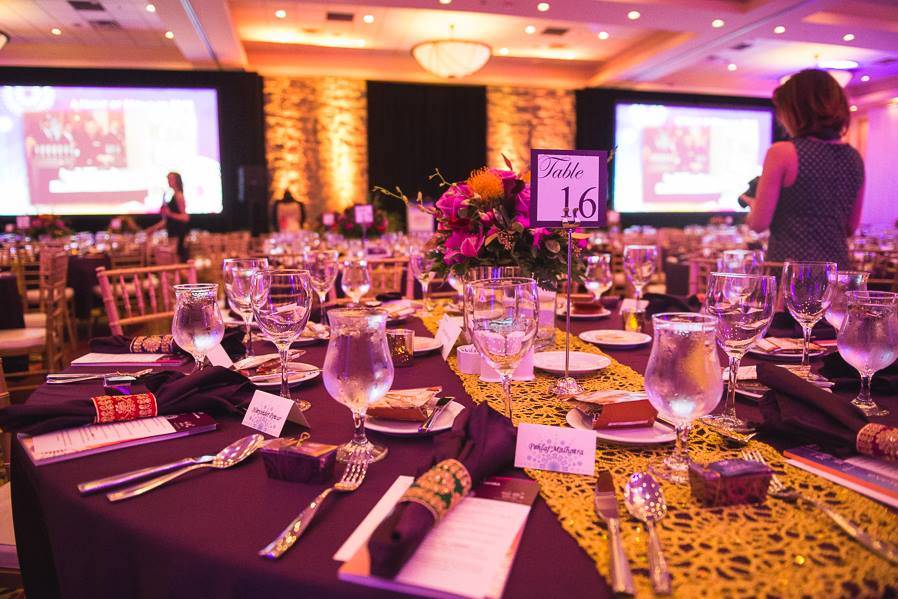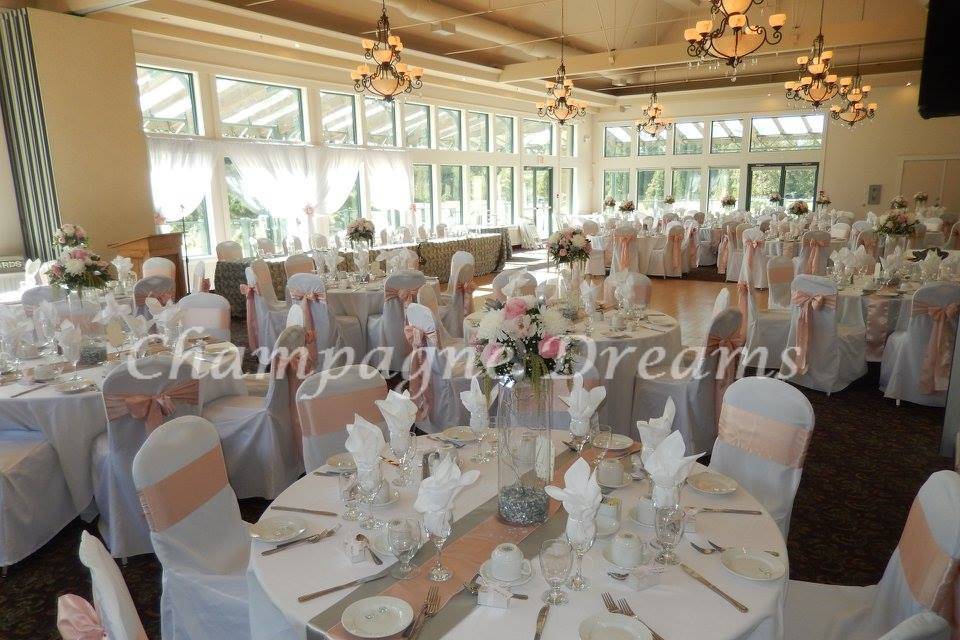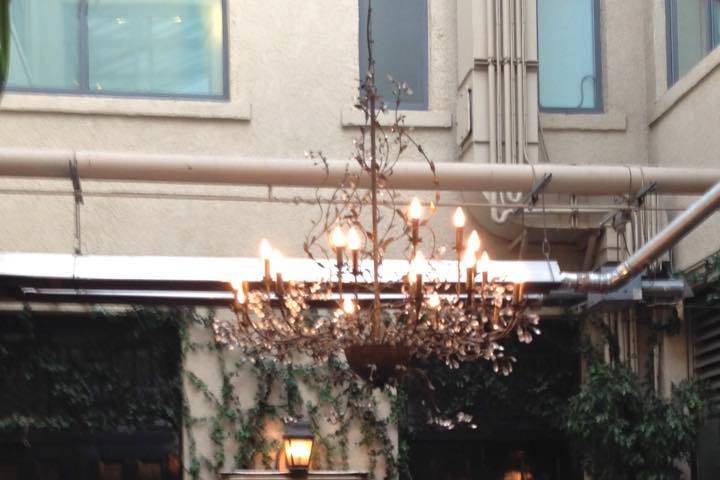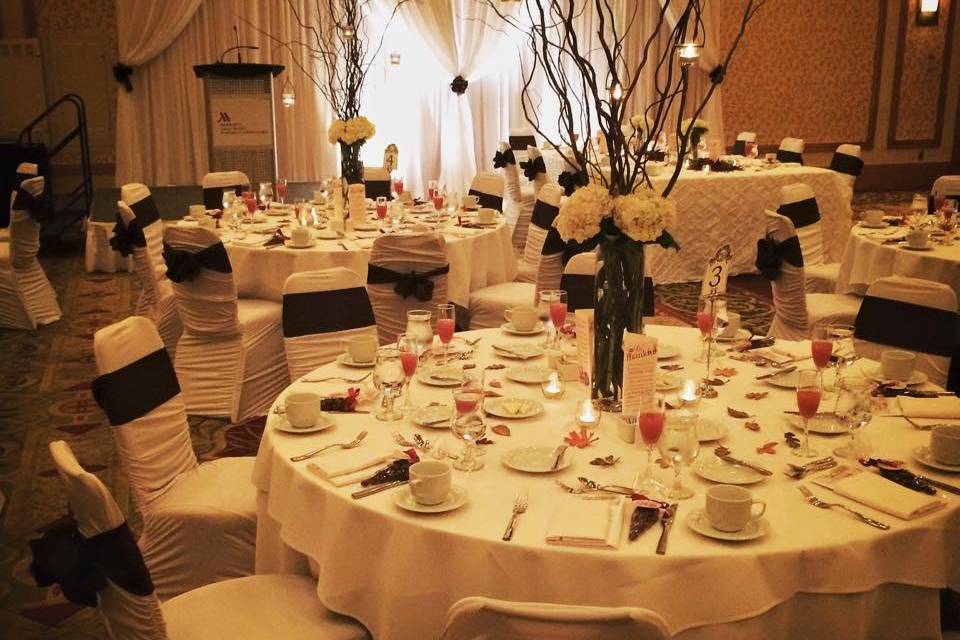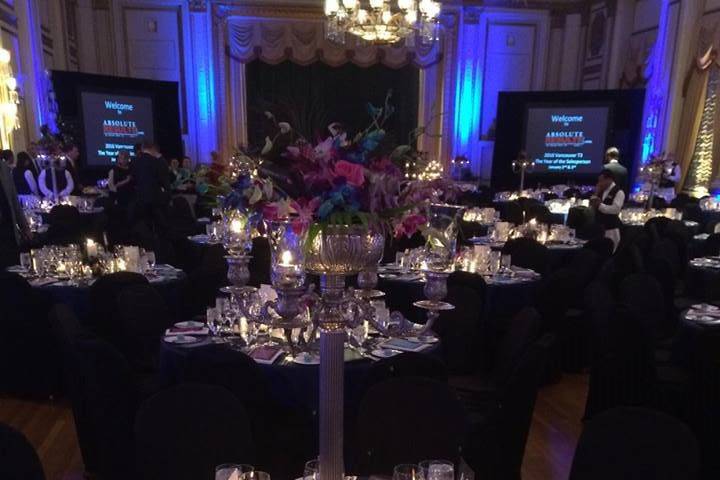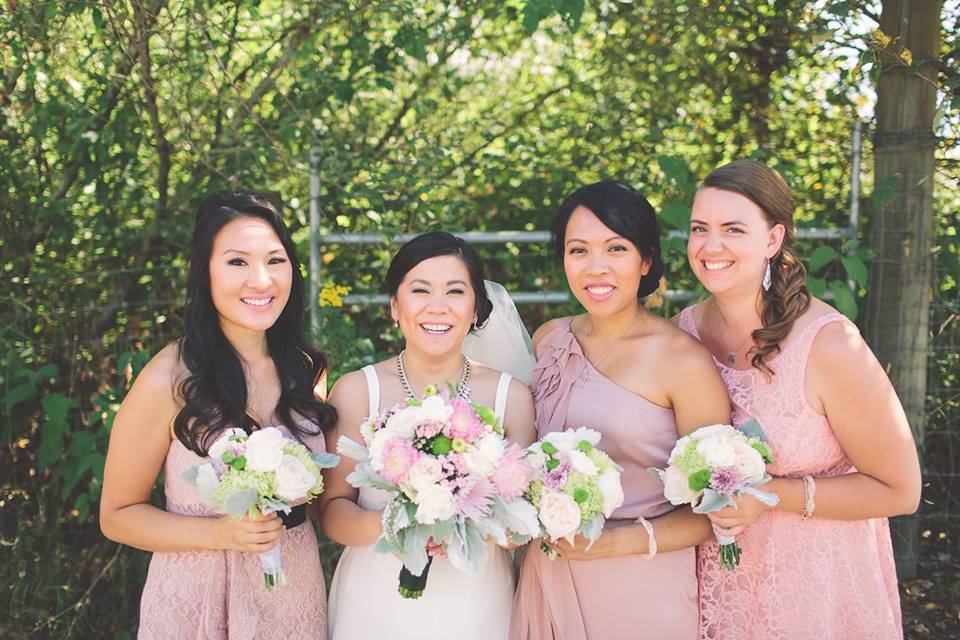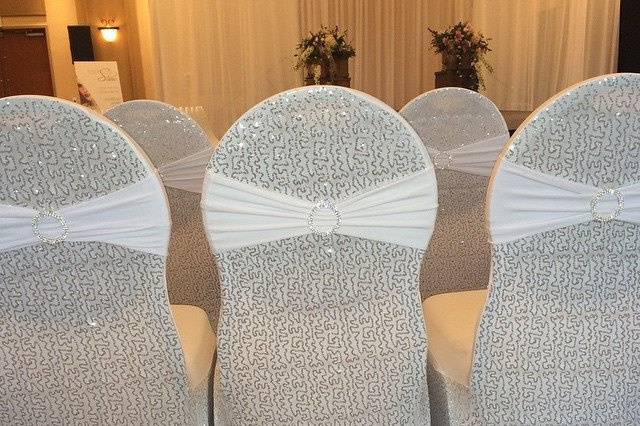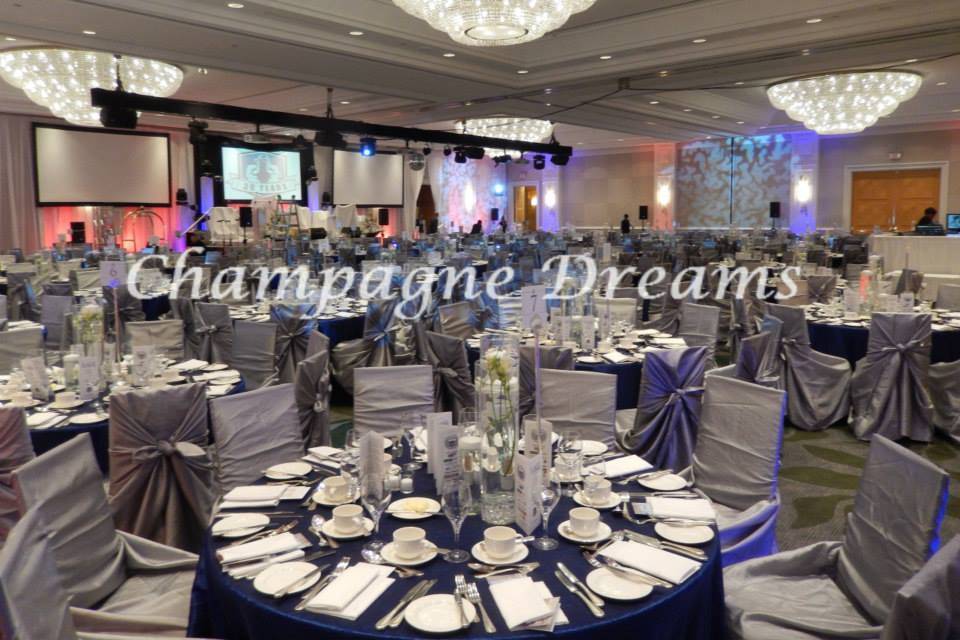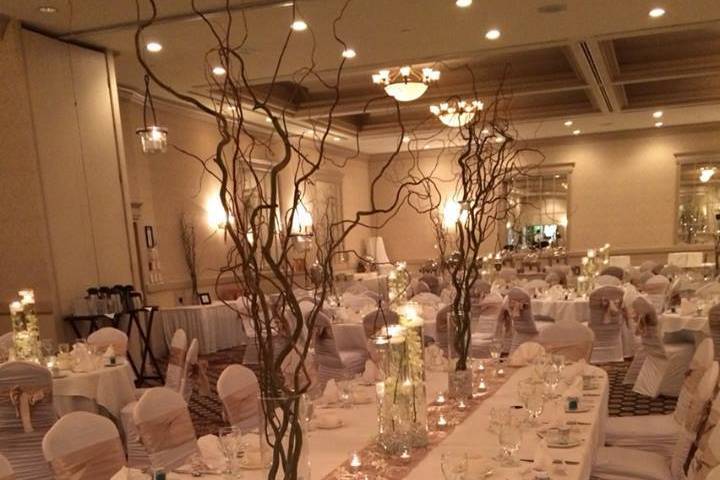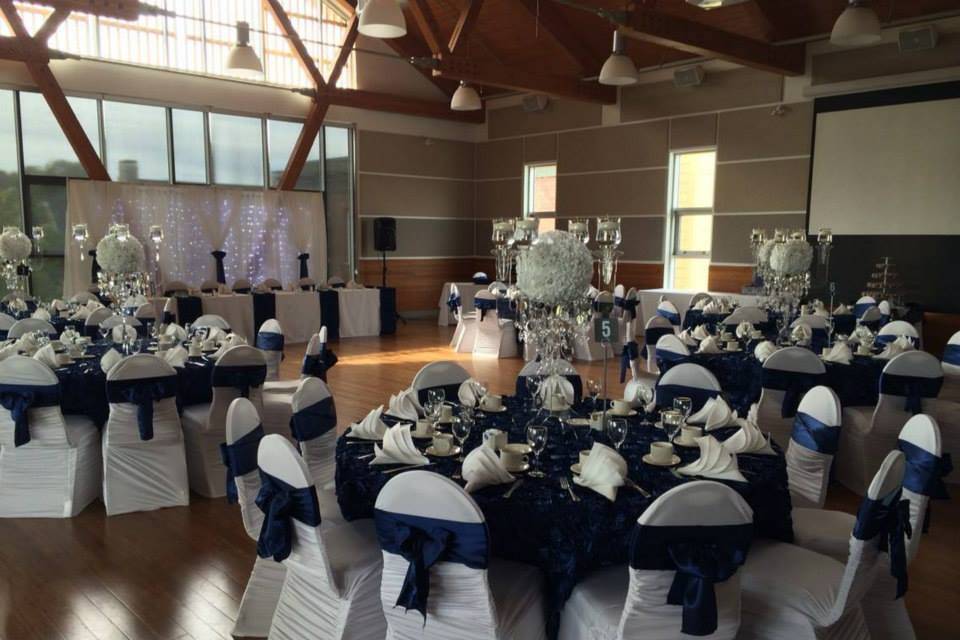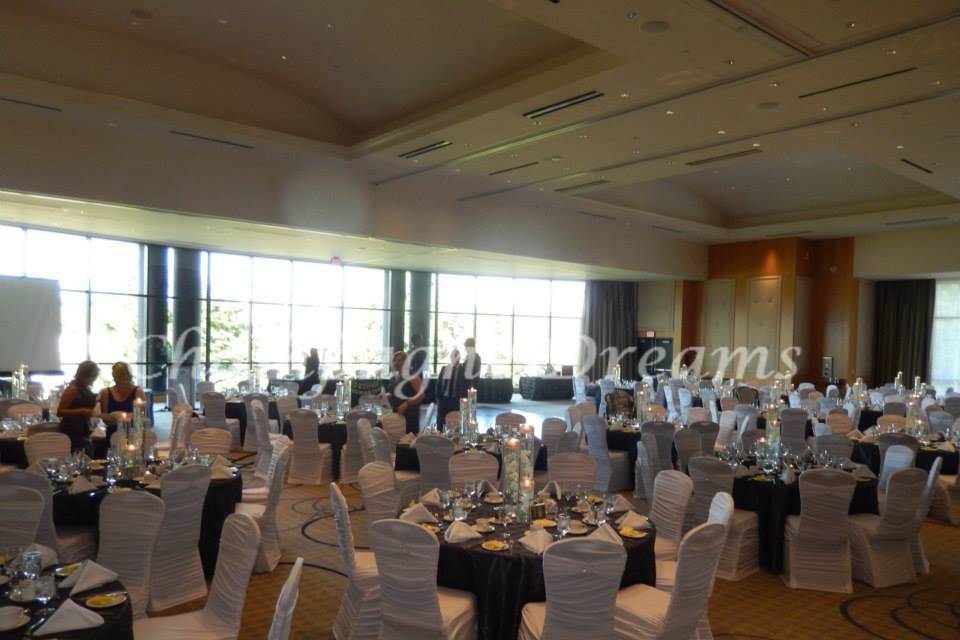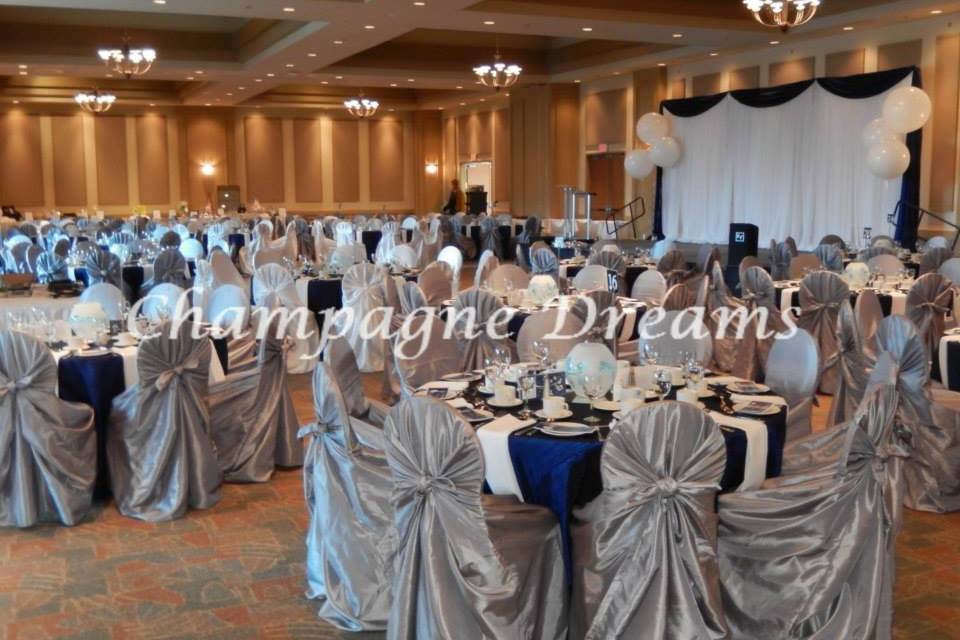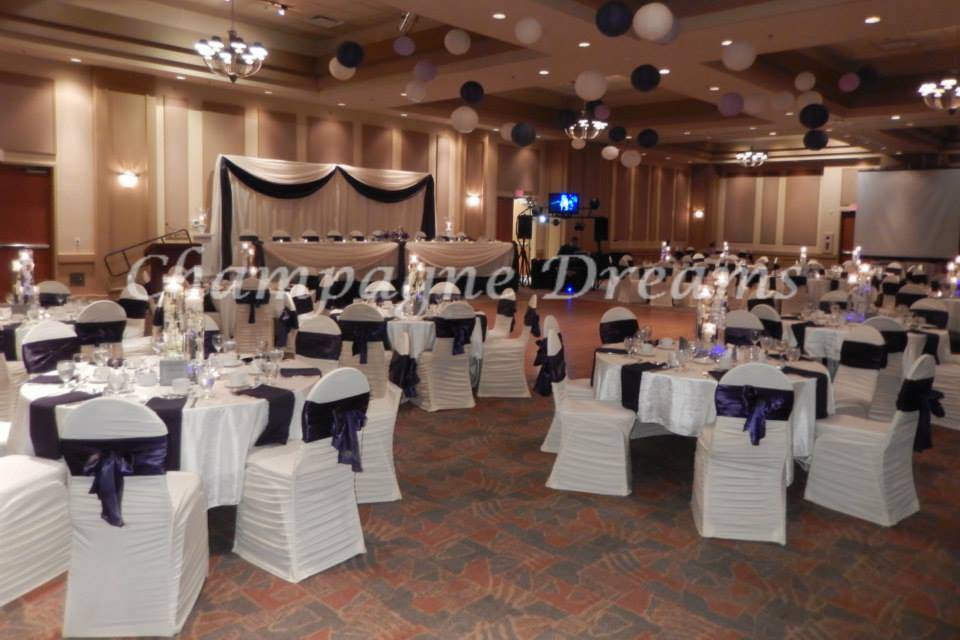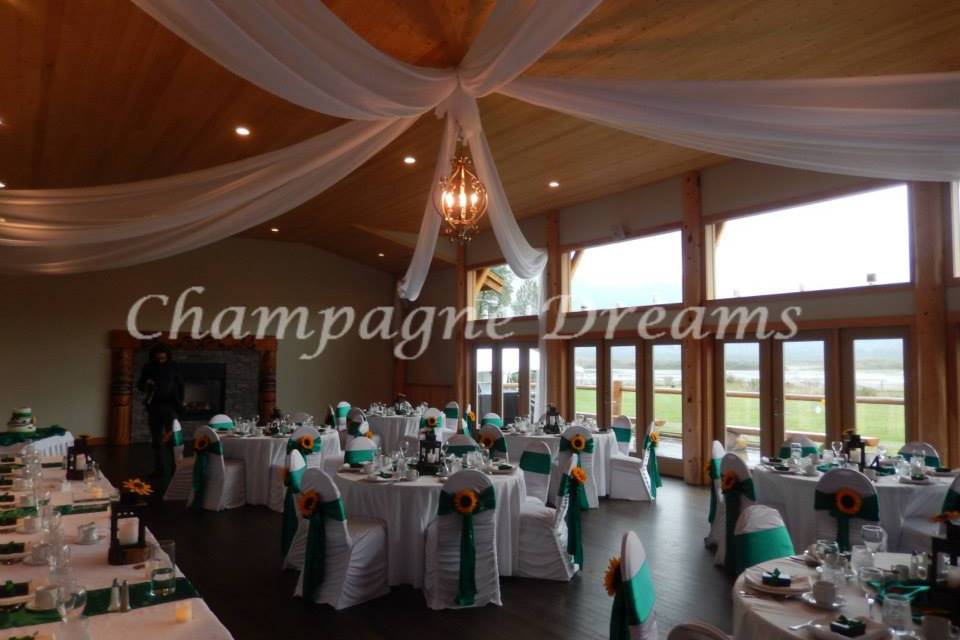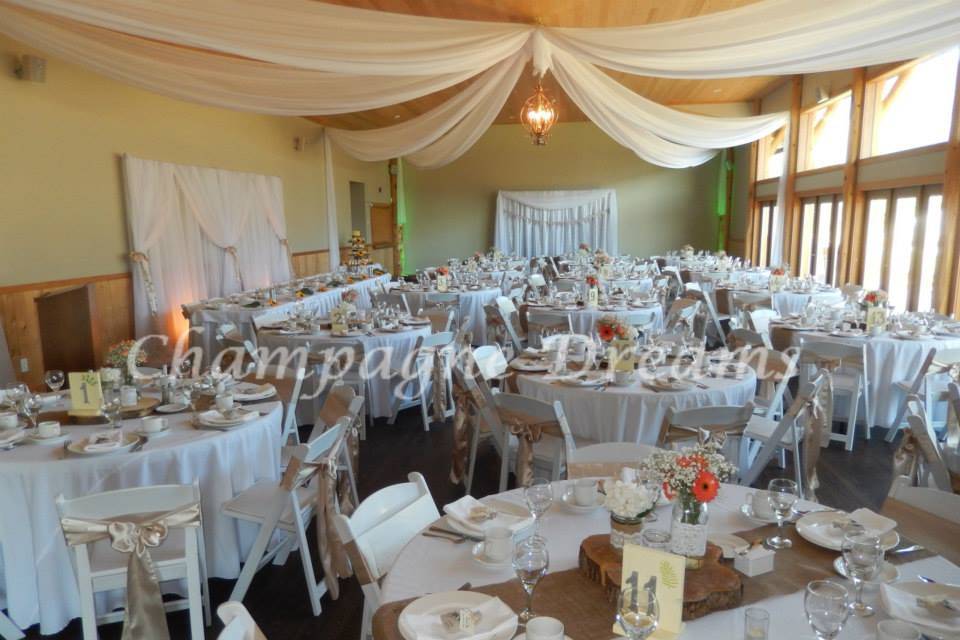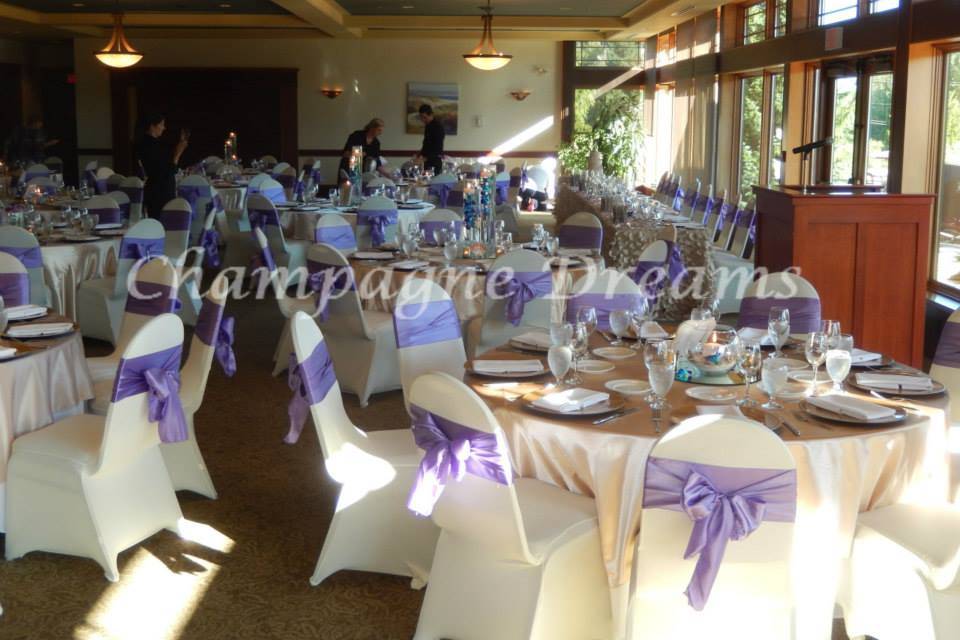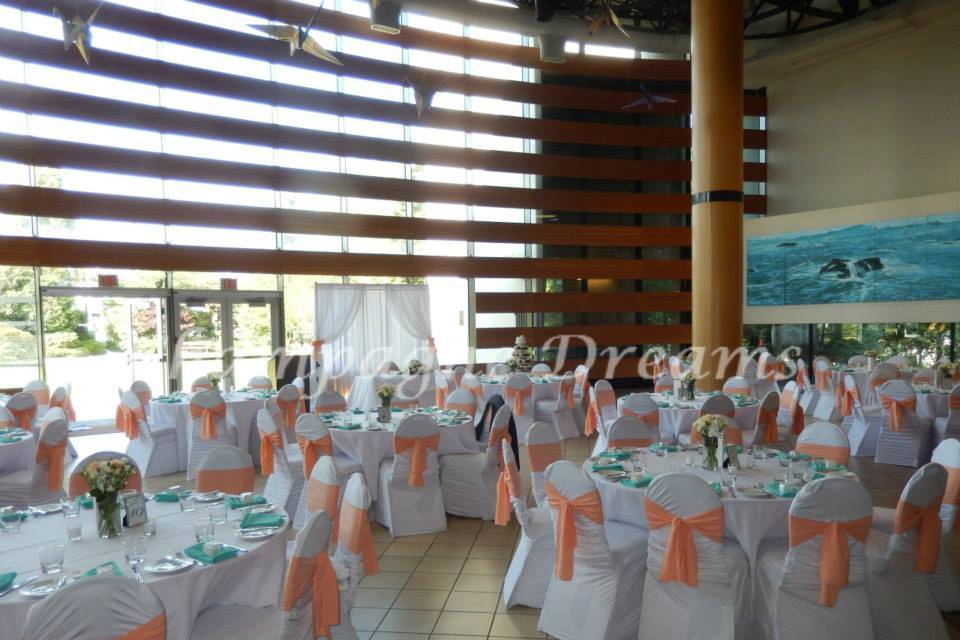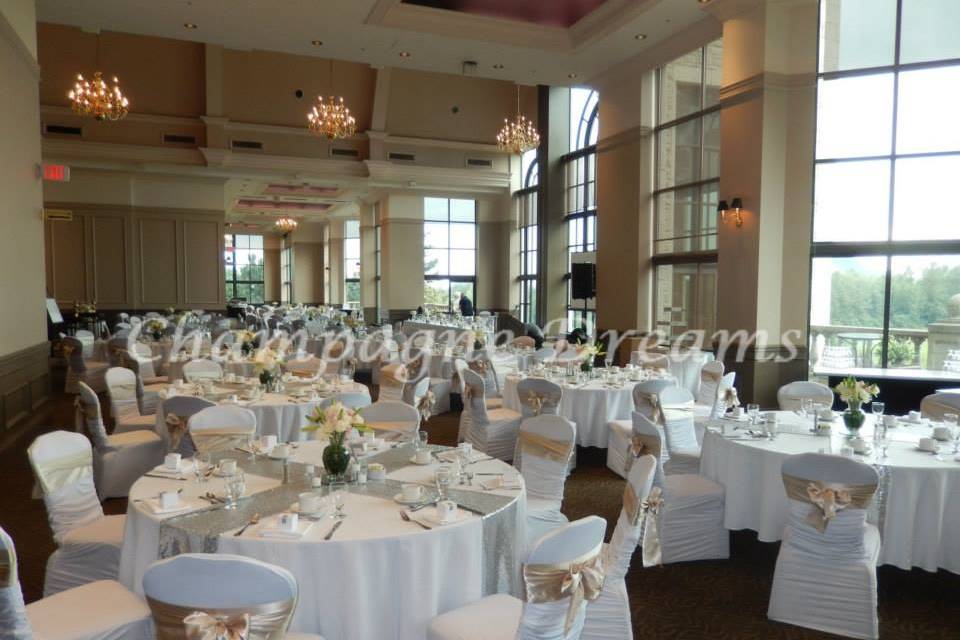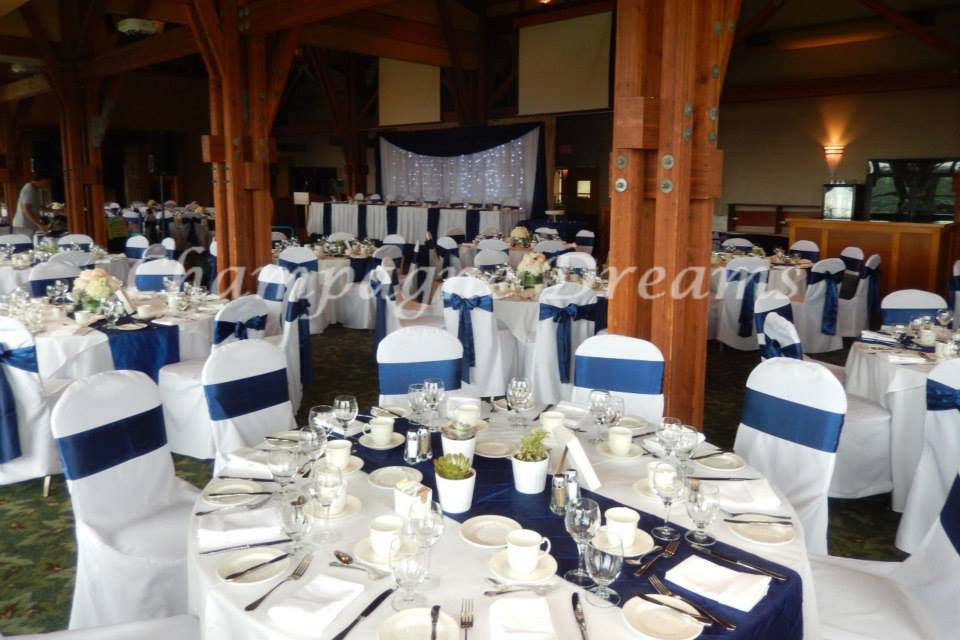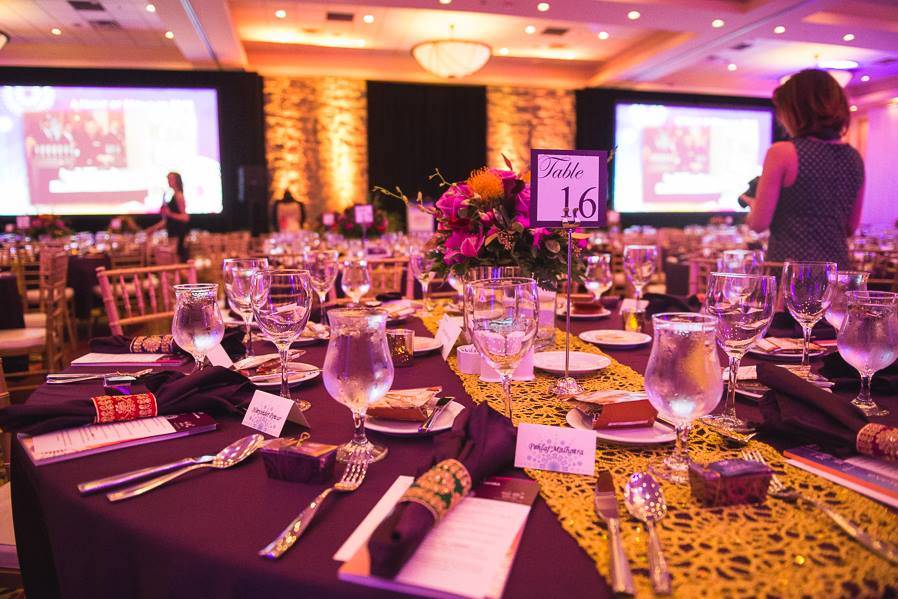 About
Champagne Dreams is a team of professional event designers and decorators who've worked for many brides and grooms all across British Columbia. They'll sit with you and discuss all the details and your specific requirements in order to come up with creative ideas to make your occasion memorable and one-of-its-kind. They have an exclusive range of high quality products that will definitely add that extra touch of sophistication that you always wanted.
Products offered
Champagne Dreams' wedding decor items include table and chair linens, candelabras, draperies, centrepieces and much more. Plus, its team of event designers is highly creative and they'll create beautiful floral arrangements to give your wedding a unique touch.
Other services
Champagne Dreams has worked with a grand number of venues and a range of non-wedding related events as well. They include:
Corporate events
Weddings
Fundraisers
Gala dinners
Private parties
Highlights
Lighting Services
Accent, chandeliers, dance floor lighting, hanging lit decor, lanterns, monograms, outdoor, string, uplighting, wall wash
Decor Services
Clean up, day-of coordination, delivery, drapery, event design, event planning, floral design, setup, venue selection
Decor Items
Backdrops, candles/holders, chalkboards, signage, table runners, trinkets, vases
Quality of service

Rating 4.5 out of 5

Response time

Rating 4.4 out of 5

Professionalism

Rating 4.5 out of 5

Value

Rating 4.6 out of 5

Flexibility

Rating 4.5 out of 5
Priya R.

Married on 17/10/2020

Amazing work!

Chrissy was amazing! My husband and I weren't too picky and didn't really know what we wanted. Chrissy made great suggestions and made our wedding even more beautiful than we could've imagined. She is talented and quick to respond which made it a pleasure to work with. And her flowers are amazing! I was so impressed with my bouquet and all the floral arrangements at the wedding! Thank you so much for making our wedding a dream come true.

Champagne Dreams's reply:

Thank you so much priya! You guys were so amazing and it was awesome to be a small part of your day ❤️

Emma D.

Married on 09/06/2019

Quality products

Chrissy made my vision come to life. She entertained all my ideas and used her experience to suggest what to go with. She was right on time and everything looked perfect. It was a lower price than I expected as well.

Champagne Dreams's reply:

Thank you so much Emma! You were so easy and fun to work with ! And we loved your family that spent so much time and effort into making your day perfect ! It was such an amazing day! Congratulations!

Christine G.

Married on 08/09/2018

Wedding of my dreams

I hired Chrissy to decorate my wedding and much to my surprise she did a fantastic job I showed her pictures of what I wanted and she did it. Even though there was two weeks left before the wedding day and realized we didn't have table linens she was able to add them for a decent price and made it work as well as the chandelier that was also missed from prior discussions. We may of had a miscommunication but she fixed everything and made it fantastic. When it came to the back drop she realized the design I wanted wouldn't work because of how small th back drop was she spoke to my now husband and changed it up where I only fell In love with it more. I was super shocked on how everything turn out and was very
Pleased with it. To top it off she allowed me to keep my centre piece flowers with no extra charge her price was very reasonable and her set up/take down was prompt and professional.

Champagne Dreams's reply:

Awww. You are so sweet Christine! You guys were a DREAM to work with ! You looked unbelievable on your wedding day! You guys honestly make all the hard work so worthwhile ! It was truly an honour to provide decor for your wedding ;):);):). Loved everything about your wedding !!! A huge congratulation to you guys!!!!!!

Carly S.

Married on 09/06/2018

Complete Disappointment.

We hired Chrissy for our wedding decor and we are so disappointed. We went to her house and picked out decor and that was not the decor we received on our wedding day.

Our venue called her the evening of our wedding and told her we were upset with what she has provided and I received and email later that evening. She told us that in the invoice it says "gold swag" which doesn't mean anything to us as to what she calls items since we just picked items she showed us in person. We picked gold sequin table cloths for the head table and we got a piece of yellow/gold fabric hung across the front. She also made it seem as if we should of known since the cost was different. We had never seen a list of items available or prices so I don't know how we could know the difference. We picked 3 matching items and did not get that.

We had 3 different colors of gold but we had chose gold sequin table runners, chair sashes and head table cloths. We wanted everything to match and it didn't and it looked awful.

We know exactly what we chose and cost wasn't factoring into what we chose we just wanted things that we liked. We both remember the visit to her house vividly and she has not taken responsibility for her mistake. She has instead blamed us for the error.

I have emailed her saying how upset I was with the decor and that I don't understand how she got things so completely wrong and she has not even responded and it has been a week.

Working with her was difficult trying to get a response as well so I guess that is just the way she handles her business.

We are so unhappy with her services and her level of professionalism. Don't let what happen to us happen to you on your big day.

Champagne Dreams's reply:

Hi carly,

Thank you for the feed back. I value your opinion but feel that a response is necessary in this case.

Our very first contact was july 2017 where you had sent me a list of what you are wanting - none of which had anything sequin listed. We met on the 18th of july last year and I had sent you the invoice showing what was discussed shortly after our meeting - again nothing but sequin runners - which was on your invoice. and which you received on your wedding day.

We have had several emails including revising the invoice 4 times throughout the last year but in terms of the sashes and head table - that has not changed since day one. When I had mentioned this you had replied by saying you 'assumed' it was right. I apologized several times and have said i have gone through all of our emails, as well as my hand written notes from our meeting at my house (which i still have available if that helps) and nothing states sequin bands or floor length linens on your head table. I was not placing blame at all - I explained that I can only go on what our emails have been and what the invoice says. If the invoice showed sequin bands and you received the gold ones I would have massively apologized and compensated you 100%. What we had provided was what was on your invoice down to the last item.

we arrived on site and set up the chair covers with sashes first then waited for the few hours for the room flip and came back to put on the swag. The venue called me at 6pm about the sashes - at that time your reception was going on and I could not do anything at that point. I understand you were focussed on marrying the love of your life and did not notice the sashes for your ceremony or after but I would have had tons of time to change them between your ceremony and reception had anyone said something from 2-5pm. I would have done that in a second as I always want our clients to be happy.

Again i am so sorry you feel this way and if I had known I would have done everything imaginable to change it.

We hope you and graham have a fantastic honeymoon and years of happiness!

Justin

Married on 28/06/2021

Wonderful experience

Chrissy was amazing to work with. She captured our vision beautifully and went above and beyond to give even our simple ceremony decorations elegance and flair. Chrissy was flexible and accommodating with all our requests. The pricing of the florals was quite reasonable. Thank you for helping to make our day beautiful, Chrissy!

Tiffany and Justin

Champagne Dreams's reply:

Thank you so much you guys for your kind words ❤️❤️ You were both so awesome to work with and you got married on the hottest day of the year so far! A huge congratulations !!!! Much love !

Roxanne

Married on 26/05/2018

Beautiful decorations

Chrissy did an amazing job for our reception at the Sandman Hotel in Abbotsford on Simon Ave. I would love to supply pictures but I haven't got any at the moment. Her final vision was exactly what we had discussed. Her Center pieces matched our flowers perfectly almost as if her and the florist had been talking lol. That is how perfect everything was. They came in and set everything up and took everything away at the end. I would highly recommend Champagne dreams for any wedding venue you choose.

Champagne Dreams's reply:

Thank you so much Roxanne! Your vision was a blast to put together!!!! Thank you for sharing your day with us!!!!!


Michelle D.

Married on 06/08/2016

Chrissy has good quality materials to rent for affordable prices. However, if you are looking for someone to decorate your venue for you, I do not recommend her. We had issues throughout the planning process trying to get in touch with her. We would go a month before we would hear back from her about booking our set-up and take-down times with her. When the day came for set-up, she did not show up at the designated time, nor did she even call us. We called her, only to find out that she was held up at her morning appointment and would not be at our venue to decorate nor did she know when she would be coming. We ended up setting up all of the tables, chairs, centerpieces, table numbers, favours, and everything else we had that needed to go on the table while waiting for her (this is part of her job that we were paying her to do). Needless to say this caused quite a bit of stress on an already stressful day. Even after we did a good amount of the set-up, she still sent people in on the morning of to finish, when she was supposed to have completed set-up the day before. When we entered our reception on our wedding day, things were not set up properly and some things were changed. We had two different colours of chair covers and sashes at some tables, which made it look as though there were not enough purple chair covers available and white were used to fill the rest. When we voiced our concerns regarding many issues after our wedding, we received a number of excuses, however she did refund the chair covers that were the wrong colour. All I can say is, if you are wanting to rent tablecloths, runners, chair covers, or chargers for reasonable prices, she s great, but I recommend you do the decorating yourself.

Champagne Dreams's reply:

HI dave,
im so sorry you had such a horrible experience with me - i guess thats a first for me!
We have already gone back and forth through email and resolved this issue and yet you still put a review with VERY untrue things to say about me - which is not right at all and i feel that everyone should be able to hear both sides.
About set up - we were in constant contact with your day of coordinator. as well as a phone conversation you knew we had other weddings and i could not guarantee set up time. as you pay a cooridnator to deal with vendor set ups - im not sure why you were expecting me to call you - nor did you tell me to. Your reception was totally done 6 hours BEFORE your reception started - so im not sure how that would cause you stress.
I was not paid to set up your tables or chairs, or personal favours, cetnerpieces etc. that was not in our contract.
My email reply to you (which i can post on here if you like) was not full of excuses. You had made several false accusations and i addressed them.
You were refunded for the 30 chair covers my mom upgraded as well as $100 more for the linens you used and had not paid for. I believe that was more than fair on my end. I also received texts, phone calls and shout outs online for the amazing decor job. I recieved a text from your coordinator saying " you knocked this one out of the park! awesome job"
Again, i thought we had dealt with all of your issues and ended our emails in a positive manner....but i guess not.

Nayomi G.

Married on 08/08/2020

Beautiful Decorations and Bridal Flowers

Chrissy at Champagne Dreams did a wonderful job at our wedding! She did our decorations as well as bridal flowers. She delivered exactly what we wanted, and was very accommodating of our last minute changes due to pandemic (i.e. reduced number of guests, smaller bridal party). She is very talented in what she does!
Highly recommend her services.

Champagne Dreams's reply:

Thank you so much nayomi! Oh my gosh you were so much fun to work with and absolutely stunning on your wedding day ❤️ Mush love to you guys !

Jennifer

Married on 26/10/2019

Totally awesome!!

Chrissy and her team made our wedding magical!!! Thank you so very much!!!

Champagne Dreams's reply:

You are so welcome Jenn!!! You were SO beautiful and were a PLEASURE to work with !!!! We Loved every minute of creating your florals, and decor! At the end of the night - i cant believe how much fun we had with all your guests!!! a HUGE congratulations!!!!!

Roberta R.

Married on 22/05/2016

Chrissy was amazing!! We made our own centerpieces and had other things that we wanted to put out like seating charts, signs, favors, etc. and she did it all! The backdrop behind the head table was even better than I imagined and the ceremony space was perfect!. Everything was put up and taken down and we didn't have to worry about a thing. My now husband said he walked into the reception room and was amazed how she was able to make my dreams a reality. Thank-you Chrissy and to your team!
Champagne Dreams Real Weddings
Ashley & Mike

39 Photos · 20/Mar/2021
Map
33731 Mayfair Ave V2S 1P7 Abbotsford&nbsp(British Columbia)