Reviews for Mooch: Custom Confections
Awards
61 User photos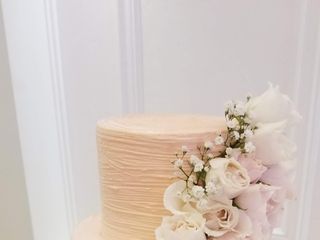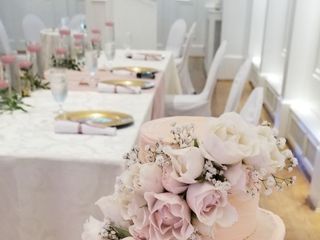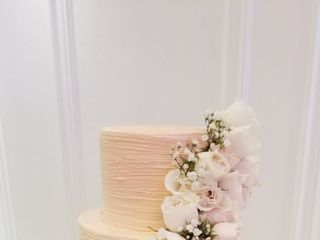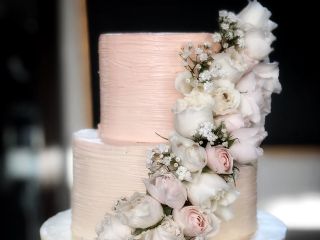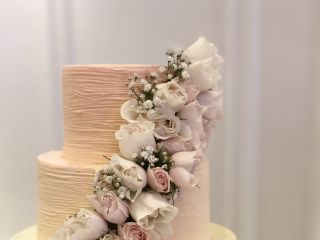 Hannah Ip · Getting married on 24/03/2024

Saved mothers day!

Mooch by Megan had this amazing Mother's Day special with Rintzylee Designs. $50, you get a mini 4' cake and a card.

First of all, Megan was perfect in all areas of communication. She got my order, responded swiftly, and easy to book.

Secondly, she included delivery. We are in the middle of a pandemic, so it's so sweet that she is able to deliver cakes to moms that do not live with their children.

Thirdly, this is the best part. There was a little mishap during delivery. My mother-in-law was standing outside doing her gardening while the delivery came. She took the gift thinking it was for her when it was actually for my own mother. My mother-in-law's real gift was downstairs hidden, waiting to be gifted the next day. She had already eaten half the cake when she texted us "thanks for the cake!". I didn't even know how to react but to laugh. I quickly gave Megan a call, and we were both in disbelief this had happened and we just laughed it off. I asked Megan if she is able to bake a new one and I am willing to pay for it and come pick it up. She not only said yes, but she also insisted that I did not need to pay. She was also able to complete the cake 2.5 hours early!!!

I'm really really thankful for small local business owners like Megan. Extremely helpful and super sweet.

Megan! Thank you for saving Mother's Day

Sent on 09/05/2020

Elissa W. · Married on 06/09/2020

An absolutely AMAZING experience!

Megan was an absolute delight to work with. From the very first day to delivery and beyond, she exceeded our expectations. The final design was exactly how we envisioned it (and more!). The buttercream was spot on and lasted throughout the night flawlessly--a sign of excellent buttercream. We opted to have a one tier cake for cutting on top of a tower of different flavoured cupcakes. We all loved the flavours -- toasted lemon with meringue on top, oreo, and matcha strawberry! The matcha strawberry was to die for though -- oh my goodness!

If you ever have the chance to work with Megan, DO IT! Her passion shines through with every bite and her flexibility and professionalism are second to none. Thank you, Megan, for making our day so, SO special!

Sent on 13/09/2020

Lauren Fletcher · Married on 28/08/2020

Amazing service, friendly and flexible

As somebody who knew nothing about wedding cakes I had no idea what went into the process but Megan was so patient and helpful. Answered all my questions quickly and working with me to create the perfect cake for the bride. I would highly recommend Mooch to anybody looking for a beautiful cake for a special occasion.

Sent on 10/09/2020

Mooch: Custom Confections's reply:

Thank you so much for the heartfelt review! It was my pleasure to be part of A&B's wedding day. Thank you for choosing Mooch and allowing me to share my passion with you.

Mackenzie Paige Druar · Married on 05/08/2020

Loved our cake!

Our cake from mooch turned out great! She was so responsive and accommodating to my vision & delivered to us in Whistler!

Sent on 29/08/2020

Mel · Married on 02/08/2020

Amazing cake!

Mooch was absolutely amazing to work with! We decided to have a scaled down ceremony due to covid, but we still wanted a cake for our special day. We ordered a cake with fresh strawberries and buttercream. It was super delicious and Mooch was super accommodating with a last minute delay of my fresh flowers (my fault... I was running late on time). Mooch was able to accommodate and the end design was gorgeous!! We look forward to working Megan again for our large celebrations next Fall :)!! Highly recommended!

Sent on 13/08/2020

Mooch: Custom Confections's reply:

Thank you for such a lovely review! I am overjoyed that you loved your cake. I can't wait to keep creating for you and Steen next Fall!

Jessica · Married on 18/07/2020

Absolutely amazing!

Megan made our wedding cake and it was everything we could of hoped for. Not only did it taste delicious, but it was absolutely beautiful as well. From the beginning Megan was quick to respond to emails and always professional. She designed the perfect cake for us and was flexible to make changes when Covid hit and we had to downsize our wedding. Thank you so much Megan

Sent on 20/07/2020

Mooch: Custom Confections's reply:

Thank you so much for the lovely review. It was a pleasure to work with you and Jeff on the design of this cake. Congratulations on tying the knot, and I can't wait to be part of many more memorable events as you share your life together!

Olha · Married on 18/07/2020

Tasty, beautiful cakes!

I ordered a cake from Mooch for my wedding and it was incredible. All my guests loved it and it was very beautiful. Thank you, Megan!

Sent on 22/09/2020

Tanya Suutari · Married on 12/07/2020

Professional

We were very happy with Megan's work. The mini tier cake was simple yet stunning. We chose a chocolate salted caramel cake which had nicely balanced flavours and the italian buttercream had a smooth, velvety mouthfeel. I would hire her again for a special occasion. Bonus ..her prices are reasonable!

Sent on 13/07/2020

Mooch: Custom Confections's reply:

Thank you so much for your review, Tanya! It was a pleasure to create this cake for your wedding celebration. The resilience couples have shown during this pandemic to continue to celebrate love blows me away! I can't wait to be part of many more special occasions in the future.

Christy · Married on 07/03/2020

Fit for royals!

Megan was fantastic to work with during our wedding planning! We gave her a quick brief of how we wanted our cake to look like Harry and Megan's wedding and she was very committed to accomplish our wishes! She also accommodated our unique request of creating a Filipino cake flavour that has never been done before. Megan definitely exceeded our expectations and we're so thankful to have her create one of the most memorable parts of our day. Though we're so sad that our wedding is over, we're looking forward to working with Megan in the future for any cake needs!

Sent on 13/04/2020

Mooch: Custom Confections's reply:

Hi Christy, Thank you so much for your kind words! It was so much fun creating a brand new flavour for you and Jiggy to enjoy on your wedding day. I am still in awe of how stunning the florals on your cake looked. Wishing you two all the love in the world as you begin your life together as Mr & Mrs!

Maranna Megan · Married on 14/02/2020

So delicious!

We were not able to see or taste the cake prior to ordering as we are not local and planned our wedding long distance. But we had been following Megan on social media for a while and loved her from the beginning! It was so nice to have good communication with Megan to put us at ease! Megan even sent us some sneak peak photos of our cake the day before the wedding! It was very delicious and very "us"! Will order from Megan again if we are in town for future events!

Sent on 09/03/2020

Mooch: Custom Confections's reply:

Thank you for such a thoughtful review, Maranna. It was an honour to be part of your elopement. I am delighted to hear that you enjoyed your experience from afar with us. Thank you for choosing Mooch, we can't wait to be part of more of your happy memories!