16 reviews
Quality of service

4.8 out of 5 rating

Response time

4.6 out of 5 rating

Professionalism

4.6 out of 5 rating

Value

4.6 out of 5 rating

Flexibility

4.6 out of 5 rating
10 User photos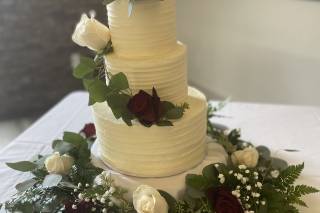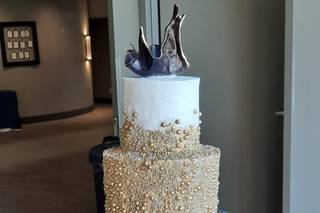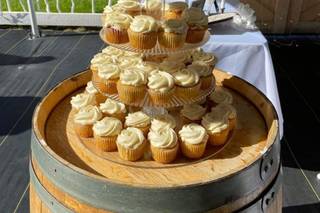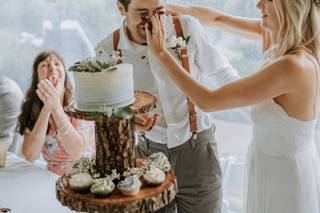 + 6

Photos
Lori B.

Married on 01/10/2022

Cupcasions for the win!

Delicious cupcakes that were enjoyed by all. GF options were carefully arranged on their own tray and the display on the plexiglass tier was elegant to match the rose gold dusting on the icing.

Karen S.

Married on 18/09/2022

Wedding cake


My mom and I did a cake tasting initially to pick the flavours of my wedding cake. It was larger portions than we were expecting. It allowed us to try all the pre selected flavours, and try them again if need be. The tasting was great! I then had my wedding cake provided by them. It was exactly what I asked for. Each layer was its own flavour and all were equally delicious. They checked in a month out to confirm flavours and design again and then called the day of to confirm pickup. Would recommend.

Carrie L.

Married on 03/09/2022

Delicious and perfect!

If you are looking for perfect cupcakes for your wedding, this is the bakery for you. Delicious and perfect from start to end!

Are you interested?

Send a message

Avelle L.

Married on 08/07/2022

All Promise, no follow through

1. Told they could make our personally designed wedding cake.
2. Cake tasting informed cupcasions could not complete our cake
3. Ordered cupcakes instead, instore cupcakes rate 10/10, our wedding cupcakes 0/10, guest could not tell difference between two of the flavors nothing to identify the flavors.
I honestly feel this mother daughter duo cut as many corners to save money and only took our deposit to secure our business.

CupCasions's reply:

I'm sorry that your expectations were vastly different from the reality of the product on hand. At your tasting it was made very clear multiple times that what you were requesting was not realistic, and we said that to complete the cake you were looking for and if that was what your heart was set on, we would refund your deposit that had already been paid as we could not create a cake with chai tea on one layer, cheesecake as another, and the black forest for a 3rd in a single tier cake. Multiple times during your tasting you also stated that you didn't understand why your partner looked after the cake as no one does cakes the way you want them done and no one knows how to properly cut a cake. Your partner then still emailed us saying you wished to proceed with an order in cupcakes, as when we recommend 3 separate cakes you had said venue staff are incapable of cutting perfect squares. At no point during the return of your tier was there any mention of any issues with your cupcakes and we were told everyone was quite happy with the cupcakes. We are at a bit of a loss as to how your guests could not differentiate between a mousse and the Cherry filling. The Chai are, as you were informed on several occasions, a Vanilla with a Chai reduction so we can only assume it was the 2 chocolate bases that you are referring to. Due to your "no one can do things right" and lack of regard for our 100% nut facility, with you suggesting on a couple of occasions during your tasting that what you were suggesting for your cakes we "should" do, since we have a dishwasher that it shouldn't be an issue for anyone, was the attitude at your tasting we were very hesitant to do your order and felt when you left that when you returned to home we would receive an email requesting a refund of your deposit. All orders are completed with the same quality as our front of house showcase. Your request was to have our smallest size, this was clearly spelled out to you on several occasions what was possible and what was not. Our email communications was very clear, however your in person interaction was very clear that you had made the decision as to how things should be, regardless of discussions of what was possible and based on your review it is very clear that we should have followed our hearts and refunded your deposit and refused to complete the order.

Kelsey F.

Married on 18/06/2022

Wedding cake

Libbie and her staff were amazing in working with us to create a beautiful three tier cake that not only looked great but tasted amazing! We were so happy with the outcome and their assistance from our first tasting to delivery an setup.

CupCasions's reply:

We are so glad you loved it and that we could make your vision a reality. Thank you for having cupcasions as part of your special day!

Ann S.

Married on 12/06/2022

Delicious!

Cupcasions made the cutting cake and cupcakes for my June 2022 wedding. My husband and I live in another province and could not attend a tasting so we went with vanilla cake and vanilla buttercream icing (and fondant on the cutting cake). Cupcasions did a good job bringing our design ideas to life and the cake and cupcakes were ABSOLUTELY DELICIOUS! So fresh and moist. I was very happy to have leftover cupcakes to eat after the wedding day.

Nicole S.

Married on 13/05/2022

Excellent experience

My husband and I loved the cupcakes made for our guests and absolutely adored our wedding cake

CupCasions's reply:

Thank you Nicole! We loved being apart of your special day and we are so happy that we could make your cupcake dream a reality!

Jilla S.

Married on 24/07/2021

No complaints.

I purchased 60 cupcakes for my smallish wedding and am very pleased. My guests ranted and raved about how good the cupcakes were. Also the owner was kind enough to separate the gluten free and vegan cupcakes and labelled them for our guests. Thank you! PS: I highly recommend the raspberry champagne cupcakes. I will be buying more in the future.

Sam C.

Married on 13/06/2020

YUM! Amazing cupcakes & a fun experience

Such a fun experience meeting with the cupcake guru at Cupcasions! She was delightful to meet and a joy to be around! The cupcakes were perfect and with covid and plans changing she was flexible and helpful through the process!

Mikhail M.

Married on 24/08/2019

Yummy cake!

Our guests loved the cake! They can't stop talking about it.
Are you interested?
Send a message