Reviews
4.7 out of 5 rating
Quality of service

4.7 out of 5 rating

Response time

4.6 out of 5 rating

Professionalism

4.6 out of 5 rating

Value

4.7 out of 5 rating

Flexibility

4.7 out of 5 rating
94%
Recommended by couples
1 User photo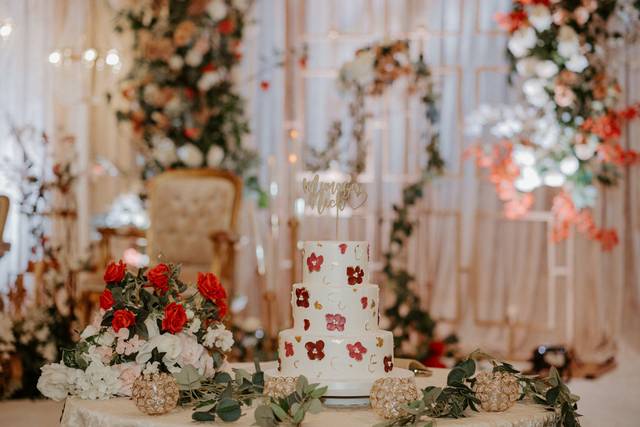 Lesa R.

Married on 09/09/2023

Best wedding blowout ever!!!!

Vincent and Veronica's wedding was a blast for everyone who came from near and far. No one got left out, food was lovingly packaged by our amazing server Linda for guests who flew in from th United States but were too sick to attend. That really helped take the sting out of missing every thing. Sent them beautiful videos and photos and brought them a gorgeous 4 course meal (tons of all the best risotto and prime rib)!!! Allesia made sure everything and everyone was having fun at the most impressive hall I have had the privilege to dance the night away in with fun host and D.J. Loved the decorations and every bite of food got eaten by picky Italian guests. Worth using this amazing venue for the way too hard to find customer service which was impeccable top to bottom . You won't be disappointed 😉. Lesa Rago

Hamna

Married on 24/05/2023

My sisters beautiful wedding

This venue is a dream. If you are looking for a venue I would highly recommend chateau la jardin. We had my sisters wedding at this venue and our experience with them was 12/10! The venue is beautiful inside out. My experience with Chateau was so amazing because of the polite and professional staff. I can't say enough words about how much they helped through out the whole event, from the beginning to the end. I have only good things to say especially about Linda our event coordinator. She was an absolute sweetheart and really took care of every little thing. Wedding time is stressful as it is but having such helpful staff to make it a little easier makes it so much better. I would recommend them to everyone! Thank you Linda and staff at chateau for being so easy to work with and doing a phenomenal job at providing the highest level of service.

Mimosa K.

Married on 11/02/2023

Beautiful Venue!

The venue is gorgeous, the food was really good and our guests had a great time! The day of coordination could have been better, and some of our (very reasonable) expectations were not met (making sure the buffet was filled at all times, the size of room we had discussed, bar service - we wanted to offer an open bar per consumption but they were trying to charge guests for drinks), but overall, it was a good experience. I would just recommend being thorough with the venue in terms of your expectations, but I would definitely recommend the venue to anyone.

Are you interested?

Send a message

Marie X.

Married on 12/08/2022

Our experience at Chateau le Jardin was impeccable.

We had an event yesterday, 25th anniversary, and the service was exceptional. The head of catering, Susan, led the whole process flawlessly.
This was a very enjoyable day.
Thank you1



Gina

Married on 06/08/2022

Would definitely recommend Le Jardin!

We recently booked our wedding reception with Michael Punzo at Chateau Le Jardin and we couldn't be more thrilled to be working with him and his venue. We had toured many other places but weren't finding the right fit until we saw Le Jardin
and met Michael. We were feeling quite stressed about the whole process but Michael was extremely helpful, kind, and accommodating. He met with us multiple times and always made us feel like this event was about us and that he would do whatever he could to make it special for us. He always made himself available to us and responded to our numerous queries within the day. He even came in on his day off to finalize things for us after he had spent weeks patiently answering all our questions and alleviating any concerns. Moreover he customized an amazing menu based on our preferences and budget. Also, the venue itself is stunning and barely needs any decorations! We can't wait to have our big day there as we know Michael and Le Jardin will make it truly special for us!

Yasmin A.

Married on 20/05/2022

Big thanks to sham and Linda Amazing service

A big special thanks to sham and Linda. Very hard working loyal to their work with amazing quality service plus a big smile on the face 😊.They provide us amazing service professional and quick .they make sure nothing missing and all get served
I can tell because of sham and Linda all went smooth and organised
Thank you for your amazing service I hope always I see you there
Thank you and love you 🙏🙏🙏

Bride2Be

Married on 07/08/2021

Covid Wedding

There were some hiccups with the venue as a result of Covid restrictions and the uncertain times. Sometimes the responses took a while and we did not get the responses we were looking for. As well, we missed two things during the wedding day (dessert was not as promised on our contract and they forgot the champagne toast). Otherwise the day of our wedding was amazing. The staff and service was good. Everyone was friendly. The courtyard looked beautiful as did the venue. Overall, it was great!

John R.

Married on 16/10/2020

Accomodating

The venue is very accommodating in regards to moving the wedding date, especially with the COVID.

Brian G.

Married on 19/09/2020

Outstanding

A COVID Wedding

Like many, we were engaged mid 2019, shopped venues and confidently secured September 19th, 2020 at Chateau Le Jardin in Woodbridge. Little did anyone know what 2020 had in store.
In March we remained confident that the pandemic would pass/there would be cure well before our date, but as we started closing in on mid June, it was pretty clear this was not going anywhere and we needed to adapt to the conditions set our by our government and maintain public responsibility for our friends and family. The reality of having our ideal wedding at Chateau Le Jardin became unrealistic.
We held on for as long as we could, but a decision needed to be made if we were going to go forward in any capacity. We met again with Eugene regarding what options we had, and unless we wanted to move the date or have 50 people socially distanced inside their venue, it was not going to happen. Fortunately, our backyard, though in Pickering could act as a great option for a small crowd, but what about all the bells and whistles we want for our day???
We posed the question to Eugene who brought in Jennifer, Chateau Le Jardin's Director of Special Events. It goes with out saying, but she took the ball and ran with it! We cannot express how happy we were that not only they would support us, but it was clear they would make this event one of there own.
Jennifer and Chateau Le Jardin's President Julian came to our house for a site visit and frankly were more enthusiastic then we were. We mapped out the setting, different food options based on the ambiance of our yard, Julian even recommended that our late-night meal be cooked on the charcoal grill we have because why not!!! I cannot tell you how happy Daniella, my wife was after that meeting. Jennifer promptly followed up with a detailed rendering of the layout and off we went planning accordingly with the full support of our original venue, who frankly did not need to step up the way they did.
The set-up was seamless and extremely professional on the 18th. After our ceremony we arrived to Julian and his team in full stride. Not missing a beat at the bar, antipastos and making sure Daniella, my self and our family were well taken care of. The main course followed and was delicious. As the night progressed, they were on point with every planned component of the evening; from keeping everything clean, reacting to requests and making critical game time suggestions to add as much value as possible to our evening.
In conclusion, we could not have asked for a better, more professional group to work with for the most important day of our lives'! Our family and guests feel the same.

Thank you very much Julian, Jennifer and team. I do not know what we have done with out you!

Sincerely,

Brian and Daniella Glen


Chelsey

Married on 18/07/2020

Dream Wedding Location

I just booked Chateau Le Jardin for my wedding venue and I couldn't be more excited. Like many brides I went to many venues trying to find my dream location. I must have gone to about 12 venues trying to pick which was best for me and my fiancé. As soon as I pulled up to Chateau Le Jardin I was immediately taken back with the castle like appearance. When I met with Michael Punzo he was very welcoming and made me feel very at ease when looking through the menu options. He was very knowledgeable about the food and service Le Jardin would offer to me. He was very respectable about what I wanted and what he could do for me. When I walked into the venue I immediately smiled and knew this was my dream location. The decor inside is breath taking, elegant and beautiful. I could not be happier with my choice to have my wedding reception at Chateau Le Jardin. Michael Punzo made me the happiest bride and I am so grateful that I have such a knowledgeable and kind person to work along side with me as I get ready to have my wedding there. I would recommend this venue to any future brides and I would recommend meeting with Michael Punzo to help their dream wedding become a reality.
Are you interested?
Send a message