Reviews for Canvas Montreal Reception Loft
Awards
15 User photos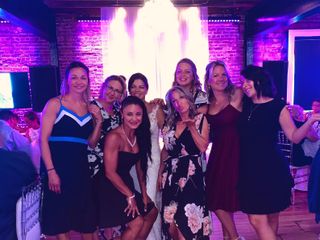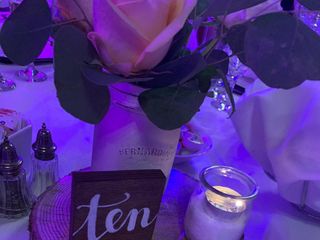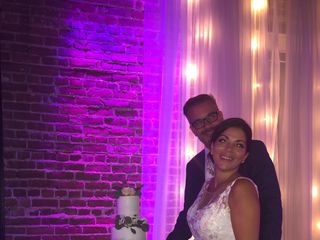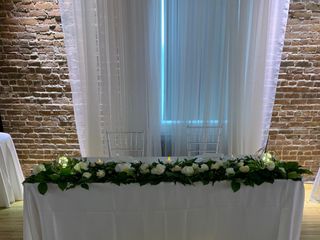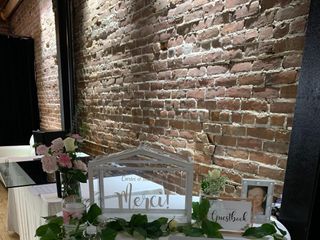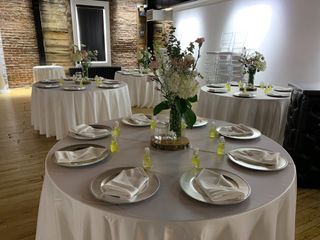 Christine De Melo · Married on 20/07/2019

Wedding 20th of July 2019

I strongly recommend this venue, it was wonderful!!
Mike was very receptive to all our demands, everything was great and the food was AMAZING all our guests were more than satisfied!!!!!


Sent on 22/07/2019

Canvas Montreal Reception Loft's reply:

Hi Christine,

Thank you very much for your very kind review.

I'm so happy everything was to your liking.

I wish you and your husband love, happiness and prosperity!

Mael Lebrun · Married on 25/05/2019

Simply... Amazing!!

Very nice experience with Mike!! He was there to help, making sure we ate (LOL), listened to our needs and was making sure everything was going smoothly, I definetely recommend this venue!!! Very nice and cosy, all our guests LOVED it

Sent on 26/05/2019

Canvas Montreal Reception Loft's reply:

Meal, Raymond,

Thank you for the kind words. It was pleasure serving you and your family & friends. Best wishes from the entire Canvas Montreal Reception Loft staff!

Elena · Married on 09/03/2019

Best reception hall

Our wedding was perfect !
They went above and beyond to make sure it was the best day of our lives, and all our guests gave us great feedback as well !

Sent on 29/03/2019

Canvas Montreal Reception Loft's reply:

Hello Elena & Tristan,

Thank you so much for having trusted us with your special day. You and your family and friends were lovely people and made our jobs easy. Not all our guests take the time to write a review and we certainly appreciate the kind words.

All the best from the entire Canvas Montreal team. We hope to see you again in the future.

Mike

Sylvain Barberis · Married on 02/09/2018

Pefect venue for our wedding reception

My spouse and I held our wedding reception at Canvas and we could not be any happier with everything from the initial contact with Steven through the event so well managed by Mike. The food was excellent and drew praise from all guests as was the service by management and staff. They also provided suggestions for DJ and for flowers which turned out be excellent as well. Our reception was held with 100 people and this was perfect venue for this size. Being able to bring your own alcohol is also a real benefit as well. Sylvain and I again thank Canvas for making our wedding reception everything we wanted it to be - fun, well served, well fed and providing us with fond memories over the years of our life together!

Sent on 24/10/2018

Canvas Montreal Reception Loft's reply:

Hello Sylvain,

Thank you for the kind words. We are so happy that you enjoyed your wedding day with us. It really is why we do what we do. All the best from everyone at Canvas Montreal Loft!

-Mike & Steven

Mylene Fortier · Married on 01/09/2018

Canvas Montreal, un amour de loft!

Nous avons célébré notre mariage le 1er septembre 2018 au Canvas Montreal. Mike et Steven ont été très accessibles, chaleureux et professionnels dès nos premiers contacts. Les services reçus ont largement dépassés nos attentes et ont contribués à faire de notre mariage un événement de rêve. L'endroit est tout simplement parfait, la salle est magnifique. Merci encore à toute l'équipe de Canvas Montreal!!!

Sent on 17/09/2018

Canvas Montreal Reception Loft's reply:

Mylène,

Merci pour les mots gentils. Ce fut un plaisir de vous accueillir, JF et tout votre groupe de famille et d'amis. Nous sommes extrêmement heureux que vous ayez apprécié votre journée spéciale avec nous. Le meilleur de toute l'équipe Canvas!

Alison Rak · Married on 06/02/2018

Best Venue in town

Mike and the team at Canvas could not have been any better at helping our day come to fruition. Mike is beyond wonderful to work with, he is flexible and really works hard to make your visions come true. The space at Canvas is not only unique, it is cozy and intimate, while still staying classy. Our guests could not stop raving about how great the food was as well, which was is probably on everyones list of priorities. Nothing but accolades for this place. Thank you Mike and Canvas for it all!!!

Sent on 06/02/2018

Canvas Montreal Reception Loft's reply:

Hi Alison,

We are so happy that you and Michael enjoyed your special day with us. We do our best and appreciate the kind words. Thanks for sending the amazing photos as well. Look for them on our website soon! All the best to you two..and your awesome mother as well!

-Mike

Jules Sauro · Married on 28/10/2017

Hallowedding

Canvas is a great place for any event. We had our same sex wedding there. The ceremony and reception both took place in the venue. It was beautiful. We had a Halloween theme. Didn't need much decoration because the venue is beautiful. Brick walls, wooden floors and the lighting was perfect. The service and staff was good. Our guests loved the food and thought the venue had a unique style. We thank them for making our day special.

Sent on 18/01/2018

Canvas Montreal Reception Loft's reply:

Hello Julia,

Thank you for the nice words. The entire Canvas team was so happy to help make your wedding day special. From the unique Halloween details to your and Kristina's positive energy, we were thrilled to be a part of the celebration. Thanks for uploading some photos!

All the best,

-Mike

Morgan Pk · Married on 03/06/2017

Canvas is a beautiful space and their flexibility in terms of bringing in your own bar / catering / rentals / etc. was really important to us. We had some challenges with communication in the early stages with their management team, but eventually their communication greatly improved and overall we had a wonderful experience there.

Sent on 22/12/2017

Canvas Montreal Reception Loft's reply:

M&C

Thank you so much for the nice words. We did work hard to overcome the initial glitches and were so happy you had a wedding to remember. We are also happy that you appreciated the flexibility in the way we approach each individual event. We know each wedding is unique. That is what makes us who we are.

We know all honest reviews will not always be 5/5 and appreciate the motivation to improve our business in every aspect.

We wish you both a wonderful life together and hope to see you back at Canvas Montreal one day soon!

All the best,

Mike, and the entire Canvas Montreal Loft team.