20 reviews
Quality of service

4.7 out of 5 rating

Response time

4.7 out of 5 rating

Professionalism

4.5 out of 5 rating

Value

4.5 out of 5 rating

Flexibility

4.4 out of 5 rating
13 User photos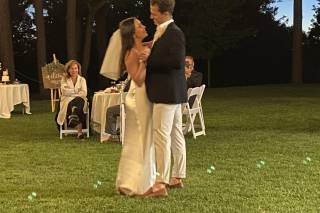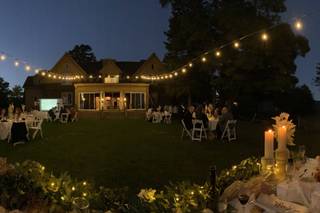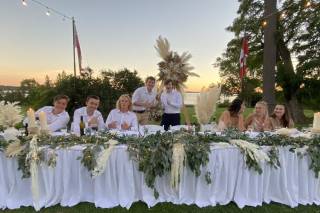 + 9

Photos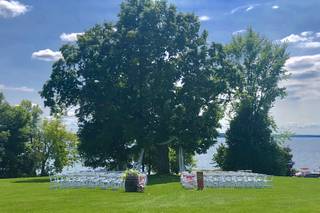 Featured

Kira R.

Married on 15/06/2019

Best Wedding Experience!!

We can't speak highly enough about Eganridge - best decision to choose this venue! Jason, Melissa and the entire crew went above and beyond for our wedding in June 2019 with 85 guests to make it the most memorable day. We are getting bombarded with compliments from family and friends endlessly. Picture perfect venue on the water, no matter what weather comes your way. Always open to new and creative ideas with phenomenal fireworks, jewish traditions, rehearsal bbq and late night bonfire/pub for a wind down. Everything from the accommodations, food, and guest activities exceeded all expectations, and they were high! Go take a look at this venue and you won't be disappointed!

Tabitha J.

Married on 08/10/2022

Wedding venue

We booked our wedding venue for next year October 2022. Jason and the staff at Eganridge are very knowledgeable and kind. We are really looking forward to having our wedding there next year.

Chloe H.

Married on 19/09/2021

An Incredible Picture Perfect Wedding Reception

Having a 2021 wedding is not easy with navigating covid but Eganridge made our dream possible! My husband and I made the tough decision to keep our ceremony as our original wedding date in June and have it at a friend's property while moving our reception event to September at the Dunsford House. Jason was right on this tough decision getting on the phone with us and helping us find a perfect alternative date so that we had better chances of having everything we wanted out of the reception! Over the next couple months Jason and I planned and organized everything. I'm an extremely type A person so he graciously put up with my long emails that included things like a minute by minute schedule of the entire evening, a guest seating and floor plan, meal choices with corresponding seats, tracking the budget, and in the end everything detail was absolutely perfect! I have a background in event planning so I was happy to work out my details independently but I would recommend that you hire an event planner to work with Eganridge directly if you aren't organized on all your details and vision. :) Day of, the reception was an absolute dream come true. We chose to do an outdoor wedding under the stars and twinkle lights with our DJ on the roof and dinner and dancing on the Dunsford lawn below and it was straight out of a movie. The serving, set up and bar staff were all soooo polite with all of our guests. Overall just being so warm, sweet and professional. Loved those girls! Jason was right there for us to ask questions to throughout and continually went above and beyond to accommodate anything we needed. He even so thoughtfully kept my husband and I's meals warm while we took sunset pictures and even took the time to accommodate a special request after the evening concluded! We felt extremely well taken care of and would recommend this venue to anyone! Thank you Eganridge for my favourite night of my life :).

P.S. Haven't received my picture quite yet from my photographer so these are the only ones I have on my camera roll :).

Are you interested?

Send a message

Natalie

Married on 18/10/2020

Perfect Getaway Wedding – Even With COVID!

We held our wedding at Eganridge on October 18th 2020. Having booked roughly a year earlier – our original plan called for 120 guests.
When COVID hit, we reached out to Jason (our venue manager) who put us at ease in planning with so much uncertainty over what we would be allowed to do. He explained to us all the flexibility that Eganridge had to be able to accommodate the wedding using different areas of the resort (both inside and outside), different ways to layout the ballroom so that it wouldn't feel empty if we had a lot fewer people. We were also assured that if as we got closer, we wanted to postpone, we would have the option of an October 2021 date if it came down to that.
About 2 months before the wedding, we made the decision to go ahead with our original 2020 date – and we could not have been happier with how it turned out.
We ended up with a beautiful fall day – exactly what we had hoped and dreamed for a year earlier. The grounds & property at Eganridge are absolutely amazing – especially with the fall colours! We got ready in the Dunsford House, had our ceremony down by the lake, and reception in their ballroom -- I will cherish these photos forever.
When it came to planning, the most difficult decision we had to make was who to cut from the guest list with the 50 limit – everything else was easy. Jason & Rose were incredibly helpful in helping put together our itineraries, and giving us suggestions on things to do to help keep people safe. On the day of, everything ran super-smoothly! Our originally planned 3-course meal turned into a 5-course menu – helping keep everyone safely at their tables in their bubbles -- and was absolutely delicious! I still have guests commenting on how good the meal was! Instead of dancing, we had the patio to ourselves for a post-wedding bonfire. Many of our guests stayed at Eganridge for the weekend – and this was a great way to cap it off!
Thank you again to Kim, Rose, Jason, and the entire Eganridge staff for making our day so special – especially in such stressful times

Laurie J.

Married on 10/10/2020

Don't book here

We had our wedding reception at Eganridge on October 10, 2020. The grounds are beautiful and the staff were fantastic, but save yourself the stress and book elsewhere. Even pre-COVID the manager Jason was the most difficult, unorganized person to work with. He does absolutely anything he can to get an extra buck from couples, and in the end you end up grossly overpaying for what you get. I had a years worth of anger built up just waiting to write this review with all the infuriating details, but our day was perfect (due to ours and Eganridge's staff efforts, no thanks to Jason)... so I'm keeping this short and putting it behind us. Book elsewhere.

Eganridge Resort, Country Club & Spa's reply:

Hi Laurie,

We are glad to hear that despite the challenges you & I had around expectations and communication, that were able to put together a perfect wedding day for you.

With respect to your assertion that "we will do anything to get an extra buck from couples" -- this is 100% completely untrue. All of wedding packages are all-inclusive with upfront and clear pricing. While some couples will add items onto packages based on their preferences, the packages are designed to give you a beautiful and complete wedding experience without any add-ons. Most of the available add-ons are listed right in the package; there will be occasional instances where there's an add-on that's never been, or extremely infrequently requested, that doesn't necessarily have a listed price in the package.

Throughout the planning process, there were 2 instances where you were informed that something was an additional charge. The first, was to book off our private dining room roughly 10 months in advance of the wedding for you to have a photobooth that would be away from our typical "photobooth location". We informed you that this space was not included in the wedding package, and provided you with 2 flexible options -- either to commit to a nominal room rental rate for the space, or leave it unbooked, and we would look at revisiting the room rental at a lower rate if it was still available closer in. While the way our resort is configured leads to a feeling of exclusivity for the couples on the wedding weekend, there are other diners, golfers, etc. that are welcome to the resort as well. This has several benefits in giving our couples additional amenities, and a greater depth of staff experience. The concept of there being an additional fee for additional space is standard practice in the event industry.

The second instance was early in the planning process, when you requested us to do a complete mock setup (despite already being provided electronic floorplans). I advised you that there would be a fee associated if you wanted it physically setup, as we'd have to bring in a setup crew to do it, and then a setup crew to undo it. Again, mock setups are basically an additional event, and require work that goes well beyond the normal scope of the "venue representative"; or something that would ever be included in a wedding package.

Overall, with all due respect, much of our communication challenges came from unrealistic expectations. We are here to help make yours (and every one of our brides) wedding of their dreams. Our packages are designed and priced to cover everything that the vast majority of our brides would want and/or need -- but they do not cover every possible unique request. We operate with a philosophy of never saying "no" to something within our control; but there are things that fall well outside of a normal wedding package that there are applicable fees for. There isn't a venue on the planet where signing up for a wedding package gives you cart blanche to do anything anytime.

Furthermore, once COVID hit, we provided you with an incredible amount of flexibility; and potential substitutions within the package, and your contract for things that were part of a pre-covid wedding, but didn't necessarily make a ton of sense in the context of a post-COVID-wedding.

Jenna M.

Married on 03/11/2018

It was a magical day!

All the staff at Eganridge are amazing. They helped make our wedding planning a seamless process. They help turn your dream wedding into a reality.

Larysa D.

Married on 29/09/2018

Dream Wedding

My husband and I got married at Eganridge on September 29, 2018. It was absolutely the wedding of our dreams. The venue and grounds are breathtaking and the staff worked with us to plan the perfect wedding. The events manager Tamara is fabulous and deserves a special thank you. She kept me stress free and made sure our day went off without a hitch.... she even made sure the geese stayed away from our outdoor ceremony space!! Thank you so much Eganridge for making our dreams become a reality!

S. Roman

Married on 01/09/2018

Lovely september wedding at Eganrdige

The team at Eganridge really made anything work that we hoped for, including subsidizing the cost of some of the on site rooms for our guests to help us accommodate guests we knew wouldn't be able to afford the Eganridge rates (though I'd suggest keeping it as simple as possible for your own sanity). They helped the groom set up to play a surprise song for the bride. They wrote us a personalized note the next day. We had a self-hosted BBQ for our rehearsal and they provided a brunch for our guests the next day (for an agreed upon fee for those not staying on site). We had a large wedding with about 130 guests in the end (150 invited) and I wouldn't go much bigger than that (say 140). The room was cozy but not overcrowded. They had a transition in staff about 3 months before our wedding, but the general manager Jason made sure the transition was completely smooth and he went above and beyond while temporarily covering the event planner role. The new planner Tamara we met on the day of the wedding also seemed great in the few weeks we worked with her leading up to the wedding.

The property is lovely, the lakeside ceremony was picturesque, and the Dunsford House functioned as a great space for the rehearsal dinner (about 40 people), the bridal party to get ready and hang out on the wedding day, and for a low key after party following the wedding. The ballroom was perfect for our reception and serving the 130 guests went quite smoothly.

The overall cost was somewhat expensive, but appropriate to the services offered for sure (i.e. if we found a less expensive venue, we would have also been outsourcing catering etc and had more DIY work to do). We loved that once our guests were on site, everything was right there. We arranged a shuttle for our off-site guests. Eganridge would be perfect for a wedding of about 55-65 for the weekend to have everything and all of your guests onsite!

Amanda D.

Married on 25/08/2018

Wedding Venue Eganridge, Kawartha Lakes

The manager and wedding planning staff have been great to deal with. They get back to you promptly, and are flexible. They are up for trying new things! They want to make sure your day is perfect, and that your happy :)

Julia

Married on 20/08/2018

Exceptional experience from planning to the big day!

We planned our wedding for 100 people in 5 months and all the staff at Eganridge were so helpful to make that happen. We had a welcome night the day before our wedding (cost of this is included in overall price listed in this review). They were flexible when we had changes, understood our budget and didn't try to upsell or needlessly add costs. Jason, the property manager, was available whenever we needed him, even at late hours. He was so kind and caring, was friendly with our guests, and made the whole process stress-free. All our guests raved about the venue, the rooms and the grounds. Highly, highly recommend!
Are you interested?
Send a message