Reviews for Romantic Planet Vacations
Awards
6 User photos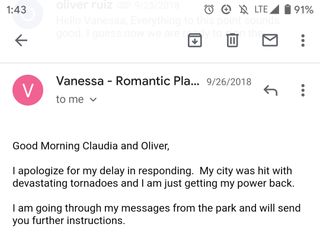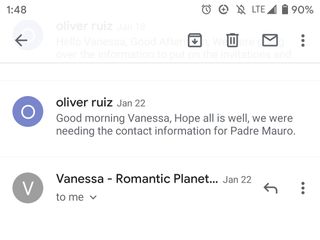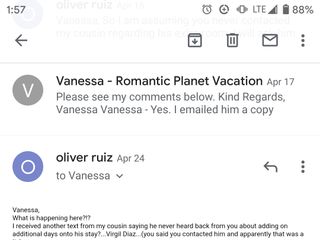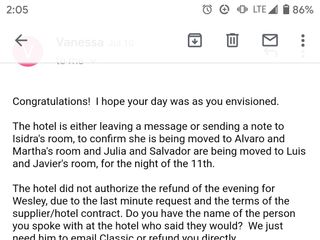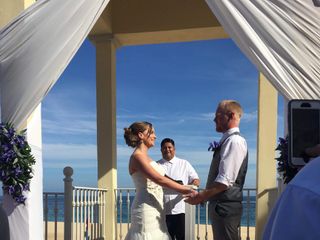 Breigh · Married on 26 of July of 2019

Knowledgeable and sweet!

We found Romantic Planet through a destination wedding/ honeymoon show and they were great at narrowing down choices to what we were looking for, and even referred to a particular person familiar and knowledgeable to the location we were looking. The agent followed up, provided all necessary details from beginning to after returning!

Sent on 13/08/2019

Romantic Planet Vacations's reply:

Dear Breigh,

It was truly an honor to have met you at our Romance Travel Show and also for serving you on this most important trip. We appreciate the positive feedback and look forward to assisting in your future travels!

Love, the team at Romantic Planet Vacations

Oliver Izana · Married on 09 of July of 2019

Run away!

Hello wedding review perusers,
If you are considering Romantic Planet Vacations as your wedding planner/coordinator... Stop turn around and RUN!!! We got married in Playa del Carmen, Mexico on July 9th 2019 and had the worst experience dealing with this company.

We had Vanessa and she was terrible with her customer service edicate. There were several times when she was unresponsive and unavailable without any prior notice. We had several emails excusing herself for her absence.

First off, this company works on commissions from the vendors so they are not really working for you but to set up weddings that will profit them the most. Because of this, our entire experience dealing with the hotel and reception staff regarding anything room related was awful. Their continued response was you didn't pay us any money so any and all changes have to be made by them (which ALWAYS INCURRED ADDITIONAL FEES). And guess what Vanessa was not helpful and unresponsive.

The $1000 Air flight credit is a SCAM. Thats incorrect for me to say. What I should say is please make sure you read all of the fine print very, very carefully. They will do everything in their power to not give you all the necessary details until they are no longer responsible for giving you the flight credit. Vanessa was going to set up the return flight for the credit but she stopped returning phone calls and emails so how were we supposed to book it without a person to book it with.

In short, Vanessa said she was going to take care of a lot of things that she didn't. She would not respond to our phone calls and the hotels phone calls when situations came up during our wedding stay, leaving us to deal with the hotel. We contacted their management and to see if they would want to rectify anything before posting our negative reviews and to put it bluntly they could give 2 Sh***.

It is very difficult to express how terrible the experience was in a short review without seeming petty. I am giving our wedding email in hopes that any person that wants a better picture of what our experience was can email us and we are more than happy to share any of the correspondences between us. To help us filter through the Spam all email should contain the following subject line: Please helps with your experience!!!

Thank you
Oliver And Claudia
Oliver.and.Claudia2003@gmail.com


Sent on 01/10/2019

Matthew Ananthan · Married on 29 of June of 2019

Fantastic Experience!

Marissa and I were blessed with the ability to work with Corinne Wilson-Daly from Romantic Planet Vacations who made the planning an absolute breeze, which ended up in our dream honeymoon surpassing all our expectations. Corinne was incredible to work with as she was super responsive, she had an incredible wealth of knowledge on our destination providing us with the best tips, tricks, and bookings, and she was just a pleasant person to deal with through the whole process - something that is incredibly valuable as you deal with all the stresses of wedding planning.

I would highly recommend working with Corinne and the Romantic Planet Vacations team as they helped plan and organize a one in a lifetime trip!

Thanks so much Corinne!

M&M

Sent on 06/08/2019

Romantic Planet Vacations's reply:

Dear Matthew and Marissa,

We thank you from the bottom of our hearts for taking the time to share your experiences working with Corinne and our team at Romantic Planet Vacations. We're happy to hear that your honeymoon surpassed your expectations. We look forward to the continuation of serving your travel needs in the future.

Love, Romantic Planet Vacations

Laura Knight · Married on 23 of April of 2019

Excellent Travel Experience

We worked with Corinne Wilson from Romantic Planet Vacations and i cannot say enough good things about her. She helped us plan the destination and hotel (Riu Palace Hotel in Los Cabos, Mexico). She was very knowledgeable about the hotel and destination. She answered every question very timely from us and our group of 40 guests. I would highly recommend her for any future group looking to book a destination wedding. Thanks again Corinne!

Sent on 30/04/2019

Romantic Planet Vacations's reply:

Dear Laura,

It was indeed a pleasure to have served you and your loved ones on this most important trip. We are delighted to receive your recommendations to future destination wedding groups and wish you both the very best in your happily ever after!

Love, Romantic Planet Vacations

Jen Byers · Married on 28 of February of 2019

Very Responsive and Organized

Our agent ensured everything ran smoothly, and she was very responsive. I have already recommended her to a couple other friends that are thinking about doing destination weddings.

Sent on 20/03/2019

Romantic Planet Vacations's reply:

Dear Jen,

A sincere congratulations goes out to you both on your marriage! We truly appreciate your positive feedback. It goes a really long way.

Wishing you all of the best! :)

Romantic Planet Vacations

Emily Kerwin · Married on 05 of February of 2019

Destination Wedding of a Lifetime!

Everything from the bookings to the travel and the resort was amazing - Tracy Keith from Romantic Planet Vacations was very informative and helped us plan the most epic trip for our group ever. Everyone was so pleased with the entire experience.

Sent on 15/02/2019

Romantic Planet Vacations's reply:

Dear Emily,

Congratulations on having such a beautiful wedding in paradise! We appreciate your positive feedback with our destination wedding services. If there is anything else that we can assist on for travel in the future, please do not hesitate to contact us! :)

Sincerely;

Romantic Planet Vacations

Ashley Brace Married on 02/06/2018

We went to show hosted by Romantic Planet and we are going to use them for our honeymoon get away. We thought of using them for a destination wedding but opted out as we couldn't afford to fly out all our guests that we wanted to come. They got back to us right away with emails, but were looking to schedule our honeymoon after the wedding. My fiancé and I are excited that there's actually places that specialize in honeymoon trips.

Sent on 10/10/2017

Romantic Planet Vacations's reply:

Your positive feedback Ashley is really most appreciated! We are truly honored to have served you and our sincerest congratulations go out to you both! :)

Fazia Rahim · Married on 16 of May of 2018

Great service!

Hi Corinne!

We would like to thank you for all for your hard work and dedication in planning our destination wedding in Grand Bahia Principe, Jamaica! It was truly a breath taking experience and you went above and beyond to make our wedding enjoyable. I know that working with a large group can be very challenging; however you were very prompt in finding solutions for any hiccups that occurred and were able to ensure we had an amazing time and great mini honey moon at the Grand Pinapple Beach resort in Negril.

Thank you Romantic Planet Vacations for making our wedding dreams come true!

xoxo

Jordan & Fazia Lutchman

Sent on 11/04/2019

Kim K · Married on 15 of January of 2018

Destination Wedding

My now fiancé and I booked our friends destination wedding through Corinne last January to Mexico. Corinne was on top of everything and ensured that everything was organized and ready to go! She was polite, friendly and answered all my questions quickly and promptly! If you are thinking about a destination I recommend Corinne.



Sent on 09/01/2019

Romantic Planet Vacations's reply:

Thank you Kim! We truly appreciate taking the time to submit your review and are delighted to hear that we exceeded your expectations. We eat, breath, sleep destination weddings so it's great to hear that our efforts didn't go unnoticed. Congratulations on your engagement and we truly hope to be able to serve your own destination wedding or honeymoon needs in the near future! :)

Sincerely;

Romantic Planet Vacations

J Holmes · Married on 15 of November of 2017

I would use Romantic Planet again, and I will be recommending them to ALL my Friends and Family that are looking for wedding planning. Amy Wood made everything beyond easy, and I will be contacting her again!

Sent on 24/11/2017

Romantic Planet Vacations's reply:

Thank you so much for letting us know how you feel. We take great pride in what we do and our team works very hard in making your travel dreams come true. It means a lot to hear that you had a great trip! Thank you!