Reviews for Waterstone Estate and Farms
Awards


43 User photos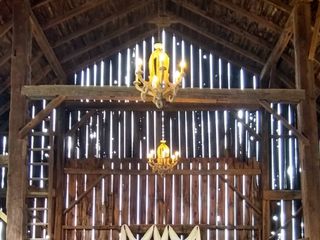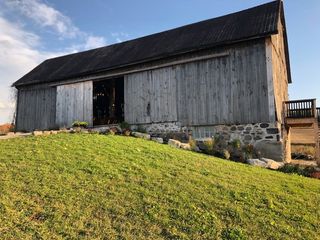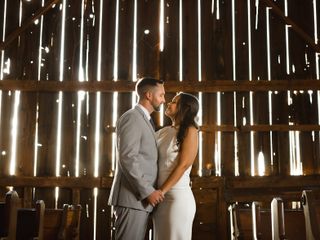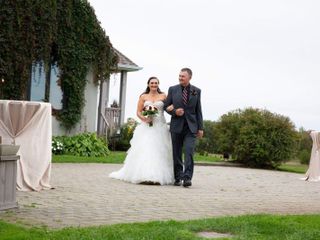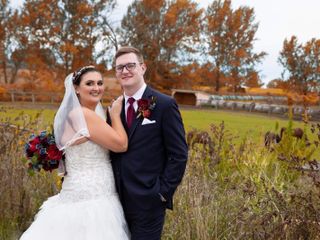 Alison Bucik · Married on 26/10/2019

Highly recommend

Everyone at WaterStone was amazing for our wedding. We worked mainly with Cynthia, and she was so helpful! She was always available to answer the millions of questions we had, and very accommodating when we wanted to make some last minute changes. The venue itself is beautiful. We had our ceremony in the century barn, and all of our guests keep telling us how amazing it was. The hall for the venue was also beautiful, a perfect blend of rustic and functional. We had 95 people total for our big day, and we fit perfectly in the space, making it feel nice and intimate. The catering provided is also really good, and many of our guests commented on how good the food was. Overall, we had a great experience here, and highly recommend it for anyone looking for a venue.

Sent on 18/11/2019

Tracey Mckillop · Married on 24/10/2019

A day to remember

It truly was a magical experience. Our son and his new bride held their wedding ceremony in the Heritage Barn on a beautiful fall day. With the sun shining through the slates of the barn, the simple yet elegant fall décor and the spacious rustic feel we witnessed a truly beautiful wedding ceremony, officiated by Richard. The guests were in awe of the beauty surrounding us. The fall colours were spectacular and the calmness of the property was welcoming. Deborah was very accommodating to our requests and Devin worked side by side to ensure everything went perfectly. Devin effortlessly worked her magic, it truly was a spectacular experience, second to none. Thank you to everyone at Waterstone Estate and Farms.
Thank you
The Miller Family

Sent on 24/10/2019

Waterstone Estate and Farms's reply:

Tracey, it was truly a pleasure to work with you and your wonderful family to make Shawna and Ryan's ceremony special. Your decorations were lovely and we were thrilled that you had such a gorgeous day. Autumn in the country - a blessing!

Shawna Hackett · Married on 22/10/2019

Beautiful venue!

If your looking for a beautiful, rustic wedding venue, Waterstone Estate and Farms is the place!

I got married in the heritage barn at Waterstone on October 22. It was everything I imagined our barn wedding ceremony to be! The chandeliers in the barn made it that much more spectacular. After the ceremony, we took our photographs in and around the barn. The way the light shines through barn, I couldn't have asked for better wedding photos. A photographers dream!

We did not use the clubhouse since it was a smaller wedding and went for dinner elsewhere but all of our guests were raving about the venue. The staff at waterstone were incredible as well. Devin was super friendly and helpful and was there to make sure everything ran smoothly.

Highly recommend this venue, wish we could do it all over again!

Sent on 29/10/2019

Waterstone Estate and Farms's reply:

Hi Shawna, It was an absolutely pleasure to work with you and your wonderful family to set up the heritage barn for your ceremony. Everything looked amazing!

Samantha · Married on 20/10/2019

Waterstone is amazing!

We had an amazing wedding day at Waterstone! Devin was the absolute best day of coordinator, and she kept things running smoothly. She was awesome leading up to the event and so helpful. The venue is gorgeous and every guest
Talked about it after, how much they loved it. Devin went above and beyond the whole time from booking until the day! Highly recommend. Also SO MANY nice places for photos!

Sent on 23/11/2019

Meaghan Martindale · Married on 05/10/2019

Look no further than WaterStone!

WOW! We have nothing but amazing things to say about our experience with WaterStone! From the moment we booked our venue, up until after our wedding day everything has been perfect! Devon is so sweet and accommodating and on top of everything. She was super responsive and easy to get a hold of. Was great at reminding me of things I would have forgotten about. The food was delicious and the venue it's self if breathtaking. If anyone is looking for a rustic venue, this is place! Look no further!!


Sent on 04/11/2019

Hana · Married on 03/08/2019

The Most Beautiful Place for a Wedding

In the quest for our venue, we came across WaterStone Estate. We fell in love with the large wooden hall and the beautiful surroundings. The staff was very helpful throughout the whole process and always answered all our questions.

The venue itself is absolutely gorgeous, it's like a fairy tale, and made our wedding feel perfect! Cynthia was our coordinator and we couldn't have pulled it off without her. She was amazing to work with and kept everything running smoothly on the day of and we are so grateful for all the help she gave us! Our wedding was everything we wanted and more. We are so happy and can't thank WaterStone Estate and Cynthia enough for our beautiful day!

Sent on 14/08/2019

Waterstone Estate and Farms's reply:

Thank you so much for the kind words Hana! It was an absolute pleasure to work with you and Andrew. Your wedding was beautiful and we can't wait to see your photographs!

Heather · Married on 27/07/2019

Perfect day!

I don't know where to start with Waterstone. The beauty of the venue sells itself, they could easily slack off elsewhere because of it, but they don't. Between the bridal suite being a space that our even hair and makeup vendors complimented, the food being mouth wateringly delicious, and all of the inclusions making it so we hardly needed to bring in anything of our own, I don't think we could have asked for more. But there was more! The STAFF take this place to another level! The bartenders, Brian and Adam, made a point of noting who was in the bridal party and who the parents were to make sure they were always taken care of. The foodservice staff was attentive, quick, and considerate during the toasts. As for the coordinators, specifically Cynthia, I can not stress how integral she was to making the day perfect; from setting everything up in the morning and making sure it was exactly what I wanted, to taking candid photos of my guests in the sunset, to making sure the bride and groom were fed during the cocktail hour, she thought of everything. I would recommend Waterstone to anyone!

Sent on 15/08/2019

Waterstone Estate and Farms's reply:

It was so great to work with you on your wedding! We couldn't have been more honoured to help make your day so beautiful and special and we absolutely loved all your decor and how beautiful everyone looked!! Thanks so much for your kinds words - working with people like you is what makes our job so fun!

Allison C Turman · Married on 01/06/2019

Waterstone helped make the day PERFECT

We could not be happier with our Waterstone as our venue. From the beginning Devin was so great to work with and very helpful. Closer to the day and day of, our coordinator Cynthia was amazing. She was SO helpful, thoughtful, accommodating and on top of everything to make sure we were both happy. Everything went so smoothly. The staff and bartenders were all great. The food was delicious. All of our guests loved the beautiful setting, the hall and the food. The bridal suite is nice and big, it easily accomodated our wedding party of 10, including a couple extra husbands and babies. It really was a perfect day and I am so glad we chose Waterstone.

Sent on 03/06/2019

Waterstone Estate and Farms's reply:

Allison thank you so much for your kind words! It was wonderful to work with you and Kevin towards creating your special day and we loved all of your decor choices and how beautiful everything was!

Megan · Married on 03/11/2018

Lovely, cozy venue

We were married in November 2018, and couldn't have chosen a better venue. Our ceremony was outside, and despite the cool weather, our guests were comfortable in the gazebo. The staff were great, the food was delicious, and the venue looked incredible. We supplied our own alcohol (which is a great cost saver), and the reception building is so naturally beautiful that our added decor was minimal and super manageable without a planner.

Sent on 06/02/2019

Waterstone Estate and Farms's reply:

Hi Megan and Jeremy, It was wonderful to work with you both towards creating your beautiful day! Your wedding was gorgeous and we thank you so much for this lovely review! Best wishes from everyone at WaterStone!

Hailey · Married on 27/10/2018

A perfect day at a perfect venue

Waterstone was everything we dreamed of for our wedding day! Devin was our wedding coordinator and she went above and beyond for our special day! They were very flexible and accommodating in every way! Even let us have our dog in the ceremony which was very important to us! We highly recommend them to everyone!

Sent on 26/02/2019

Waterstone Estate and Farms's reply:

Hi Hailey, It was great working with you and your dog is absolutely adorable. We loved your wedding - everything was so beautiful!