Reviews for The Heritage Centre by Mountain View Events
Awards
30 User photos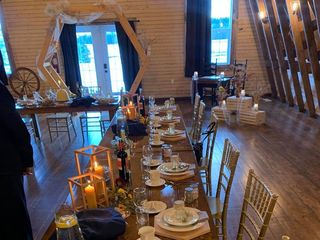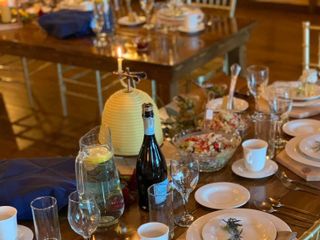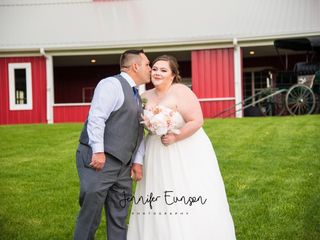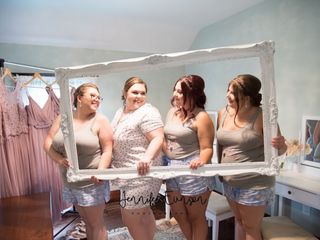 Sondra M. · Married on 17/10/2020

A Prairie Treasure

The MVE Heritage Centre, known by most as Cremona's Big Red Barn is the most beautiful wedding venue in Mountain View County. The restored barn is breathtaking for an elegant wedding. You can choose to add your own personal touches but the wood itself is gorgeous and highlights the beauty of the bride. Families planning a Wedding on The Prairies must book this venue. Our daughter's wedding day will forever be remembered for the warmth, seamless flow, and fabulous hospitality. The MVE Heritage Centre is a treasure at reasonable cost.

Sent on 20/10/2020

Rodas A. · Married on 18/07/2020

Recommendation for MVE The Heritage Centre

We are beyond blessed to have had our wedding at MVE The Heritage Centre. This venue was a dream come true! It brought us the modern/rustic look we always wanted. We had our perfect outdoor ceremony with our barn room reception! We loved the venue and the staff. Special thanks to Deb who worked with us to make our dream come true!

Sent on 12/08/2020

Shelby M. · Married on 11/07/2020

Absolutely amazing! Highly recommend

This is the most amazing venue and hosts. Debora is the sweetest most accommodating host, and was available and willing to help from start to finish! The facility is magical. Both the guys and girls of the bridal party were able to get ready on the property but in separate spaces, this made it so easy and relaxing. Debora made sure the children also had a space with TV, movies and toys to keep the little's busy. Even though we only had 20 guests, we were able to use the whole space and nothing was off limits etc. use of kitchen, all bathrooms, various ceremony spaces and outside areas. Even more amazing was that I was able to bring in my own decor and Debora incorporated it and made it even more beautiful with the use of what the facility offers.
The layout of the facility is perfect! Guests are able to use all spaces yet feel as if they are not separated. The licensed bar was stocked and the use of the galvanized trough is the perfect touch! The property is gorgeous and there is ample opportunity for amazing pictures at various locations. I cant say enough how absolutely amazing the venue is and even more amazing the hosts!

Sent on 18/08/2020

The Heritage Centre by Mountain View Events's reply:

Shelby:

You and Will were dream clients- sweet, kind and easy to deal with! I look forward to seeing you again soon! Congratulations and best wishes for the future!

Dhwani · Married on 25/06/2020

Heartfelt and Warm

Believe it or not, I booked this venue without having seen it. I was only able to view it about a month before our wedding... Covid-19 disrupted our wedding plans in many, heartbreaking ways. In spite of it all, we had a lovely experience having our wedding at this venue. Debora and her team are kind-hearted people and treated us like their own. At a time when things were so uncertain due to the pandemic, it was incredibly stressful planning our Vedic wedding. Still, she was keen on learning about our traditions and accommodating us as we all tried to figure out details around hosting a Covid-19 edition wedding. If there is one vendor I would say was the most compassionate, understanding and consistent in performance, it would be the MVE Heritage Centre's team.


Sent on 04/10/2020

Melissa B. · Married on 12/06/2020

COVID Friendly Wedding

Because of COVID, at the beginning of April, with an extremely heavy heart, my fiancé and I decided to postpone our wedding scheduled for June 12th, 2020.
As the day approached I was loosing my mind with emotion about how "our special day" that had been in the works for 2 years, was not so special anymore. The Heritage Centre came up as an add for COVID friendly weddings, and with the restriction being having outdoor events of up to 50 people, we were contemplating just that. Deb had gotten back to me within a half hour, little did she know that she quickly became the fairy god mother of my dreams! She had told us what the COVID friendly packages were and the remaining dates available for 2020, June 12th being the first. With talking to my amazing parents, and my fiancé's amazing ex, we were able to have his little girl and hit the ground running to plan a whole wedding in 17 days! That sounds nearly impossible, but Deb and Wendy made my dreams and even more possible! The Tuesday before our big day, my mom, my soon to be mother in law and I went to start decorating the outside portion that we were able to use for dinner (includes a bar). At 12:30 pm we were hit with another update regarding COVID, but this time it was in our favour! We were allowed 50 people inside, which meant we were able to get married in the breath taking historical barn!
Friday came, and Deb and Wendy were the star of the show! I am still getting messages and phone calls saying it was the best wedding and Deb and Wendy were the most wonderful people! I can not thank this facility, Deb and Wendy enough! Just the simple "you look beautiful" made my night even that much more spectacular! Thank you so much! Our COVID wedding was meant to happen, and you guys made it happen! I will never be able to repay you enough!

Sent on 19/06/2020

The Heritage Centre by Mountain View Events's reply:

Princess Melissa - you are my favourite Sassy Bride - your infectious humour made working with you a great pleasure! Hope to see you again soon!

Meaghan H. · Married on 17/05/2020

Beautiful Location

I got married at the Heritage Centre last month and it was magical. The venue is just stunning! We didn't need much to dress it up. We took our photos at the venue and there are so many different scenes. We took pictures in the barn, house, forest area, and fields. The owner (Deborah) is so accommodating especially during this time of uncertainty. If you book this venue you won't be disappointed.

Sent on 26/10/2020

Maggie · Married on 31/08/2019

Absolutely amazing

Deb is the nicest person to work with. Very kind hearted and dedicated to making all of your wedding dreams a reality.

Sent on 03/09/2019

Emily · Married on 13/07/2019

Gave us the day of our dreams

Deb and her incredible staff gave us the day of our dreams-every detail was even better than we imagined it would be!

Sent on 15/07/2019

Krysta · Married on 22/09/2018

Wedding Saved - A Dream Come True

Our experience with HC by MVE was nothing short of AMAZING. Deborah LITERALLY saved our wedding by hosting us. From the first connection by phone to the day of our wedding we were over whelmed by the kindness that MVE showed us. The venue is absolutely gorgeous, and the MVE team is incredible to work with - extremely professional in every aspect.

Sent on 10/10/2018

The Heritage Centre by Mountain View Events's reply:

Congratulations to Krysta and Russell a beautiful couple both inside and out. Krysta and her Mom Kim were a dream to work with - kind; polite and nice - I hope all my wedding families are as nice as the Holmes!!