20 reviews
Quality of service

4.4 out of 5 rating

Response time

4.3 out of 5 rating

Professionalism

4.4 out of 5 rating

Value

4.3 out of 5 rating

Flexibility

4.2 out of 5 rating
19 User photos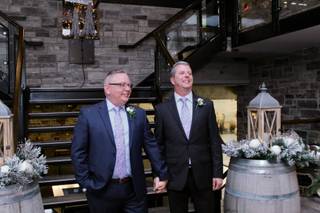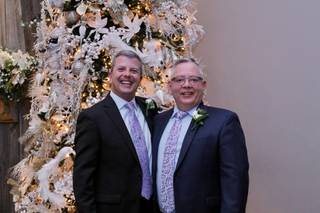 + 15

Photos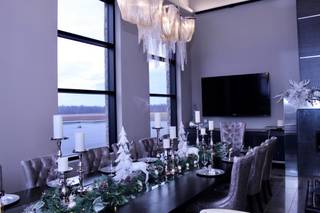 Rebecca L.

Married on 12/06/2022

Amazing Customer Service

We booked our wedding during COVID times with Dark Horse. Holly, their venue coordinator was amazing to deal with she was able to guide us through some options, and we ended up postponing our wedding at Dark Horse as the uncertainty last year was unpredictable, so happy we did as we were able to have our day without restrictions. The staff were helpful and amazing to deal with. Thank you again for being patient and walking us through these times!

Breanna S.

Married on 09/10/2021

Beautiful Venue

Holly walked us through every step of the way, from booking to recommending vendors to the day of. Although it was a COVID year, Ashley and Holly took the time to explain the restrictions and were able to tailor our day to reflect our vision while still adhering to the COVID Policies. Dark Horse Estate Winery is a beautiful venue and very well maintained, there was definitely attention to detail when building this venue. The bathrooms were stunning! Our guests had a great time and are still taking about it!

Dark Horse Estate Winery's reply:

Breanna,

Thank you again for choosing Dark Horse Estate Winery. It was an absolute pleasure working with you. We wish you and Dale all the best!

Regards,
Dark Horse Estate Winery Inc.

Taylor R.

Married on 25/09/2021

Terrible experience

April 2020 we had a tour of Dark Horse and completely fell in love with the beautiful venue. Never would I have I thought that I would be wishing we didn't book this venue due to the terrible management but fast-forward to September 25th, our wedding day and I can easily say
that despite how beautiful the venue is, I absolutely do NOT recommend booking it for your wedding. When you first walk through, you are greeted by Holly and for the most part you deal with her, which is mostly pleasant. Unfortunately, Holly is only the face you see and deal with BUT has absolutely no authority to make any management decisions. Of course planning a wedding during covid is not ideal but ultimately, the way the vendors treat you during this time makes or breaks it. When we booked the venue, we never thought for 2 seconds that we would still be where we were with covid over a year later so we booked all the rooms assuming my whole wedding party could get
ready in the VIP room and assuming we could have the cocktail hour in the cellar room. Unfortunately due to capacity limits that was not the case. We understand that capacity limits are outside of the venues control, however the way they dealt with this was extremely
disappointing. We first reached out to Holly about this and asked we could get ready in the cellar room (capacity 30) instead of the VIP room since we paid for both and the VIP room no longer had the capacity to hold everyone. She immediately said no, the owner wouldn't allow that. We then asked, since we can't use both additional rooms we paid for, are we entitled to a refund… answer
was easily no. This was a matter of $2500 for 2 rooms we were no longer able to use and absolutely NO accommodations were being made by the owner. When it was time to pay the host bar 1 week before the wedding, we were absolutely SHOCKED AT THE INCREASED ALCOHOL PRICES.
When we signed our contract, beer was 6$, wine was 7$, cocktails were 9$. We understood that "prices are subject to change" but they went from that to 10$/beer, $8/wine, $10/oz of liquor and $2 extra per bottle of wine which were already significantly increased from their retail prices. Their reason "their cost went up"… My father in law finally got in touch with the owner after Holly said it was out of her hands just to be hung up on. My father in law immediately texted them back and asked what happened and Craig (the owner) mentioned the call had dropped and Ashley (his wife) would be in touch with me in 2 days instead of calling my father in law back). 2 weeks had gone by and I never heard a thing. As you can imagine, I was extremely frustrated with the poor customer service but Holly reassured us that Ashley would not be here on the wedding day so to just drop the frustration and she would make sure we had a good day…we decided to move ahead and we would make that work and rotate people in the VIP room (even though we had paid for a bigger room that they were refusing to let us use now). And we just paid the bar because at that point, what else were we going to do… we were 1 week away from our wedding day. Fast forward to the wedding day, to my absolute surprise a lady dressed extremely unprofessionally was hovering all over us ALL DAY. I later found out she was Ashley, the owner. I truly couldn't believe it. In my opinion, she was extremely rude and unprofessional. She walked around all morning dictating and making everyone feel uncomfortable, locked the door to the VIP room so that we could no longer go up and down as we pleased, which made the morning very difficult because we e had to rotate people to respect the capacity limit? We were very respectful of the capacity limits and ensured we only had 10 people up
there BUT we also had my 6 week old niece sleeping in her stroller which we never for 2 seconds thought to count in this capacity limit. Instead of coming up to us and asking us nicely to consider her, she locked us out and REFUSED to let my sister go upstairs to get her baby when she was screaming… her reply "there's already 10 people, you can't go up". Despite her simply asking to go up and grab the baby and come right back down. I approached her about this because I
was extremely frustrated with the way she was treating us and she walked away from me and continue mumbling comments below her breath. After the ceremony, we were trying to take family photos in front of the doors. We kept in mind that people still needed to use the doors
and gladly moved anytime someone was there. But we had the pleasure of having Ashley once again HOVER, arms crossed, absolutely miserable, dressed extremely unprofessionally, standing RIGHT in front of us while we were taking pictures. She continued to go up to the photographers telling them that's enough. She made comments like "oh they must think they're the only people here".
Ashley finally left, but of course, she has no faith in her staff because just as she did all day,
questioning them and micromanaging them, she did the same from her home. At exactly 11pm when the outdoor music was to be turned off, she called her staff and had them turn it off immediately. We asked to move the music inside since the rule was capacity of 75, we were WAY UNDER 75 people at 11 pm AND WE PAID FOR THE VENUE UNTIL MIDNIGHT (the outdoor time limit for music was 11 but as per our contract the indoor portion was open until midnight). She refused and told her staff to turn on all the lights. Again, we paid for the venue until midnight and they were essentially kicking us out at 11. The next morning, my husband and I had to go pick up some stuff and Ashley approached me initially apologizing for her behaviour and offering us money back for the cellar because we had not used it. Unfortunately, at this point it was too late to rectify the situation.I am thankful for the refund but it does not dismiss the way she acted on my wedding day and the fact that she refused to return calls and deal with issues before hand. To me, trying to give us money back AT THAT POINT is just a way to try to not get a bad review. In the same breath of apologizing she also added "I'm just really confused why you're upset with me". I explained that if she thinks this kind of behaviour is ok, she should stay away from customers and get out of customer service. Her reply: "I'm not in customer service". I was very surprised to hear this kind of comment from a business owner. I certainly recommend management classes to both of them. On a better note, unfortunately the owners completely ruined our opinion about this place but I will point out, that their staff deserve an award, 1) for having to deal with Ashley and her micromanaging 2) they were all phenomenal all day. Christy & Holly were great to deal with and brought light on our day despite all of the frustrations Ashley caused. The bartenders were also amazing all evening! Throughout our whole wedding planning, honestly the owners of Dark Horse were the only issues we had to deal with.


Dark Horse Estate Winery's reply:

Taylor,

Thank you for your feedback. Unfortunately, your review has some very concerning opinions that we believe are not accurate. Our General Manager was present that whole weekend for all 3 weddings, as the new role out for the mandatory vaccinations were in place. It is her job to ensure policies and procedures are being met and followed. As our Venue Coordinator was busy, our General Manager took the time to ensure everyone including staff and vendors were good and organized, along with checking in on the retail which was operating as well. The VIP access is a controlled access, the door was not locked by our General Manager – it is accessed by FOB entry and locks by itself. You were made aware of the COVID and Dark Horse's policies and procedures in your final meeting with our Venue Coordinator, our VIP room occupancy was 10 including vendors, unfortunately this was not respected by yourself; you ensured our venue coordinator verbally and by email that you would rotate your party to ensure capacity limits were met, this was not the case. No one prevented your sister from access to her daughter, our general manager was stationed close by to let your party up and down along with checking vaccinations, had your sister let our manager know that her daughter was fussing, she would have let her access the VIP (Your sister only asked her for access to get her phone). As for prices of the bar, at the time of booking your contract in September 2020, our Venue Coordinator had let you know our prices went up from the time you had your virtual site visit April 2020, these reflect rising operational costs, not just COVID; our venue coordinator ensured you had a copy of the new price list a head of time (not a week before). There was some miscommunication as our Venue Coordinator was made aware that everything was fine with the bar by yourself in an email and our Venue Coordinator relayed back to our General Manager that she did not need to reach out to you or your father in law; our Venue Coordinator even took the time to email your father in law to ensure everything was ok. As for the dancing inside, you reviewed with our Venue Coordinator the varying options as you had more than the capacity limits to dance inside, you choose dancing outdoors until 11pm and chose to have the bar run until 11pm as well. Our General Manager did not direct the staff to turn on the lights, the staff turned on the lights as your party started to pack up decorations and clean up as well as the bar was closed and they were tidying their station up. We are very fortunate to have the staff we have, they are like family here! In all honesty, we are very perplexed that with the 2 brief conversations you had with our General Manager on the day of asking if your niece counted as the 10-person capacity and the next day when our General Manager reviewed her concerns about your remarks you made to the staff, you were able to depict the kind of person she is. Our general manager was wearing black dress pants and a black dress shirt (acceptable business attire) as she manages both retail and events, she happened to be wearing an a-line jacket as she was monitoring inside and outside.
We are happy to hear our Dark Horse Team was great, and your wedding went well. We wish you and Calvin all the best.

Regards

Dark Horse Estate Winery Inc.


Are you interested?

Send a message

Tawnya D.

Married on 21/08/2021

Highly recommend

My fiancé and I have booked this venue via virtual tour by Holly. She did an amazing job showing us using face to face video seeing the grounds and the area in which would best suit our personal wedding come July 2021. The place is gorgeous beyond words, and that was clearly shown we didn't have to have a tour we fell in love via video!
Cheers
Jordan and Tawnya

Dark Horse Estate Winery's reply:

Tawnya,

We are so excited to host your wedding in July 2021!

Thank you for your kind words,
Dark Horse Estate Winery Inc.

Jess K.

Married on 06/08/2021

We had our wedding at Dark Horse in August 2021, every aspect of our experience with the owners and staff was professional and stress free.

Dark Horse is one of our favourite places to go and we are so glad we decided to have our wedding there. We had a Friday evening ceremony and the entire experience was exactly what we wanted. We can't thank them enough for making our day perfect.

Anna P.

Married on 15/05/2021

Gorgeous venue with a problem solving staff!

Absolutely beautiful scenery and very accommodating wedding/event coordinators! My COVID-19 wedding experience was a nightmare with having to reschedule my wedding two times; Dark Horse helped ease the stress of the chaos, and brainstormed options that complied with health and safety regulations (the best part: these options mirrored my wedding vision)! Although it seems like COVID-19 brides are limited, Dark Horse made the experience significantly better with their support and kindness! Side Note: The Rosé Slushie is to die for!!!

Dark Horse Estate Winery's reply:

Anna,

Thank you for taking the time to share your experience. We know it's not easy to plan a wedding during Covid, and we thank you for trusting us with your big day!

All the best,
Dark Horse Estate Winery Inc.

Eric F.

Married on 10/10/2020

Stunning and perfect

Dark Horse Winery was the perfect setting for our wedding. The venue was stunning and Holly the event coordinator helped made the day perfect. She was willing to help with anything we needed and couldn't have pulled it off without her. We would recommend this venue to everyone.

Dark Horse Estate Winery's reply:

Eric,

Thank you for your kind words, and trusting us with your big day! We are lucky to have Holly on our team.

All the best,
Dark Horse Estate Winery Inc.

Tyler D.

Married on 03/10/2020

Engagement

Had an awesome experience with my engagement proposal! Staff were all amazing and Holly helped coordinated and organized everything so it all went smoothly. Dark Horse is a beautiful spot for any event. Super accommodating and helpful.

Dark Horse Estate Winery's reply:

Tyler,

Thank you for your kind words, and allowing us to be a part of your engagement! You planned such a special evening that you both will remember. The sunset helicopter was a nice touch.

All the best,
Dark Horse Estate Winery Inc.

Aly H.

Married on 13/09/2020

Absolutely perfect

We were SOO lucky to have had Dark Horse as our wedding venue & specifically Holly their Venue Coordinator/Events Manager supporting us leading up to, and on our special day. The wine, the setting - you can't beat it! I want to get married at Dark Horse all over again!

Dark Horse Estate Winery's reply:

Aly,

Thank you for trusting us to be a part of your special day! You were a pleasure to work with.

We wish you all the best,
Dark Horse Estate Winery Inc.

Abigail L.

Married on 28/08/2020

Amazing wedding venue

We had our wedding at Dark Horse Estate winery on August 28th 2020. This was our third venue due to covid 19 restrictions and we were very stressed due to the changes we had to make due to the pandemic. We first spoke to Holly on the phone before meeting her in person at Dark Horse. When we went to the venue, we really loved how beautiful it was and instantly felt that we wanted our wedding to be there. The grounds were immaculate, the vineyards are beautiful and it just had a modern chic vibe. This was just from looking at it on the outside. The inside was amazing as well. The brick, the wine cellars, everything looked modern and new. When we met Holly to discuss having our wedding there, we were so drawn in by her personality. She has an amazing personality and she really had a keen interest in what our wedding plans were and making sure they would be accommodated. Communication with her was constant. She always made herself available for questions and offered great suggestions. She reached out to some vendors on our behalf as well (DJ, helicopter service, florist) to make sure everything was coordinated well. We planned an outdoor wedding, however, the morning of the wedding, good weather was not on our side and Holly contacted me to discuss alternate arrangements. She suggested using the ballroom instead which we agreed to even though we didn't see the ballroom before because all of our plans were for an outdoor wedding. Just to reiterate how amazing Holly is, she coordinated and arranged all of our decor that was to be outside, to inside. She even contacted the florist who was supposed to decorate the arbor outside and arranged for her to tailor the floral arrangement for inside. On top of that, she sent us photos when it was all set up so we knew what it looked like before the wedding and to make sure we liked it. Michael and I loved it. Her attention to detail was spot on and we were so happy to have her working with us. After all of the stress we had been through initially due to covid, Holly was the calm we needed. We worried about nothing because she took such great care of us from the beginning to the end. At Dark Horse, we also loved all of the areas we used for photo ops. There are so many great areas, inside and outside that we were able to use. Our wedding day was a memorable one and our guests also really loved the venue. We highly recommend Dark Horse Estate winery and also Holly because she is simply amazing and will take great care of you!

Dark Horse Estate Winery's reply:

Abigail,

We are so glad we were still able to host your wedding this year (with the pandemic craziness). We wish you both a lifetime full of love & happiness!

All the best,
Dark Horse Estate Winery Inc.
Are you interested?
Send a message