Reviews for Timeless Tree Weddings
Awards
2 User photos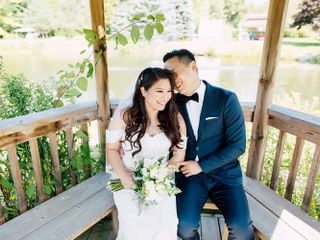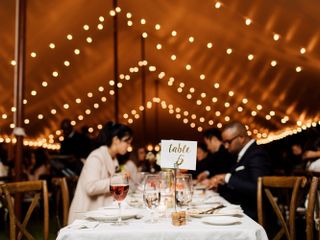 Iris Li · Married on 02/06/2019

Wonderful experience & amazing videos

Tommy and the Timeless Tree team was absolutely fantastic! The videos are amazing, and his expertise and sense of humour just made the whole experience smooth. He and his colleague went above and beyond to make sure we are at ease and the special moments are all captured on film. The videos really tell the story of our big day, from the 1-minute film to the highlight to the full feature and speeches cut. It brings back the memories of our special day for all of us! We cannot recommend Timeless enough!

Sent on 20/08/2019

Kristine · Married on 30/09/2018

Amazing team!

I just wanted to say thank you so much to the amazing team at Timeless Wedding Films. I am so glad we choose them as our photographer and videographer. Mashal, Dennis and the others were so friendly, accommodating, professional and really went above and beyond to ensure my husband and I were happy. My family and bridal party were also extremely pleased with the level of customer service they provided. Despite the gloomy skies, light showers and chilly weather they did not hold back at all. Instead, they kept offering new ideas and ways to work with our surroundings. I couldn't have asked for more!! We had an amazing experience working them. I would definitely recommend Timeless Wedding Films to anyone looking for these services!!

Sent on 12/10/2018

Timeless Tree Weddings's reply:

Kristine, you and Martin were a pleasure to shoot. Thank you for allowing us to capture your special day! We hope you and Martin a life filled with happiness and more! :)

Tula D'silva · Married on 07/09/2018

Cinematic genius! Priceless!

Sometimes in life you come across people who are so incredibly talented and super down-to-earth. Tommy is one of those people! Our paths crossed by chance 1 WEEK before our wedding as our original videographer cancelled last minute. We couldn't be happier with this twist of fate! Tommy is so easy to work with and his work is PHENOMENAL! Browsing through his portfolio, it's easy to see he and his team are true cinematic geniuses. Timeless Wedding Films give you all the feeeeels! We are absolutely obsessed with the 1min Instagram edit he provided to us the morning after our wedding and watch it on repeat. We have received sooooo many compliments on it. We would highly recommend Timeless Wedding Films to capture your life's most precious moments. Worth every single dollar... priceless!!!

Sent on 15/09/2018

Timeless Tree Weddings's reply:

Thank you so much for your kind words Tula! You and Allan were awesome. Allan really loves you alot, make sure you take good care of him!! Thanks again guys!!

Mary Yenczek · Married on 03/08/2018

August 2018 Wedding

I first came across Timeless Wedding Films at Canada's Bridal show, and I am so happy to have taken the time to check them out. We first met with Tommy and Bao and we instantly hit it off with them as they were friendly, warm, and professional. The portfolios they presented were quite impressive, but what was more impressive was their attention to detail and willingness to accommodate. They took the time to learn about our vision and the images we were hoping to capture on our wedding day, and they delivered just that! Not only is the quality of their work and service superb, they went the extra mile to ensure that we were comfortable and enjoying the process both during the engagement shoot and on the big day. Tommy, Tuyen, Bao, and Marshall went above and beyond, and this is really visible in the output generated. They delivered the photos and videos in a timely manner and we are thrilled with them! Our bridal party and guests couldn't stop commenting about how nice and courteous the photographers and videographers were, so it is safe to say that choosing Timeless Wedding Films was one of the best things we did to commemorate our wedding. A huge thank you to the team once again. We would highly recommend having these wonderful people capture your big day, it will be very well worth it!

Sent on 18/09/2018

Timeless Tree Weddings's reply:

Mary! We are going to miss you and Zac so much. You guys were so fun and amazing, we truly hope your marriage is filled with endless blessings, and many kids to come!! :)

Ashley Powell · Married on 14/07/2018

You need Timeless for your wedding!!

I cannot express enough how grateful we were to find Timeless Wedding Films. Tommy and his beautiful wife were absolutely incredible. Funny, patient, professional. They made us feel so comfortable! He even sent us a sneak peak video at 11am, the morning after my wedding. Not even 12 hours later!!!! We loved Timeless and would hire them over and over again.

Sent on 18/07/2018

Timeless Tree Weddings's reply:

Ashley, you and Dan were nothing short of amazing. Thanks for having us and we wish you guys the best in life together!

Sheena Daven · Married on 30/06/2018

Phenomenal Work for my wedding!!!

These guys are amazing! Tommy and Tuyen did my wedding ceremony, reception and henna night!! Extremely professional, but with a very down to earth, human demeanour - which made them so easy and fun to work with. They did everything they could to work with my crazy pre-wedding schedule. During the shoots they gave amazing direction - I have a different company that did my photos but I wish I got these guys to do my photos too along with the videos they did. You see such a difference between the 2 companies - some of the photos have terrible backgrounds, or bad positioning - but all of my videos are literally perfect. When you have a clear comparison in front of you, there is no doubting what amazing vs poor quality and work ethic are. Not to mention they have top of the line quality equipment which made me feel like my wedding was turned into a movie!! And finally... timeline!!!!! They're turnaround time was SO FAST!!!! I would HIGHLY recommend these guys to anyone for anything youre shooting - they are extremely talented. Lastly and most importantly for me in terms of customer service - they were so helpful and understanding with my parents! My parents ask a TON of questions, sometimes people get "annoyed", but Tommy was so patient and understanding with them. Thank you guys again and again!! Cant wait til I have something else to shoot (hopefully this will be my only wedding, but future events haha!)

Sent on 29/08/2018

Timeless Tree Weddings's reply:

Sheena we loved working with your entire family and crew for your wedding. Even if it was hectic, crazy, all over the place and 2 hours of direct sunlight for the ceremony! Family and friends is everything to us too, so thanks for letting us shoot your special day! All the best in your marriage with Daven!!

Sara Gray · Married on 23/06/2018

Timeless Wedding Films Review

Tommy was a pleasure to work with - My husband and I were originally unsure whether we wanted to have a videographer for our wedding day but we are SO happy we decided to go ahead with Timeless Wedding Films. Every time Tommy sends us a link to the latest video he created for us, our jaws drop and we get butterflies. He captured every special moment and we are so happy with his work!

Sent on 17/07/2018

Timeless Tree Weddings's reply:

Sara you and Apostolo were the easiest models we've ever had the pleasure working with! Even though it was supposedly your first time! Thanks again for letting us film your special day!

Danielle · Married on 09/06/2018

Amazing couldn't ask for better!

oh all the good things I can say about Tommy and his crew Timless wedding films was a part of our special day and i can truly say I am so thankful! they are not only professional but they make the whole process fun they are second to none when it comes to capturing the most beautiful moments that are shared during your day myself and my husband would recommend them over and over again without second guessing!

Sent on 22/06/2018

Timeless Tree Weddings's reply:

Mike & Danielle! You guys are true troopers. I know you guys have been through a lot to get to the wedding day, but your love really shows and it was just so easy to capture your story perfectly on film + photos. Thanks for having the timeless wedding films team take care of everything on your special day! Until next time!

Lee Chimborazo · Married on 11/11/2017

Amazing video and team

Tommy and Tuyen did an amazing job capturing our wedding. Originally we weren't going to hire a cinematographer but a friend highly recommended them. I'm so glad we hired them and have memories to watch forever. They we're so easy to work with I almost forgot they were there. We have great quality short and long videos and we're very impressed with the 1 minute Facebook/Instagram highlight ready the next day. I'm also happy we included the drone, I love how they blended footage of the property into the video. I would recommend Timeless Wedding Films to anyone wanting to capture their special day.

Sent on 10/06/2018

Timeless Tree Weddings's reply:

Lee + Peter, you guys are one of the sweetest couples we've had the pleasure of shooting. Thank you so much for choosing us to be apart of your special day and trusting us to film your beautiful relationship together! Take care of Lee Peter, she's a keeper!

Sofia Lau-Alves · Married on 09/10/2017

Better than what we could have imagined!

We are so glad to have hired Tommy & Tuyen as our videographer for our same-day wedding video. They made the impossible, possible! They were very professional, responsive, open-minded, easy to work with, and creative. Everyone was very impressed with their work. My husnabd and I would highly recommend them!

Sent on 25/05/2018

Timeless Tree Weddings's reply:

Thanks Sofia! You guys were fun to shoot! we hope your marriage the best in life and that it's filled with many cute children!! Thanks again for having us!