Reviews for Inthemoment Productions
Awards

1 User photo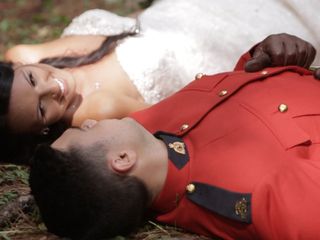 Featured

Katelyn sinclair · Married on 20/09/2019

Amazing in every way!

We are so happy that we decided to book Inthemoment Productions for the videography for our wedding day!
Right from our first initial meeting, we had such an amazing feeling about Diogo and the services we would be provided on our wedding day!
Looking through their work, you see their passion for their craft and it was very evident when working with them on our special day!
Working with Diogo and Justin was simple! They are so professional and personable which is so important when you have such vulnerable moments on your wedding day! We are so excited to see our highlight and full videos! We can't wait to share them with all of our loved ones!
Thank you again for everything you have done for Robert and I!

Sent on 26/09/2019

Katie · Married on 05/10/2019

No words can describe how beautiful our wedding video is.

Diogo at Inthemoment Productions is beyond amazing! From the moment my husband and I first met him, he was super friendly and made us feel like we were a priority. He made sure we knew exactly what we would be getting with him and he far exceeded our expectations.

Diogo was so accommodating with our requests and so easy to work with. Some people worry about a videographer being "in the way" or taking you out of the moment. I can say that I didn't see Diogo or his wife taking video during the reception and they got some amazing shots that look like they were standing right beside me! It was so much fun reliving our reception that way!

Our video is quite honestly amazing and it left me speechless with tears in my eyes. We now have this beautiful memory that we can watch and share with our friends and families. It was well worth the money and we would hire Diogo again in a heartbeat.

Sent on 24/02/2020

Ramsay Khader · Married on 16/08/2019

The Best in the Industry!

From the very start of our journey until we received our final product, ITM productions were nothing but professional, accommodating, responsive, helpful and just... amazing!

Diogo and Renata are a phenomenal duo.
They know that this is a hard time for the bride and groom and made us feel valued and put us at ease throughout it all.

Our final video was absolutely amazing and they took into consideration every touch and detail that we asked of them.

I would highly HIGHLY recommend ITM productions if you want value at a great price. Not only value, but someone you can trust.

Thank you Diogo and Renata for being a HUGE part of our special day and providing us with a video that will make us smile every time we watch it until we are grey and old!

Sent on 01/10/2019

Maria · Married on 06/07/2019

Simply Amazing!!!

Diogo and Renata came highly recommended so I was very happy when we were able to book them for the wedding.
We had a 2 day event, wedding ceremony early in the morning and the reception the next day so there was a lot going on.
Let me tell you, we could not have picked a better team! Best decision ever!
They exceeded our expectations! Extremely professional and creative, they were flexible with us changing things at the last minute and everything went amazing. Diogo was very thoughtful in asking question about what we wanted in the videos and we benefited from his advice and experience.
Always smiling and accommodating, Diogo and Renata provided a calming presence during our intense and lively wedding.
They provided us with a next day video to show at the reception that was wonderful. I don't know when they had the time to do such an amazing job but it turned out absolutely beautifully and we were happy to be able to share those moments with our guests.

Having Diogo and Renata on this journey has been wonderful and we are so grateful!!!
They are not only creative, tireless professionals but also kind, wonderful humans.
Just book them, it will be the best money u'll ever spend!

Sent on 27/07/2019

Robert De Marco · Married on 18/05/2019

Simply amazing!

We were fortunate enough to have Diogo, and his wife Renata, film both our "Save the Date" video, and our wedding day. From the first meeting with Diogo, we knew that he was the perfect person to film our wedding. He was very professional, and very flexible with our vision for our wedding. He listened to everything we suggested, and made sure that our vision was realized. During filming, he and his wonderful wife, were very professional and unobtrusive. They allowed all of the special moments to happen organically without posing or too much direction. This allowed us to be ourselves, and very comfortable in front of the camera. Both Diogo, and Renata were able to capture our most intimate moments in such a beautiful way. Once filming was completed, the way they edited our footage was simply beautiful. The editing process was both efficient, and expertly done. Both my wife, and I got very emotional re-watching the footage. If you are looking for a brilliant videographer at a very reasonable price, "In the Moment Productions" is perfect for you! Again, we could not be happier with our experience!

Sent on 03/07/2019

Cassie Hunter · Married on 13/10/2018

Our wedding video

Exceptional service with Inthemoment productions. Video was amazing they highlighted everything we wanted and more capturing so much in the highlight video that summarized our day beautifully! The shots with the drone are espcecially beautiful.

Sent on 15/03/2019

Andrea & Dylan · Married on 08/09/2018

Amazing in every way!

We cannot say enough about Inthemoment Productions! Diogo and Renata were very helpful and responsive throughout the entire process of our wedding journey. They are a wonderful team with amazing talents! We are so grateful to have them capture our special day, we are beyond thankful for their beautiful work!!

Sent on 19/12/2018

Gayathri Amirthavasar · Married on 23/08/2018

Best investment in our wedding day!

Renata and Diogo are stellar to work with throughout the whole process (pre-wedding, day of, and editting). We weren't planning on doing videography but are so glad we did. They captured all the right moments without getting in the way of the day. I've probably watched our highlight montage a handful of times everyday since they released it. We we're so worried that the full length video would be boring (we had a 2 hour ceremony) but they editted it it in a way that caught the important moments and kept you engaged. We are so happy with the results and we'll treasure it for years to come!

Sent on 15/12/2018

Inthemoment Productions's reply:

Thank you so much for your review! It means a lot to us that you took the time to write it! We wish you and Eric all the best in the future as husband and wife.

Nesrine Cheikh · Married on 11/08/2017

Amazing!

I don't even know where to start!!!
My husband and I along with both of our families watched our wedding video in tears! (good tears). It was like they captured everything in the most perfect way possible, making it truly look like such an incredible love story. The choices of music were perfect, the shots were so incredibly well done and professional looking, and the entire movie just left us speechless.

Renata and Diogo were both so fantastic with us from start to finish and we are so so SO happy to have gone with them! They are both are so genuine and down to earth and made this experience so wonderful for us!!!

Thank you so much for capturing our wedding day in the most special way possible, we couldn't have been any happier with the way it turned out!!

Sent on 30/01/2018

Malisa M · Married on 24/06/2017

Best value!

My husband and I always say that InTheMoment was the best vendor from our wedding.
InTheMoment was very affordable and provided us with so many services that we had no idea would be at our reach. The video itself was perfect. I have nothing bad to say about it. It wasn't cheesy. It wasn't too long or to short. It was very tasteful and I'm so excited and proud to show it to friends and family. Diogo listened to my concerns (I thought it was important to have speeches recorded) but not the full reception. He worked with me and we came up with a contract we both agreed upon. I would highly and strongly recommend this videographer to anyone. Great pricing, excellent customer service and you'll be so happy with the final product. ITM was our best choice in vendor of all.

Sent on 19/07/2018

Inthemoment Productions's reply:

Thank you very much for taking the time, Malisa! Wishing all the best to you and Alex as a married couple!