Reviews for Modern Mint Events
Awards



8 User photos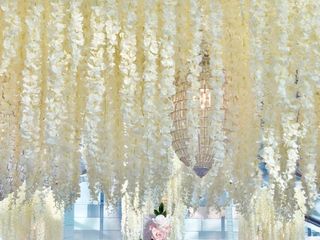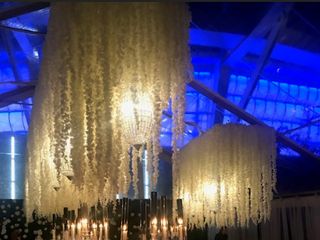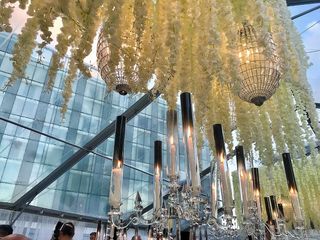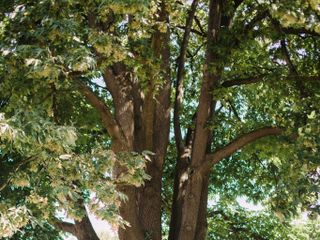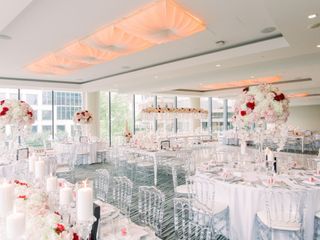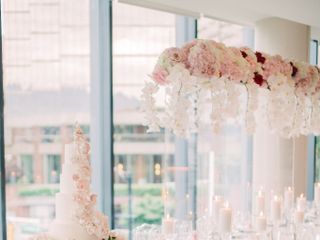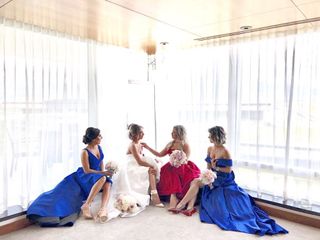 Jessica Tong, Alex Chan · Married on 15/06/2019

I miss her already!

As I'm sitting here on my honeymoon, I can't help but think of Sahar and all that she did to make our day beautiful. Because of her tireless effort, I can sit here, filled with bliss and tranquility, to reminisce the incredible moments from my wedding day.
Sahar transformed our vision into reality with the help of a curated group of amazing vendors. We absolutely adored all the wondrous details. Beyond her proficiency in wedding planning, Sahar is also very sweet, dedicated, and thoughtful. Without ruining it for her future couples, she really went the extra mile to make us feel special.
I sit here - eyes brimming with tears (happy tears) - feeling grateful for a magical wedding and feeling blessed to have found a friend in Sahar.

Sent on 19/06/2019

Fatemeh & Ali · Married on 14/07/2018

F & A Wedding

Sahar and her team made our dream wedding come to life. We can't imagine having planned our wedding without her.

Throughout the planning process, she was hard working, creative, and always a text or email away. She was able to get us the best deals with the best vendors.

The wedding day ran 100% smoothly. Sahar and her team took care of every detail while we enjoyed every moment of the day. One of her girls even sewed a pair of pants that ripped and a tux button that popped off!

Since the wedding, we have received endless compliments from our guests and parents about her work.

We're so glad we hired her. It was the best investment that we made for our big day. Thank you Sahar and Mitra!!

Fatemeh & Ali

Sent on 18/07/2018

Ruvimbo Mukorombindo · Married on 14/07/2018

A Permanent Love

Sahar was a joy to work with. With our extremely demanding work and life schedule we knew I needed help planning my big day. From the moment of our first meeting we knew she was the right one for the job. She was friendly, personable and professional. Her taste and aesthetic matched our own. We immediately felt safe and comfortable entrusting her with our big day.
Sahar was always available via phone, email or in person when we needed her. No question was too big or small or silly to ask. She was patient and always had the best suggestions and solutions available anytime we needed her. Sahar's input was significant especially when dealing with vendors. She was the buffer between us and anything any bride or groom would consider stressful or hard to navigate. All the dirty work she and her team were up for the task!
The theme of our wedding was a combination of an upscale, black tie event with a tropical twist. The colors we chose were gold, white and black with the tropical white palm leaves serving in contrast to the classic black tie theme. Modern Mint Events alongside Koncept Events helped bring my vision to life. They executed the balance of black tie and tropical flawlessly, making it work well with the venue's (The Permanent) signature stained glass roof. We were absolutely blown away at how well they had maximized and transformed the entire venue space. The space was magical!
With two different cultures involved in the wedding, Sahar was able to navigate the differences, nuances and obstacles involved in our unique wedding. She knew how communicate with the bridal party and family at the rehearsal and on the wedding day. Her team was super patient and professional and everything went over smoothly. The wedding was amazing and stress free. Her team were attentive and professional. The day of coordination team was excellent. Everything was on schedule and everything we had planned leading up to the big day surpassed my expectations and more. Sahar and her team gave me the wedding of my dreams! Thank you I am truly grateful!


Sent on 23/08/2018

Layla Stefanopoulos · Married on 07/07/2018

The best day/night of our lives..

Within minutes of meeting Sahar I knew I wanted to hire her. From the very beginning of the planning process to the actual wedding day, Sahar guided us through the whole process seamlessly. She worked with us for over a year; answered thousands of questions, kept her composure through the most stressful of times and truly made our wedding day/night the most memorable experience for us, our friends and family.

People have asked me countless times if hiring a wedding planner is 'worth it', I can confidently say hiring Modern Mint Events (Sahar) was the best investment we've made towards our wedding. On the actual day of the wedding, I had zero stress as I knew Sahar and her team has got it all covered! We truly had the best day/night EVER. Everything was perfect - the décor, atmosphere, food, music... I wouldn't change a single thing.

Thank you Sahar (and the MME team)!! ... Kind of sad it's all over and I don't get to bother you everyday lol

xoxo
Layla & Stavros

Sent on 19/07/2018

Phoebe Chen · Married on 24/06/2018

Best investment ever!

You might think it costs a lot to get a wedding planner, but what you are forgetting is how much value they bring, especially Sahar. I have loved every moment of working with her - because I was living in a different city, you might find it hard to believe that we only met twice throughout this process (once was when I was back in town for my engagement photoshoot, where Sahar arranged other vendor meetings for including menu tasting) and the second time meeting Sahar was on my wedding day. So much trust was built between us, and she always made sure I was calm and was not stressed about anything. Whenever I needed her, she was there. She had high standards not just for herself but also for the other vendors for the most important day in my life - trust me, you NEED someone like her on your wedding day. It's like she was working magic, everything just flowed so smoothly. Apart from coordination - I have to say she has the most unique taste and brings out so much potential on your wedding day with the design of the venue, my guests and families were amazed by how everything looked - I knew I wouldn't have been able to pull it off had I done it all by myself.

What more can I say? I'm sad that now I don't get to talk to her every day anymore - but I can't wait to see all the beautiful work this amazing lady delivers in the future!

Please please please believe me when I say this - she's the best in the city. Look no further, she's what you need!!!!

Sent on 05/07/2018

Mitra A · Married on 23/06/2018

Exceptional!

There are not enough words to describe how AMAZING Sahar is. If you are reading this and are looking for a wedding planner, look no further! Sahar and her team are simply the best. Sahar and I have been friends for many years; in fact she was my bridesmaid at the wedding. I know you may be thinking that this amazing review is just because she is my friend/bridesmaid. Being a bridesmaid and wedding planner for the same wedding makes it even harder. Sahar was with us every step of the way: through initial bookings, figuring out venues, menus, to finding the vendors, coming to my dress fittings and keeping us on track with payments to match our budget. Sahar was everything we wanted and needed in a wedding planner. She has an extent of knowledge of excellent venues and vendors across B.C. We had an amazing photographer, videographer, florist, and a delicious cake. In the days before the wedding, Sahar was there for us and rolled with the punches when last minute changes were needed. She set the venue up, was on hand throughout the day to make sure everything ran smoothly and was doing her bridesmaid duties alongside with everything else. We suspect she even arranged for the perfect weather on the day! All of our guests commented on how well-organized and professional she was. The most important thing to mention is Sahar is so warm and welcoming to everyone which makes everything better.

We can't recommend Sahar highly enough and we owe her a huge THANK YOU for helping us have our dream wedding


Sent on 18/07/2018

Kaitlyn · Married on 23/09/2017

I cannot rave enough about Modern Mint Events. Sahar is incredible- she worked so hard for us and made our wedding day perfect. She allows you to be involved as much or as little as you like, and makes planning completely stress free. VERY highly recommended!!

Sent on 30/09/2017

Kaitlyn Marie Ayre · Married on 23/09/2017

I cannot rave enough about Modern Mint Events. Sahar has to be one of the hardest working people I've ever met- even when she was on holiday, she answered all of my texts and emails within minutes! She was so helpful in vendor recommendations, and gave us some great tips. She was honest, reliable, and made planning our wedding completely stress free. I would recommend her to absolutely everyone. Thank you to Sahar and Mitra, you made my wedding the most perfect day!

Sent on 30/09/2017

Angela Chan · Married on 13/08/2017

Sahar was amazing from the moment we first emailed her for a free consultation. She is attentive and really just puts your needs first! Initially we asked her for help only with designing and securing vendors within our budget, and she emailed us back with recommended vendor options as she didn't want to dip into our decor budget with her service fee! However, we were convinced that her expertise in the wedding industry and her passion with wedding planning was well worth it-we are so grateful that we listened to all of her advice (including having day-of coordination). Our wedding was everything we imagined it would be and we really couldnt have pulled it off without her! If you're debating whether or not you should include a wedding co-ordinator in your wedding budget, we say definitely do it, and definitely do it with Sahar at Modern Mint!!! It made all the difference and really allowed us to enjoy our wedding day.

Sent on 02/09/2017

Sarah and Peter · Married on 02/07/2017

We hired Sahar Sarband for coordination of our wedding day. It was one of the best decisions we made of all the decisions involved for our wedding. We did a lot of research and planning ourselves to choose the vendors and plan the day. It became apparent that all of our planning might be significantly compromised if we did not have a coordinator on the wedding day. It would be trying to host your own party while also being the main event. Knowing Sahar would take care of every detail made it SO much less stressful.

Sahar is beyond exceptional in her professionalism, work ethic, attention to detail, thoroughness, reliability, and communication skills. Although we only hired her for wedding day coordination, she provided so much more. She gave suggestions if we asked regarding different vendors she recommended. She met with us one month before and communicated with us throughout that last month regarding so many final details. Any details that we needed to happen on the wedding day we only had to send to her and we knew she'd get it done. She was always, always friendly, warm, supportive, encouraging and helpful. This is so important when the stress of the approaching day builds! We loved working with her.

Thank you so very much, Sahar, for all you did to make our day the day of our dreams!

Sent on 06/08/2017

Modern Mint Events's reply:

Thank you so much Sarah and Peter! It was such a pleasure working with you on your beautiful wedding! I'm so thrilled to hear that you were happy with my services and look forward to keeping in touch! Congratulations again and I wish you both an amazing marriage!