Reviews for Sarah Dja Photography
Awards
13 User photos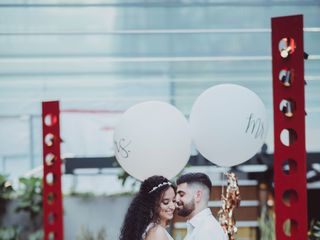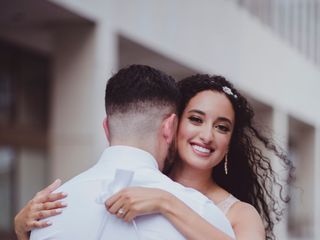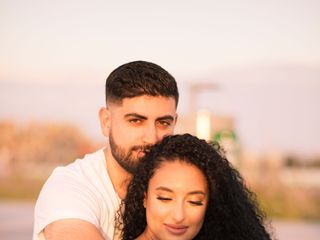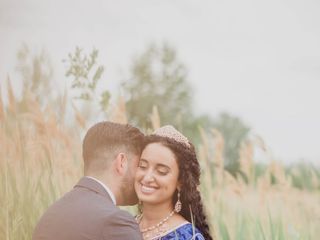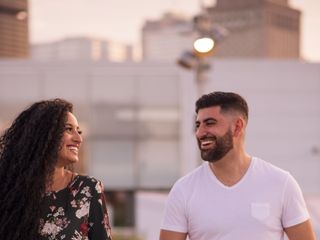 Featured

Nour El Houda Hassaine · Married on 23/06/2018

The best for your wedding

Mon mari et moi sommes très satisfaits du service de Sarah Dja Photography. Le professionnalisme n'a pas manqué du début à la fin. Elle est pleine de bonnes idées, car afin de mieux connaitre le genre de photos qu'on recherchait elle a proposé un photo wall qu'on partageait entre nous sur pinterest. Elle adore son travail et est très disponible (nous avions eu besoin d'elle 3h de plus que ce qui était prévu et elle est restée). Elle maitrise très bien la retouche des photos, car nous étions fatigués et c'était très peu perceptible. Nos familles et amis ont adoré les photos, nous en sommes très fiers. Les outils avec lesquels elle travaille sont très à jour et convenables.Pour toutes ces raisons et d'autres encore, nous la recommandons très fort si vous voulez immortaliser de façon remarquable vos moments précieux.

Sent on 22/10/2018

Hakim Ou · Married on 22/08/2020

Sarah is a fantastic photographer

We hired Sarah for our wedding day and she was fantastic. She had so much energy during the photo shoot and it was perfect for people like us, that are not that comfortable with taking pictures. Also, she was very equipped and it shows on the quality of the photos. I would totally recommend her for any kind of events.

Sent on 27/08/2020

Meriem Hammache · Married on 11/07/2020

Amazing !!

Sarah est une personne magnifique, elle a le don de te mettre à l'aise très rapidement, elle est extrêmement investie dans ce qu'elle entreprend donc vous pouvez lui faire confiance les yeux fermés et être sur qu'elle vous rendra un travail juste magnifique. Elle est très à l'écoute et a un très bon sens de l'observation ce qui fait qu'elle s'adapte très rapidement aux différentes situations, c'est incroyable ! Merci pour tout ❤️❤️❤️

Sent on 28/08/2020

Sarah Ennemiri · Married on 27/06/2020

Une photographe à l'écoute et passionnée.

Sarah a été très compréhensive et flexible concernant une période difficile de l'année où nous devions changer nos dates des photoshoots. Elle a aussi réussi à mettre mon mari à l'aise en face de la caméra et il a adoré son expérience! La photographe est très douce et souriante, nous n'avons senti aucune gêne.

Sent on 18/09/2020

Karl Alexis · Married on 30/05/2020

Wonderful Shoot

I really liked my experience with Sarah. We had a great time, we laughed and pleasure was present. She really made us comfortable during the shoot and she's really professional and fun at the same time.

Sent on 09/06/2020

Sarah Dja Photography's reply:

It was more than a pleasure for me to capture your surprise proposal Karl!

Vanessa Ghalayini · Married on 29/02/2020

Such a sweet photographer !!!

Sarah was our photographer for our ktab al ktab and that was the best choice we made! A day before the big day she messaged me to wish me good luck and make sure I was doing fine for the following day. I didn't expect that, but at the moment she felt like a friend; comforting me the day before my wedding. Her words of support and encouragement were so sweet! On our big day, I was stressing out as usual (I'm a stressful person lol) but Sarah was so calm and understanding. She was extremely professional and patient the whole time. She made us feel comfortable and that really helped calm me down. The outcome of the photos are beautiful, the style and color theme she uses is so soft and romantic; which is just what i was looking for in a photographer's work. Thank you again for being there on our special day and capturing the beautiful moments for us! ♡

Sent on 01/06/2020

Sarah Dja Photography's reply:

My dear Vanessa,

Being by your side on your nikkah brought me so much happiness! You and your family were so welcoming, I felt like I was your friend from the get go! Thank you for your trust.

Wishing you and Mudar a lot of love and happiness

Soumiya Djaffri · Married on 14/12/2019

Elle a immortalisé nos plus beaux souvenirs de notre mariage!!!

Sarah a photographié notre mariage et je suis plus que satisfaite. Elle connaît très bien son métier. Les angles, la lumière le cadrage, le focus, les détails des photos sont parfaits. J'ai beaucoup apprécié qu'elle me conseille pour mieux paraître sur les photos. Je me suis jamais considéré étant photogénique ou très à l'aise devant l'appareil photo, mais croyez-moi Sarah vous rendra photogénique. Elle se souci beaucoup du rendu et elle donnera son 200%. Sarah est une personne très sympathique a côtoyé. Bien que j'aime ça présence, elle se fait très discrète permettant de profiter de la soirée sans se sentir photographier. Ce que j'ai apprécié le plus chez elle, c'est qu'elle ne fait pas que prendre des photos, elle capture des moments. Dans chacune des photos se cachent un souvenir. Certaines des photos m'ont même émues. Nos famille et amis ont tous appréciés son travail. Je recommande vivement Sarah pour vos événements!!!
Sarah ! Merci pour ton magnifique travail. Tu mérites amplement de prospérer dans ton métier! Je te souhaite une bonne continuation et de la réussite dans ce que tu réalises!

Sent on 11/01/2020

Sarah Dja Photography's reply:

Un énorme merci Soumiya, ce fut un plaisir d'être à tes côtés! Merci de ta confiance! Je vous souhaite beaucoup de bonheur toi et Issam.

sultana parvin · Married on 25/08/2019

Sarah is amazing!

I'm am so happy that I chose Sarah Dja as my wedding photographer. She took a lot of time getting to know us as a couple and understanding exactly what we wanted to capture on our wedding day. We had a very last minute wedding, we had to plan everything within a month. With stress like that you need someone that will ensure that things will ruin smoothly and Sarah reassured me of that. I knew I could rely on her. Sarah was extremely professional and captured so many special moments of our day while making sure not to leave out any detail. Sarah is fun to work with and has a very light and positive energy which makes you feel relaxed when she is shooting. I highly recommend Sarah. It felt like we had a friend or family member shoot the wedding because everyone knew her and was super comfortable with her. My family and friends still talk about her and continuously ask about her. Thank you Sarah for helping us capture our special day!

Sent on 10/09/2020

Sagal · Married on 28/07/2019

Sarah was able to provide me with the most beautiful photos!

Sarah did an absolute amazing job this summer at my wedding! She puts a TON of effort in her work and absolutely loves what she does! I'm so happy and grateful for the beautiful wedding photos!!

Sent on 31/12/2019

Yana · Married on 27/07/2019

Would definitely recommend

Thank you for your exceptionnal service Sarah. From beginning to end you always made yourself available to us and met all our requirements and beyond. The photos came out well and you made our day that much more memorable. You work ethic is unbelivable and any client you may have will be in trusted hands. I couldn't have chosen a better photographer! Thank you again for being part of our magical day.

Sent on 31/10/2019

Sarah Dja Photography's reply:

Thank you so much for your kind words! It was an absolute delight to be by your side on your big day!