Reviews for Nicole.Field Photography
Awards
117 User photos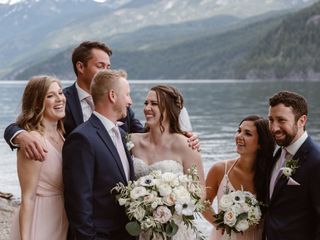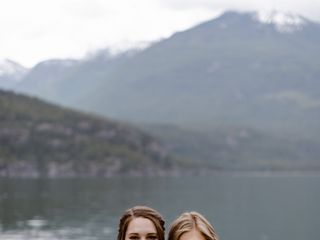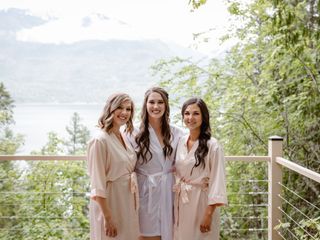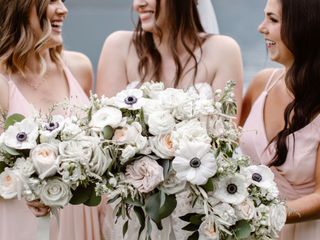 Janey Mckay · Married on 24/06/2020

Easy and so much fun!

The whole experience and our photos were incredible! We really appreciated everything Nicole did for us prior to, day of, and after the wedding (scouting, advice, tips, and can't forget carrying our stuff in the pouring rain). Nicole is an amazing photographer and made us feel so comfortable because she's super fun and personable!

Sent on 02/07/2020

Jessica · Married on 06/06/2020

The absolute best photographer!!!

Where do I even begin!! Nicole was absolutely amazing! When my husband and I had to cancel our big Calgary Wedding it was the worst day ever. But we decided we wanted to elope in BC, we didn't want to postpone being married! Once we decided we were doing that, Nicole was the first person I messaged. She did our engagement photos and she had always been my dream wedding photographer. I needed her to come to BC, But it was 8hrs away! I message Nicole and right away she was on board! She was so excited and it made me even more excited even though our original plans didn't pan out! She was extremely flexible, kept in contact with us over text and Skype, and made the whole experience a million times better! She drove 8hrs to our BC venue and that in itself was so amazing! She took to most beautiful photos that my husband and I will cherish for the rest of our lives! We cannot thank you enough Nicole !

Sent on 17/06/2020

Jeet Ghosh · Married on 30/05/2020

Best Surprise Engagement Photoshoot in Banff

Back in February, I knew that I wanted to have a surprise proposal in Banff, specifically Moraine Lake. I had the tall task of trying to find a photographer to capture the moment. After emailing a bunch in the Calgary area, I was down to 3, with Nicole being one of them. I had shown all 3 portfolios to a bunch of my photographer friends and they all agreed that Nicole's was the most impressive. Immediately after telling her that I wanted her to capture this special moment, I knew that I had picked the right one. From the get go, she made an effort to get to know me and my future fiance, all while keeping it a huge secret, something the other photographers didn't do. We had planned a skype session where I would discuss details of how I would like everything to happen. What blew me away was how helpful she was in helping me plan this out. I had never been there before, so it should have been stressful, but Nicole eased any stress from day 1. After we had a plan in place, I was worried about the weather. Nicole was so flexible in allowing us to pick a date where it was forecasted to be sunny and warm! She had blocked off 3 days, which was so nice from the clients perspective. We swapped numbers and were constantly messaging back and forth and finally, when the big day was here, she was right there to capture everything. She went above and beyond. The weather eventually became really cold and even rainy, but Nicole still allowed us to continue the photoshoot exactly how I wanted (despite going a little overtime). My now fiance, for 1 month, still asks me every day how I picked such a perfect photographer. She kept saying how Nicole made the whole photoshoot so easy and comfortable and also super fun! After getting our prints, it was just another verification that I had indeed picked the right photographer. I would have absolutely no problem flying her to my wedding because that's how amazing she and her quality of work is. I would highly suggest anyone looking into any kind of photoshoot to go with Nicole!

Sent on 03/07/2018

Jenna · Married on 17/05/2020

Wedding photography

Nicole is such a sweetheart and so professional, she made our engagement pictures and wedding pictures feel so natural, as someone who's not comfortable in front of a camera she made it fun and easy! Was so good about positioning us and posing us but keeping it fun and all of our pictures have turned out amazing! Highly recommend! She was so accommodating about our changes of plans and so understanding!

Sent on 19/05/2020

Nicole.Field Photography's reply:

Thank you!! Your wedding turned out so beautiful + look I forward to your party next year! So happy for you Jenna + Cullen!!

Madison Macisaac · Married on 10/11/2019

Amazing engagement and wedding photographer

Nicole was amazing! We loved all of the photos from our engagement shoot and wedding! She made us feel so comfortable in front of the camera. And even though it was snowy and FREEZING on our wedding day she stayed positive and we ended up with the most beautiful photos. Would highly recommend her!

Sent on 07/03/2020

Bo Brent · Married on 05/10/2019

She's honestly the best!

Where do I even start! Nicole was recommended to us by our family friends during our search and we are SO glad we contacted her. We knew as soon as we met her that we wanted to hire her, she greeted us with a big hug and bought us tea, was so friendly and professional and we instantly felt comfortable with her... Not to mention she also had an amazing body of work to show us, we were sold! From that moment on everything was so easy, we trusted her with everything. She is super organized and quick to respond, during our engagement shoot, she made two people who hate getting there picture taken look like naturals. We had to change our venue last minute and Nicole just rolled with the change of location. Leading up to the wedding she was in contact with us to make sure everything for the big day ran smoothly and that we would get all the photos we hoped for. She gave us that and so much more. She captured our day more beautifully than we could have asked or imagined. This girl is so creative and talented and has a way of capturing people in their most candid, emotional and real form, like she's telling a story with her photos. She is also so much fun, our friends and family all raved about how much they liked her. We have so enjoyed reliving our day through her lens and have so many AMAZING photos that it will be impossible to decide which ones to frame. HIRE HER, she's honestly the BEST!

Sent on 30/10/2019

Claire Mayo · Married on 28/09/2019

The Perfect Photographer!

Nicole was absolutely amazing to work with, from the moment we first met and hired her, all the way until after the wedding. Nicole has such an amazing energy and a great spirit, and she also pretty much seconds as a wedding planner! Nicole helped us plan our timeline for the entire wedding day, and she also took the time and helped us picked the perfect locations for all our photos. And you better believe she had a plan B, C, and D just in case! On our wedding in particular, we got hit with some not ideal weather. We decided to try and do photos outside anyways, even though it was freezing! I swear it was Nicole's high energy that kept us all smiling! Nicole is great at directing everyone in photos and isn't afraid to try new and cool things to get that perfect shot. Our photos turned out absolutely perfect, better than we could have imagined! And to top it all off, we got our photos back just 4 days after our wedding! Nicole loves what she does and you can truly see that. Thank you so much Nicole, for helping create the most perfect and beautiful wedding day for us.
-Claire & James

Sent on 05/10/2019

Nicole.Field Photography's reply:

Thank you for such an amazing review!!! Oh my heart is just FULL of joy!!! So happy for you all!! it was a beautiful wedding and I'm so happy that I got to be apart of it 😍😍😍😍😍 xoxoxo

Alicia Turner · Married on 07/09/2019

Could not have picked a better photographer!

We could not have found a better photographer. Nicole was honestly amazing in every way. Her organization leading up to the wedding was impeccable. She ensured that all the details were in order. On the wedding day and on the day of our engagement shoot, Nicole made the experience fun. She has us acting silly and it just felt natural. We didn't feel uncomfortable with her at all! Her assistant, Carrie was equally as great. They ensured that we got all of the photos we wanted plus some. I honestly couldn't recommend Nicole enough. If you have the opportunity to work with her, please do so!!! Thank you Nicole, I sincerely hope that everyone has an experience with their photographer much like we did with you.

Sent on 09/09/2019

Nicole.Field Photography's reply:

THANK YOU FOR SHARING!!!! You two are so wonderful + I can't wait for you to see your entire gallery!!! Thank you for inviting me to be apart of your special day!

Cassie Hager · Married on 24/08/2019

Amazing and creative wedding photographer

Nicole was fantastic! She was flexible in working with our budget, gave us an amazing engagement photo session and the wedding pictures are everything we could have asked for and more. She was fun and energetic the whole time, and made us, our bridal party, and our families feel totally comfortable. She got amazing candid shots and one of my elderly grandparents that I will treasure forever. Hopefully I never get married again, but if I do, I know who my photographer will be! ;)

Sent on 26/09/2019

Nicole.Field Photography's reply:

Loved your wedding and you both so much!!!!! Congratulations Mrs + Mrs Hager!! It was a pleasure!! Thank you for letting me celebrate with you, I had a blast!

Michelle Liehmann · Married on 11/08/2019

Nicole is wonderful!

Nicole was wonderful to work with right from the beginning. My husband and I felt an instant connection with her upon our first meeting, and she put us right at ease. She totally grasped the look that we were going for, and when she produced beautiful engagement photos for us we knew we were in good hands. Nicole is incredibly friendly, engaging, silly, responsive, and professional. She was extremely timely in delivering our photos to us (in just 3 weeks - wow!) and they turned out fabulously. She's also incredibly reasonable in her pricing. Our wedding day was calling for rain (which it did rain) and she came up with a list of possible alternative options. Ultimately, I told her that come the day of, we would leave her to make the judgment call of where to go and when. We trusted her completely that she would provide the type of photos we were looking for (which was mountainside/outdoorsy) even if it was raining - which she did! I would highly recommend using Nicole's services!

Sent on 03/09/2019

Nicole.Field Photography's reply:

Thank you!!! Loved your wedding day! So happy for the two of you :) beautiful couple + beautiful wedding!