Reviews for Nick Janzen Photography
Awards
23 User photos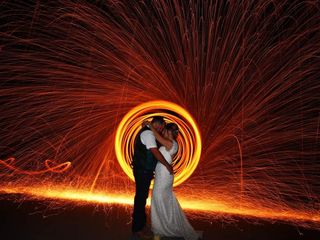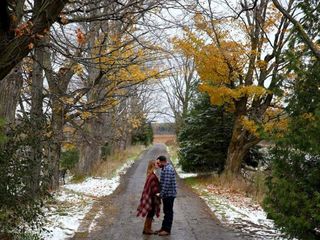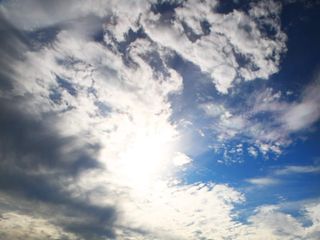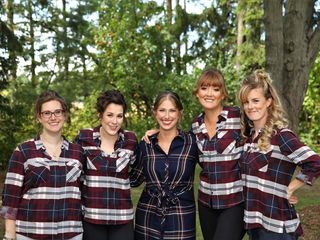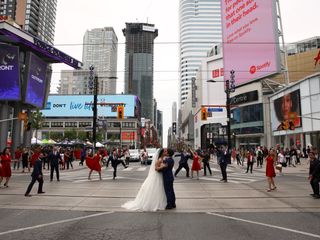 Featured

Adelle Ismond · Married on 20/07/2019

Highly recommend!!!

I had known I wanted Nick to be my photographer even before I was engaged. I had gone to a bridal show for a friend and we spoke to Nick at that point. Fast forward 3 years, I whipped out his business card, and that was that.
Nick was always available top answer any questions I had and responded quickly. He is easy going, and if you don't know what shots you want, he will help guide you and make great suggestions.
The amount of pictures he took for both the engagement shoot and the wedding itself was amazing. He didn't miss a moment! The quality was excellent, and we received our pictures back on a beautifully engraved USB stick (no watermarks on any of them) very quickly after the wedding.
I would highly recommend Nick Janzen Photography to any couple. You will not be disappointed!

Sent on 10/04/2020

Nick Janzen Photography's reply:

I remember I got your email Adelle asking if I was available for your wedding while I working at Canada's Bridal Show lol. I was so happy to hear from you. I've loved working with you and Michael and can't wait till everything calms down so we can do our trash the dress shoot with all your beautiful horses! Thanks for such kind words :)

Chris Orr · Married on 14/07/2018

Great Photographer

Nick is a great photographer, has a high quality product, and has extrodinary proffessionalism. I would recommend to anyone who wants to capture your special moments.

Sent on 10/04/2020

Nick Janzen Photography's reply:

Thank you so much Chris,Annette and baby :) It's been a great adventure being a part of your family growing since meeting you guys :)

Patricia · Married on 09/06/2018

Five stars! Creative and Amazing Photographer!

Nick is a terrific and amazing photographer! My husband I first met him at the 2017 Toronto Bridal Show, where he caught our eyes with his colourful and unique wedding exhibits. We knew immediately that we wanted him to photograph our wedding. We booked an engagement shoots with him that included driving around Leslieville and the Beaches neighbourhood in Toronto. He was accommodating, emphasizing that this was our time to get comfortable for our big day. He also gave us some creative ideas for our shoot. When that big day arrived, Nick was both a calming presence and kept us relaxed throughout. When it comes to wedding party filming Nick is like a kid in a candy store - always smiling, dreaming big and open to trying everything. He cleverly orchestrated an unforgettable shoot in front of a Toronto streetcar and at Dundas Square that had us posing before running for our lives, and we absolutely adore the photos. Speaking of which, there are so many of them - and of excellent quality. He really cares about each photo, and ensuring that we are satisfied. We highly recommend him.

Sent on 25/03/2020

Nick Janzen Photography's reply:

Thank you so much for the kind words Patricia and Raymond! I will never forget your wedding or getting those street photos.So many people just stood by watching. It was amazing. Thank you for trusting me not to kill you hahaha. Ya I am really just a big kid when I have a camera in my hand and maybe sometimes without :) I'm very happy you liked the end result and were happy with all of your photos and that I could keep you all smiling and calm on such a great day. Look forward to seeing you again someday soon!

Alana Klunder · Married on 26/05/2018

Exactly what we wanted!

Nick is amazing!! He takes stunning photos and always knows how to get the crowd smiling (whether it's kids or adults). Very creative - uses smoke bombs, steel wool, scenery he's passed while driving, or props he thought would look cool. Willing to do whatever it takes to get a great shot. Great/easy to work with!

Sent on 21/04/2020

Nick Janzen Photography's reply:

Aww you put up the cute baby shoes photo too :) Thanks so much Alana, Eric and little Maximus! It's been a great journey photographing all of your family moments so far. Hope to see you guys soon! PS: Smoke bomb was so awesome!

Mandy Vortisch · Married on 16/09/2017

A wedding in a castle

Nick was fun to work with and super easy going, we made our photo hours count for the most and the photos were beautiful!

Sent on 10/04/2020

Nick Janzen Photography's reply:

Quite a castle indeed. What a day and wedding to be a part of. You guys were amazing and fun to hang out with for a day :) Thank you!

Lorena Lopera · Married on 13/06/2017

Excellent service he went above a beyond our expectations

Nick is an excellent and very professional photographer! We love our picture very unique techniques and a very different touch. We highly recommend him!

Sent on 06/04/2020

Nick Janzen Photography's reply:

Thanks Lorena and Gio! It was an amazing destination wedding :) I had such a great time getting to know you both and your families and friends :) I look forward to seeing you guys again soon.

Patti · Married on 21/05/2016

Best Decision We Made Hands Down

When we met with Nick and his wife at the Toronto bridal show years ago, they were putting up some pretty big promises. We thought if they even delivered half of what they said that we would be really lucky for the deal we got. It worked out to something like $1 per photo! We got over 3000 photos! Money well spent. He didn't miss anything. Our guests were raving over how he was everywhere all the time and would take their photo super quick...like a ninja hahaha. Just went through our photos last weekend and cried yet again (good cry,touching moments) Thanks Nick, we will always refer you until you quit :)

Sent on 20/08/2020

Nick Janzen Photography's reply:

Aww thanks Patti. I'm very happy that I made both happy and that you're still loving the photos years later. That pricing was a show special in case anyone is reading this lol but yes I take a lot of photos and am super quick lol.

Samantha Bourque · Married on 16/04/2016

Best decision we made!

Nick is an amazing photographer, he helped create a relaxed environment and we were able to have fun! We received unique pictures as well as traditional. The quality of the pictures were amazing and we received over 2000 pictures. I am so happy we chose Nick to capture our memories of our wedding!

Sent on 20/04/2020

Nick Janzen Photography's reply:

Thank you Samantha and Tyler I appreciate the kind words :) That photo you posted describes you guys perfectly. So much fun and up for anything. It's been an amazing journey capturing your family grow!

Tonya Martins · Married on 18/09/2015

1 of a kind highly recommend

Nick is a great guy to work with. He has tons of great unique ideas for photos. Got tons of great shots along with fun and funny shots to go with it. Had a fun time working with him. Also had him do some xmas photos which we had a lot of fun doing. Highly recommended nick for any photography job.

Sent on 25/03/2020

Nick Janzen Photography's reply:

Thank you Tonya and Daniel! You and your families were definitely a fun bunch to work with AND we sure didn't let the rain stop us from getting what we wanted lol. Can't wait to see you guys again!

Brian Jacobs · Married on 15/08/2015

Man of his word

We met Nick at the Gay Wedding Show back in 2014 and we knew instantly that he was our guy. My partner is a little camera shy and we both didn't want our photos plastered everywhere but Nick put us at ease right away. Nick was super fast at taking photos so there wasn't much time to be camera shy lol. We also had some bad experiences with some other vendors when we were in the planning process so it was like a breath of fresh air to meet Nick who was so accommodating to us. The photos were incredible as well and there were so many of them. We HIGHLY recommend him. Thanks again Nick!

Sent on 18/05/2020

Nick Janzen Photography's reply:

Thanks Brian! That show was so long ago now haha. I'm very happy you guys were happy. I'm pretty camera shy too so I understand no one wants to just stand around waiting. Thanks very much, hope to see you guys again soon!