Reviews for M+M Photography
Awards


73 User photos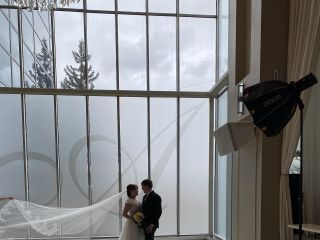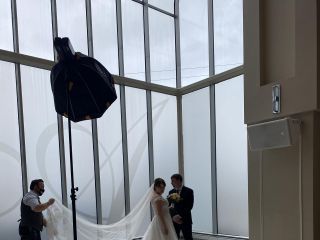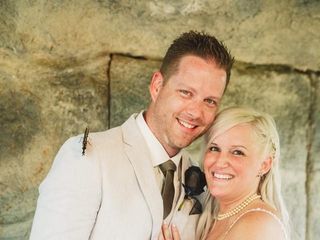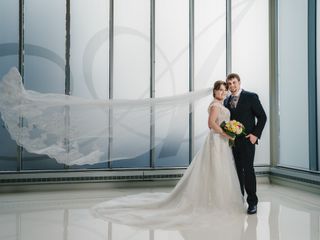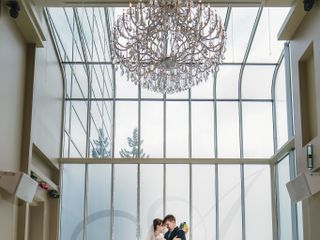 Featured

Brittany P. · Married on 12/06/2021

Happily Ever After

Martin and Kevin, I don't even know where to begin. Planning your dream wedding during a global pandemic was challenging, yet easy. It is based on looking at photos and reading reviews and following your heart. The second we came across your photos it was butterflies in our stomaches. The photos were pure magic! You emailed me back instantly and we set up a call. You had a list of questions to get to know us, you came up with so many wonderful ideas that we never would have thought of. It was an instant connection! On June 12th you again blew us away! You became family that day. You made us laugh until we cried, you guided us and you went above and beyond. Thank you isn't even strong enough. Your love, humility, sense of humor and kindness was so pure and we are forever grateful that you were a part of our fairytale. Michael and I cannot wait to work with you again! We don't care how far our paths may be, we have found our photographers for life! Thank you both Martin and Kevin from the bottom of our hearts for capturing our love story. You both are the best of the best and will always hold a special place in our hearts.
Love, Michael & Brittany Semande

Sent on 16/06/2021

M+M Photography's reply:

Thank you Brittany + Michael for such a wonderful review! It means the world to me that you love the photos and experience. We really do strive to make all of our couples feel comfortable, confident and most of all have fun! Can't wait for our next shoot :)

Katelyn · Getting married on 07/08/2022

Last minute wedding

We hired Martin as our photographer for our wedding in August 2022 as we were so impressed by his attention to detail, creativity, professionalism, and kind nature. When my Nana fell ill and we discovered she wouldn't make it to this wedding, Martin agreed to photograph our quick wedding so that she could see us get married. He was so enthusiastic throughout the day and I absolutely loved working with him. He was so encouraging and patient, and he showed us some pictures he captured after he took them and WOW!!!!!! I cannot wait to see them!!!!! Everything felt natural with him and we never felt super posed. He is the perfect photographer for our special days, and we will always recommend him. Behind the scenes photos posted here

Sent on 29/03/2021

M+M Photography's reply:

Thank you Katelyn + David for such a wonderful review! You have made my day and it was an immense pleasure and honour to work with you both. I can't wait for the 2nd part of your wedding next year!

Mandy · Married on 18/06/2021

Engagement and wedding ceremony

Amazing company to work with very accommodating with any issues or changes always checking in to make sure everything was good. Did amazing job on our engagement photos and we can't wait to see the wedding photos. It was interesting to see all the cool methods and angles that resulted in the most amazing photos that captured the day. We are very excited to use them for our reception next year and recommend them for any events.

Sent on 21/06/2021

Mike D. · Married on 17/10/2020

Simply the best...

Martin was a true professional from start to finish. From our first meeting where he reviewed his process with us, to the many changes we had to make thanks to 2020 being the year of Covid, he was with us every step of the way. Responsive and kind, a great energy and a great help on guiding us through this big day. Our wedding schedule was built around his photography schedule because of just how perfect and detailed it was. That's just a few things on how great he was to work with. As for the photos... We can't stop saying WOW. I sound like Owen Wilson now... Wow.... He captured our day in the most beautiful way. We have a countless number of amazing photos to have and treasure forever and we are forever grateful to him and his team. We loved the photos so much and we loved working with him so much, we booked up our first Christmas photos as husband and wife with M+M Photography. If you read this far in the review then stop reading any further anywhere else online - just book Martin already. Thank you again Martin!!!

Sent on 17/11/2020

M+M Photography's reply:

Thank you so much Mike for the kind review! It means the world to me that you love your photos and the experience with M+M. It was an honour and great pleasure to be part of your big day. Can't wait for our next shoot.

Laura K. · Married on 11/01/2020

Outstanding!

Martin and Kevin were absolutely phenomenal, couldn't have asked for better photographers! Martin made us feel like we had know him forever and was very quick to send engagement/wedding photos. HIGHLY recommend!

Sent on 07/02/2020

Zeina · Married on 21/12/2019

Amazing experience

If you are looking for a detail-oriented and unique style David is the right person for you!

His passion for photography allowed him to capture unforgettable moments for my husband and me.

What an amazing experience with David, he made us comfortable during our session and our pictures are breathtaking!

Sent on 05/02/2020

Tam P. · Married on 14/09/2019

September 2019 Wedding

Martin was amazing to work with from start to finish. He was always very professional and timely in email responses. From our first Skype interview with him, to meeting him in person, we knew he was the wedding photographer for us! His photos came out so beautifully and he captured all of the important moments, candidly. He kept us on time on the day of, and we always felt so comfortable in front of the camera, despite the fact that neither one of us had ever had professional photos taken before! Everyone raved about our photos when they came out! Thanks so much for making our day perfect!! ❤


Sent on 22/11/2019

M+M Photography's reply:

Tam,

Thank you so much for you review! It means everything to me knowing that I was able to capture your wedding day just as you imagined and more. I honestly love what I do and hearing that I bring joy to my couples, and they enjoyed working with me means so much to me. Thank you so much! Martin

Shanique L. · Married on 31/08/2019

Simply the Best!

Martin was simply amazing to work with and his photographs are breathtaking! He captured our engagement and wedding day beautifully. We were impressed by his professionalism, creativity and and his patience - he gave us just enough direction so that we looked amazing but still looked natural. He also cared about capturing all the important moments of our day and stayed until he was sure he had done just that. Any couple would be lucky to have him! Highly recommended.


Sent on 08/10/2019

M+M Photography's reply:

Shanique,

Thank you so much for your kind review! I am so thrilled that you enjoyed working with me and most importantly that you love your photos! It's always so important to me that I go with the flow and comfort of each couple. I know how awkward it can be in front of the camera. That's why I'm always behind it haha! So to hear that my direction wasn't obtrusive and made you feel comfortable makes me very happy. Thank you again and all the best!

Stephanie · Married on 24/08/2019

Astonishing experience

I am beyond excited that I chose M+M photography! They made my husband and I feel so at ease and relaxed during the day. They captured everything we want and then some.
My husband hates taking photos and I thought it would be a challenge to get many photos....not at all the case. Martin and Kevin made him feel so at ease and joked around with him to get a natural smile. Looking at the photos I am so amazed they got him to smile so naturally and so much.

Martin was in touch with me since the beginning of the planning process and answered questions in a timely manner which was very much appreciated by this OCD bride. Martin and Kevin were on time for all appointments and eager to get to work each time.

I never imagined watching someone climb through tall grass and shrubs to get the perfect shot....these boys did just that and those photos are some of my absolute favourite!

If you choose M +M photography, you won't be disappointed. I know my husband and I are beyond happy that we chose them.

Sent on 26/09/2019

M+M Photography's reply:

Stephanie,

Thank you so so so so much for your sweet review. I'm touched and thrilled that you enjoyed your experience working with us. And that you love your photos! Getting reviews like this is what helps me gauge how I'm performing and pushes me to work even harder and continue to master my skill of photography.

Thank you so much! All the best!

Martin

Saleena I. · Married on 23/08/2019

Oustanding Photography

Martin and his team are honestly outstanding! His attention to detail and creating such classical and romantic memories from our big day is what makes him one of the best in the business. It was comforting to know that we could call him at anytime and he took the time to really understand what sort of memories we wanted to look back on. We could look at back at these pictures a million times and relive every moment. Couldn't thank Martin and his team at M+M Photography enough for being able to capture our special day.

Sent on 02/09/2019

M+M Photography's reply:

Hi Saleena,

From the bottom of my heart, thank you for your heartfelt review. I am overjoyed that the moments I captured for you bring you so much happiness and allow you to relive your day with so much joy. It was an honour being a part of your big day and I absolutely loved embracing your cultural ceremonies and documenting them. Thank you again and all the best!