Reviews for Kathi Robertson Weddings
Awards




67 User photos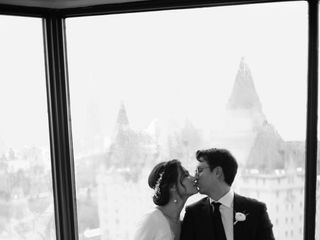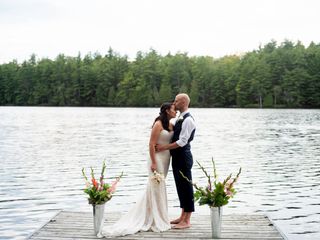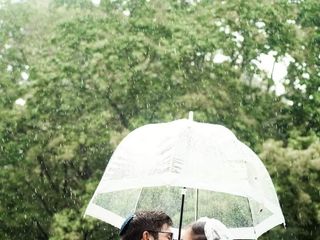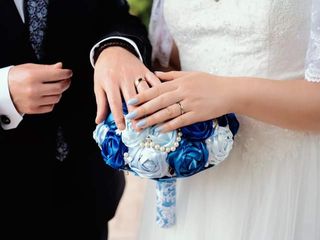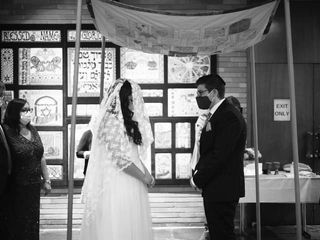 Grace · Married on 28/12/2020

Such a pleasure working with Kathi

We're so glad we found Kathi and so pleased with how the photos turn out! She was very experienced and professional, and offered very good advice. Due to COVID situation, the weather during my wedding day was kind of all over the place, and a lot of other factors, it was kind of hard to put a firm plan ahead. She was very flexible and prepared all options considering uncertainty, and tried best to work to our schedule. During the shoot, she was a true professional and captured those special moments just right. We had a small intimate wedding. And her photos captured all the intimacy and love perfectly. And she's very fast in processing the photos and shared with us the full collections very fast. I will certainly recommend her to other friends and family!

Sent on 14/01/2021

Barbara S. · Married on 04/10/2020

Pictures told our Story

We loved the pictures the Kathi took. She found all the right moments and captured them so perfectly. Highly recommend.

Sent on 21/01/2021

Sarah W. · Married on 20/09/2020

I could not be more happy or impressed!

I first met Kathi when she shot my best friend's wedding! Not only is Kathi the reason I entered the wedding industry myself as a wedding planner, but I knew she was the perfect photographer for my own wedding day.

With a background in fashion, Kathi was the perfect choice. I was looking for a casual glam, slightly editorial look to my photos and Kathi delivered in SPADES! She also captured some very cute candids that were unexpected and so appreciated.

I am so ecstatic to see all of the photos in our collection, but I was blown away by the sneak peeks!

Professional, polite, and willing to work with my group's creativity, everyone felt confident and included.

With a groom that is not typically comfortable in front of a camera, Kathi coaxed the confidence and happiness out of him like I've never seen.

So incredibly happy with Kathi and her work!

Sent on 22/09/2020

Kathi Robertson Weddings's reply:

Sarah, thank you. I have to say, I have wanted to shoot your wedding since the day I met you! . Dream come true....

Gord W. · Married on 20/09/2020

Awesome Photographer

Kathi was the photographer at our Daughters recent wedding, she was professional, courteous, confident and most of all approachable. She guided us through a number of different scenarios quickly and effectively. As the Proud Father of the Bride, I would like to say Thank You Kathi!

Sent on 29/09/2020

Candice · Married on 23/08/2020

Would recommend

Kathi was our photographer for our small COVID wedding. She also took our engagement photos. She helped with planning the timeline for the big day and was very nice to work with!

Sent on 23/11/2020

Lianne S. · Married on 20/08/2020

Kathi and Matthew are incredible!

My husband and I had Kathi and her assistant Matthew with us on our special day. Kathi worked with us to ensure our wedding day was captured perfectly. She and Matthew are professional, kind, and really made us feel comfortable being photographed. We really enjoyed our experience, and so did our family! Thanks so much! Lianne & Jeff

Sent on 15/09/2020

Karli S. · Married on 02/08/2020

Wedding Photographer

When we met Kathi the first time we instantly clicked and chatted for hours. We were blown away with how comfortable we felt with her and how much experience she had, especially with Jewish weddings. She helped us turn our array of thoughts into a fully realized wedding plan.

She answered all of our many calls and emails about various wedding questions. When the pandemic hit and we had to completely change our plans, she was right there with us. She was patient as we went back and forth. By the time our wedding came around she was more than our photographer; she had also acted as our therapist, wedding planner, and friend.

On the day of the wedding she kept us calm, despite our lack of sleep, the pandemic, storms and tornado warning. She managed our famikies well and was discreet during the ceremony. And most importantly she took STUNNING photos. They highlighted what she learned was important to us beautifully captured every aspect of the day.

We highly recommend Kathi, and we look forward to hiring her everytime we need a photographer. Hands down best photographer in the city.

Sent on 05/08/2020

Joanna · Married on 18/07/2020

Amazingly talented Wedding Photographer

I'm am so happy that I hired Kathi Robertson as my wedding photographer. She took a lot of time getting to know us as a couple and understanding exactly what we wanted to capture on our wedding day. Kathi has a ton of experience in the photography world and it is very evident because she is great at taking charge and directing certain shots, sharing her insight and opinions as well as standing back and capturing special moments very discreetly! Kathi was extremely professional and captured so many special moments of our day while making sure not to leave out any detail. She provided very high quality edited photos and there wasn't a single pose that we were disappointed with (due to eyes closed or movement) because she made sure to take enough frames of each pose to choose the best one. Kathi is fun to work with and has a very light and positive energy which makes you feel relaxed when she is shooting. I highly recommend Kathi Robertson Weddings to photograph your Wedding or any other occasion. She was fantastic!

Sent on 09/09/2020

Kathi Robertson Weddings's reply:

Joanna, thank you so much.

I can't tell you how much I loved working with the two of you and your families. You made the most beautiful of days and it was an honour to document it

Courtney · Married on 20/06/2020

Kathi is a dream wedding photographer, so incredibly happy with my engagement photos

My experiences working with Kathi Robertson so far have been incredibly positive. She's been very reliable and responsive to all of my questions.

Kathi made our engagement shoot fun and her calm and professional demeanor put us at ease. We are so happy with the great variety of photos we got back from that shoot! Our family and friends could not say enough good things about our photos either, which we used on our Save the Dates and wedding website. Kathi knows downtown Ottawa extremely well and brought us to some of the most beautiful spots in the city (some spots I did not know about and are hidden gems).

When I started considering postponing my June 2020 wedding due to Coronvirus, I reached out to Kathi, and not only was she incredibly supportive of my thoughts of rescheduling my wedding, but she also encouraged me to find a back up date and kept me informed of her availability.

When my fiance and I eventually made the decision to postpone our wedding to 2021, rescheduling with Kathi was smooth and problem-free. Based on my conversations with Kathi, especially in recent weeks, it's evident she has her finger on the pulse of the wedding industry, and how it is being impacted by the pandemic. I'm looking forward to working with Kathi again on my wedding day!


Sent on 21/05/2020

Lindsay B. · Married on 20/06/2020

Amazing photographer

We recently had Kathi as our photographer for our mini-wedding amidst the pandemic. Kathi was professional, personable, flexible, and with us every step of the way with all of the changes. She was quick to answer every text or e-mail and she was so much fun. Her photos were gorgeous! We still haven't stopped receiving compliments on them. They were exactly what we wanted. She also shot our engagement photos and we love them; they are up all over the house. She made our day so special and we can not wait to have her shoot our much bigger wedding next summer!

Sent on 09/07/2020

Kathi Robertson Weddings's reply:

Oh Lindsay! Thank you so very much for entrusting me with your special day. Your mini wedding was just perfection- cant wait to see it published in Ottawa Wedding Magazine! And for the big one next year.... its going to be epic! Hugs to you both . You were so resilient with all the setbacks this year!