Reviews for XO Life Celebrations
Awards
29 User photos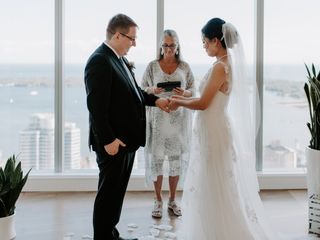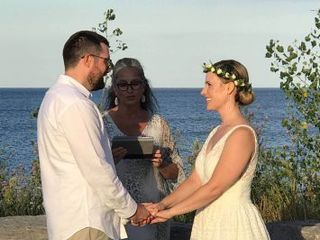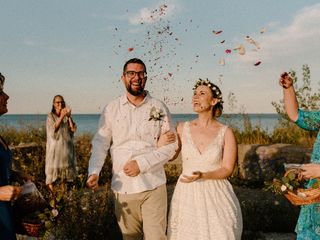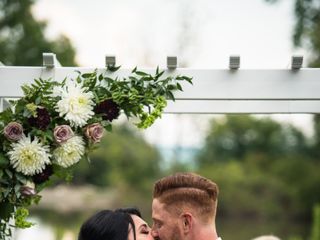 Jo O'reilly · Married on 01/04/2021

Fully Recommend, Professional and caring

Tracy officiate our wedding on April 1st. We had a small ceremony on the beach front. Tracy from start to finish was professional and courtesy and communication was always straightforward and courtesy. My husband and I couldn't of picked an better officiant. We would fully recommend Tracy.

Sent on 14/04/2021

Nora C. · Married on 13/03/2021

Tracy was the perfect officiant!

Tracy was an excellent officiant for our wedding day! While COVID-19 derailed our original big wedding plans, Tracy made the day feel just as special and memorable in an intimate setting. She was professional, prompt, and really captured our values and relationship in the vows and flow of the ceremony. Definitely recommend!

Sent on 20/03/2021

Emily C. · Married on 26/09/2020

Lovely officiant, lovely ceremony, lovely day!

Tracy is a wonderful officiant! From the start she made us feel comfortable and worked with us to build the ceremony we wanted. The pandemic restrictions threw us a few curveballs and she was super flexible and rolled with the punches as we had to adapt to park road closures and toy trains riding by. :) All our friends and family commented on the great job she did and we too were so pleased with how the whole ceremony went. Thank you, Tracy!

Sent on 05/10/2020

Tanya B. · Married on 18/09/2020

Easy to work with, professional, and very flexible!

Tracy did a great job officiating our wedding ceremony! We had a pop-up style wedding which she was able to accommodate and still made it feel very special.

Sent on 04/10/2020

Yasi G. · Married on 12/09/2020

Yasi & Kyle's wedding

Tracy is a caring & loving officiant and has lots of attention to detail. She understood the nature of our ceremony and professionally addressed all concerns and questions. We recommend her services 100%

Sent on 24/09/2020

Daria · Married on 29/08/2020

Amazing experience with Veronica

Veronica officiated our wedding and made our day truly special. Due to COVID-19 impact we didn't know our plans pretty much until the last week of the wedding day. Veronica was very prompt in responding, providing us with valuable materials, helped us craft the ceremony script while working with VERY tight timelines, and overall guided us along the way. Our day just wouldn't be the same without her.
Veronica is a kind, caring, positive, and genuine person. She worked with us to ensure our wedding ceremony was a reflection of us. We are truly grateful!

Sent on 02/11/2020

Michael R. · Married on 20/07/2020

Simple and Amazing

We decided to do an small elopement ceremony in late July downtown Toronto and we found Tracy at XO. Life Celebrations to be our Officiant. Tracy has great communication skills and was always easy to talk to and helped guide us through the whole process, She made it all very easy for us. Her words at the ceremony were so incredibly touching, while it was only for five minutes it was all so very meaningful. We are so grateful we found Tracy. She gets our highest recommendation!

Sent on 15/08/2020

Kayla J. · Married on 14/07/2020

Just get Tracy and stop looking!

Tracy handled our covid adapted wedding with grace. She moved quickly with us as our plans changed and even trekked into a park with us for the ceremony. With little prior meeting, she made our ceremony special and lovely. All our guests commented on how awesome she was.

Sent on 01/08/2020

Priscilla C. · Married on 26/06/2020

Thank you Tracy!! You're awesome

My husband and I would like to thank Tracy and her wonderful family for making our special day so memorable for us. Her attention to detail about every little thing made everything perfect. She was extremely kind and helpful and literally went out of her way to make our wedding day beautiful. We are so glad that Tracy not only officiated our wedding but also helped us with the venue, decorations and everything else! We would strongly recommend her to anyone in a heartbeat!!

Sent on 05/07/2020

XO Life Celebrations's reply:

Thank you so much Priscilla! We were honoured to be able to create the perfect Beach Elopement for you! Making your day special brought so much joy to my family. I could not have done it without the support of some our fabulous local artisanal food establishments here in the Beach Village. They also were very invested in making your day memorable and delicious! Congratulations and we look forward to keeping in touch! XO Tracy

Oli · Married on 15/02/2020

Great collaborator with loads of experience

Tracy was super flexible with how we wanted our ceremony to unfold. We wanted a friend to do the bulk of the ceremony, and Tracy was a great sounding board for how to make a ceremony flow, and helped us create a wonderful atmosphere for our day. I could not recommend her more - she is professional, responsive and really respectful when it comes to what we wanted in our ceremony and what we wanted to be left out.

Sent on 06/03/2020

XO Life Celebrations's reply:

Thank you so much Olivia! It's was such a treat to work with you and Chris! As I said during the ceremony, Adam was a natural and brought such a special element to the experience. I can totally see why you wanted him to lead your special day:) I feel so blessed to have been a part of it!