Reviews for Weddings with Lori
Awards
39 User photos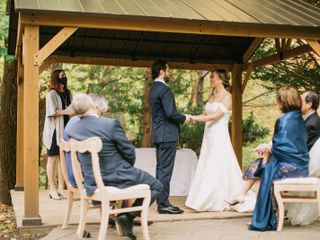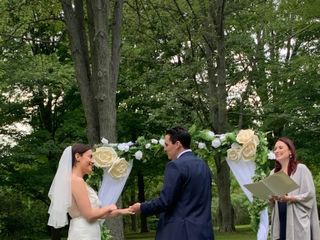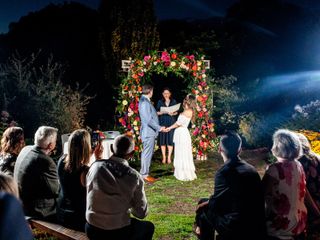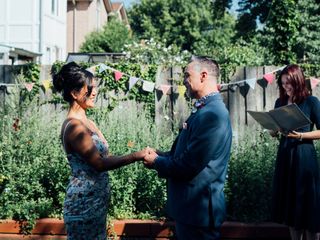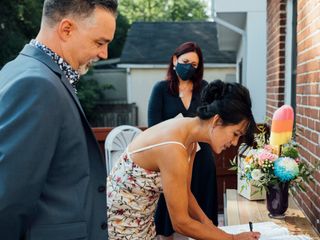 Mayya Makarem · Married on 14/10/2020

Best experience from the very beginning!

Lori was so amazing to work with. She was flexible with our timing, location, and completely adapted with the Covid measures at the time. Not to mention making us feel so special and heard. She performed our ceremony exactly as we'd ever hoped. Thank you Lori!

Sent on 09/11/2020

Weddings with Lori's reply:

Thank you so much for this lovely review, Mayya! I was so happy to be a part of this beautiful day, and I wish the two of you much love.

· Married on 10/10/2020

Absolutely amazing and very accommodating

Lori is an excellent officiant and super easy to work with. Lori was referred to us by my friend and we are so happy we decided on Lori as our officiant.

We first arranged a phone call with Lori where she explained her process and took the time to answer all our questions and concerns. Throughout the process, Lori was responsive to e-mails and answering any additional questions we had.

Then the pandemic hit... Lori was extremely accommodating and worked with us every step of the way. Due to unexpected regulatory changes and venue being closed, Lori worked with us on a new date, new time, and new location, without any hesitation.

With the pandemic, our interest in wedding planning waned - but Lori remained professional the entire time. Sending us e-mail reminders and scripts of the ceremony. In our scripts, Lori even remembered the little requests we had initially spoken about during our first phone call over a year ago and made the changes we wanted without our prompt and reminders. She worked with us until we got the script exactly how we wanted. Lori also sent us reminders about the steps we needed to do to ensure that the ceremony can be performed legally - which was really helpful during wedding planning when there were millions of other things on our minds.

On the day of the ceremony, Lori arrived early and ensured that all the paperwork was in place. The ceremony was performed smoothly and efficiently. Becuase of the pandemic, Lori kept her mask on the entire time and remained physically distanced from us - which was very respectful of our wishes and greatly appreciated! We couldn't have been happier with our decision to have Lori officiate our wedding. Thank you so much Lori so being a part of our day!

Sent on 28/12/2020

Weddings with Lori's reply:

I am really overwhelmed and moved by these words, thank you so much! I loved being a part of your romantic and sweet wedding, there was so much love in that place that day. Wishing you both much happiness and love together.

Taylor Jones · Married on 05/09/2020

Amazing Wedding & Ceremony Experience

Lori was fantastic. Incredible communicator and she orchestrated a beautiful ceremony for us on our special day. We will be recommending her to friends and family. Do yourself a favour and hire this special lady!

Sent on 07/09/2020

Weddings with Lori's reply:

Thank you for these kind words! It was a joy to be a part of your beautiful and happy wedding day. Wishing you both all the best.

Mandy Leon · Married on 22/08/2020

So helpful and accommodating!

Lori helped us navigate our 2020 wedding with her peaceful, calming nature and guided us through the entire process. She was extremely flexible and fluid when our plans were up in the air and kept us on track with arranging the details of our unique vision. She was genuinely excited for us and we could feel her positive vibes shining through as she officiated our ceremony. We are so lucky Lori was there for us!

Sent on 19/10/2020

Weddings with Lori's reply:

Thank you, Mandy! This makes me so happy! You created a truly magical day, your ceremony was right out of a fairy tale! It was a pleasure to be a part of it. Wishing you both all the best.

Dyvie Aquino · Married on 15/08/2020

Genuine and Warm

Beautiful memories were made on August 15th, 2020, thanks to Lori! We met this wonderful human being on Zoom (pre-COVID19), and we knew then that she would be a suitable fit for the vibe that we had originally planned. Fast forward several months, when we decided to go ahead with our wedding (on a smaller scale), we found that Lori was very supportive and flexible regarding our adjusted plans, as a result of the ever-changing phases of the province's re-opening and social distancing rules. Our friends and family members--who were either present at our little ceremony OR viewed the live stream from another location--commented on Lori's genuine delivery and good-humoured nature. Lori's calming presence and warm tone were instrumental in making our day perfect.

Sent on 02/09/2020

Weddings with Lori's reply:

Thank you so much, Dyvie! It was so lovely to be a part of this happy day! I know the two of you have many beautiful adventures ahead! Sending much love.

Jessie Wallace · Married on 02/08/2020

Wonderful Experience with Lori

We had the pleasure of having Lori perform our marriage ceremony on August 2nd. I can not say enough great things about Lori and would not hesitate to recommend her services. Lori married my sister and her husband in 2018 and when I got engaged the following year, there wasn't a question about who we wanted to secure as our officiant. We were so happy to learn she was available for our date, and when COVID-19 hit and our plans were upended, Lori was extremely flexible and accommodating as we tried to figure out what we wanted to do with our plans to be married. Lori provided such a calming and reassuring presence for us on the day of our wedding as we dealt with rainy weather and the regular pre-ceremony jitters. I hope you'll consider her as your officiant if you're reading this and looking for someone to marry you - you will not regret it!

Sent on 10/08/2020

Weddings with Lori's reply:

Thank you so much for these lovely words! It was such a pleasure to be a part of your wedding day, it did my heart good to be in the presence of so much love and joy! Wishing you both, and your families, much love and happiness. And again, congratulations!

Kenzie · Married on 18/07/2020

The perfect officiant :)

Lori is amazing! She is so kind, makes everything so easy, and was super professional about our wedding during the pandemic. She followed all necessary precautions and laws to make us feel safe, while still making sure it was set up how we wanted it to be, using clever spacing and positioning to allow us to get some beautiful photos that didn't make it look like the middle of a pandemic. We're pretty picky about officiant speeches and loved hers. She sent it in advance but no changes were needed. We will definitely recommend Lori to all our family and friends. :)

Sent on 04/01/2021

Weddings with Lori's reply:

Thank you so much for these lovely words! Your wedding day was so beautiful and romantic, it was a joy to be a small part of it. Wishing you both much love and happiness together!

kat t · Married on 29/02/2020

Such an integral part, of one of the most special days

Lori was very prompt and communicative with us before the day and was very open to adjusting phrasing, or taking our jumbled thoughts and making them eloquent. She was always available to touch base if we needed. She explained the logistic things we had to do in a clear way, and is such a warm and calm presence in person. I am very glad she was such a an important part of our day.


Sent on 10/03/2020

Weddings with Lori's reply:

Thank you so much for these kind words! I was so happy to be a part of your special day, and I wish you both all the best, much love and happiness!

Catalina Zbar · Married on 18/02/2020

Wedding with Lori Lytle

We needed something simple, short and sweet, and Lori immediately understood and adapted beautifully to our wishes. Lori was also flexible in her timings and super punctual. Couldn't have hoped for anything more!

Sent on 19/02/2020

Weddings with Lori's reply:

Thank you so much, Catalina! Wishing you all much love, and wonderful adventures ahead! It was a pleasure to be a part of your special day, the stars just aligned! :)

Harsha Venu · Married on 16/02/2020

Happy couple

We were so delighted to have Lori as our wedding officiant. we didn't have any ceremony but just signing of papers but still she made it memorable

Sent on 18/02/2020

Weddings with Lori's reply:

Thank you, Harsha! It was a pleasure to meet the two of you, and I wish you much love and happiness ahead!