Reviews for Someone2MarryU
Awards
75 User photos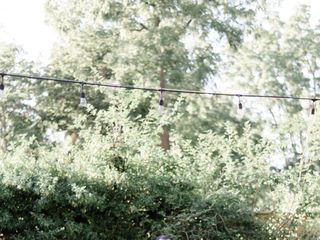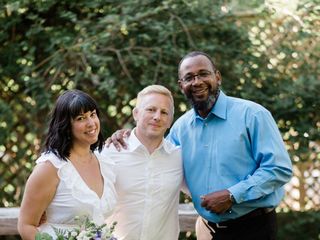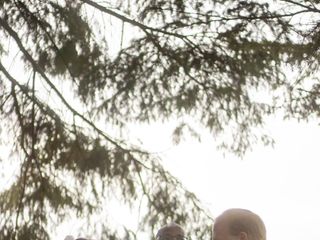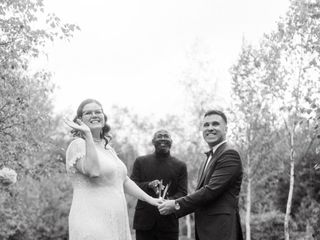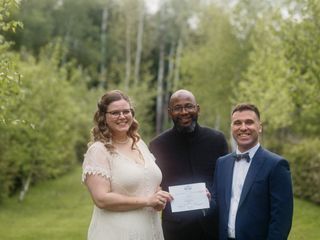 Genny A. · Married on 26/06/2021

Amazing absolutely a beautiful day

Clive was amazing. It was a small intimate wedding with some family he made everyone laugh made bride and groom feel amazing the brides English wasn't the greatest and he had patient and consideration. We couldn't have asked for a beautiful and amazing day . Thank you Clive absolutely recommended . Thank you Clive on behalf of Sandra and Jorge

Sent on 02/07/2021

Someone2MarryU's reply:

Thank you Genny, it was my privilege to share in this beautiful day with you and your family. Had a great time.

Rylee C. · Married on 19/06/2021

Easy, Intimate, and Funny - Definitely a Hit with the Guests!

Clive was great to work with. He was easy to talk to, quickly obtained all the information he needed to perform our service and chose lovely words to say at our small family wedding. He did an awesome job at combining the love-y stuff you expect to hear at a wedding with some comedy to make our wedding ceremony feel both intimate and relaxed. All of our guests commented on how good he was, and how much they enjoyed his service. I would definitely recommend him!

Sent on 13/07/2021

Someone2MarryU's reply:

Hey Guys,

Thanks for allowing me to celebrate with you. I appreciate how easy and gracious you were to work with. All the best

Brooke H. · Married on 29/05/2021

Such a Wonderful Ceremony

Words cannot describe the amazing experience we had with Someone2marryU and Clive. Not only was our experience so personable but it felt so natural and exactly how it was supposed to go.
We are so blessed to have had the ceremony and experience that we did.

Thank you so much,
Brooke and Aston

Sent on 14/09/2020

Helena B. · Married on 28/05/2021

Amazing wedding officiant Clive!

Clive was AMAZING! He went above and beyond during our "Quarantine times" elopement.
The ceremony was personal and funny as we requested! Also very sweet!
We are not from Canada so we had a lot of questions about how the ceremony usually goes - Clive was amazing and answered ALL of our questions and fixed some confusions we had during the ceremony 'on the go'!
Awesome experience overall! Highly recommend!

Sent on 27/10/2020

Someone2MarryU's reply:

Thank you guys. Had an equally amazing time at your wedding. It was cute and quaint and fun all in the same so l will remember it well. Thanks again for the experience.

Clive

Katie P. · Married on 22/05/2021

Pick him!!

If you are looking for someone to marry you. I would pick him he is the best!!

Sent on 10/06/2021

Someone2MarryU's reply:

Thank you Katie. It was worth the ride to Leamington to spend the afternoon with you and your family.

Sydnee · Married on 01/05/2021

Covid Wedding Experience

We were unable to meet Clive in person until our rehearsal, due to covid. However, this was such an amazing experience! The questions he asked to get to know us were so unique and I feel like they really helped make our ceremony personal. Clive was so helpful with helping us plan for ceremony songs, when to get our license, and just making the day run smoothly. He did an amazing job and the ceremony felt perfect because he truly wanted to make it ours and not cookie cutter. If you want your ceremony to be a reflection of you two as a couple and not just your average wedding I highly recommend going with Clive!

Sent on 07/07/2021

Someone2MarryU's reply:

Hey Guys,

Warm sentiments received. Thank you both for allowing me to share in your day. It was intimate and lovely despite the challenge of COVID. Be blessed.

Anthony B. · Married on 27/02/2021

The perfect person for these chaotic times

Clive was so helpful in making sure everything went smoothly despite COVID. He was patient and understanding. Not only was he great during the event, but even before the event he wanted to make sure he got to know us which was a pleasant surprise.

Sent on 11/06/2021

Someone2MarryU's reply:

Hey guys...appreciate the feedback. Had a wonderful time at your wedding. Thanks for the opportunity. Be blessed.

Darling D. · Married on 14/02/2021

Wedding February 14, 2021

Clive was amazing! We loved his ceremony, it felt personalized and he answered our questions through some confusing COVID-19 rules. Would recommend 🥰

Sent on 27/06/2021

Someone2MarryU's reply:

Hey Guys,

Thank for your review and the photo. Glad I was able to help make your day special and memorable. Be Blessed

Dan M. · Married on 29/01/2021

Amazing experience

Was a small wedding outside due to COVID but absolutely loved it was an amazing day and Clive was great and funny but was also presentable thank you Clive from Dan & Holly & the kids

Sent on 07/02/2021

Someone2MarryU's reply:

This was a cute wedding. Almost froze my nookers off standing out there with you guys in the cold but it was worth every moment. Best wishes guys!

Ashley · Married on 13/12/2020

Pandemic wedding

In the middle of a pandemic it was so hard to look on the bright side of things but the wedding brought us light and Clive added the magic we all needed

Sent on 11/06/2021

Someone2MarryU's reply:

Beautiful wedding, beautiful people. It was my delight to be a part of your special day. I believe we kicked COVID in the butt that day. Love is stronger than pain. Bless you.