Reviews for Sarah Bunnett-Gibson
Awards


3 User photos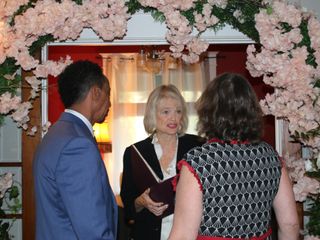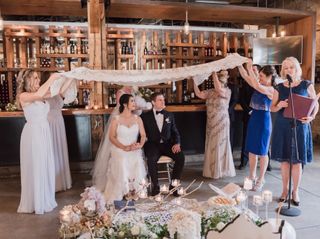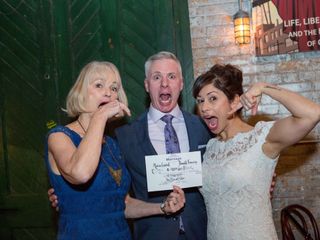 Hayden C. · Getting married on 03/08/2028

Elegantly Detailed!

Sarah's skills are phenomenal- in the midst of all the chaos of planning a wedding; sessions with Sarah seem to transport you a tranquil place. She took the time to get to know us as a couple first; then, tailored our vows to reflect our relationship. Exceptional!!!

Sent on 09/11/2018

Sarah Bunnett-Gibson's reply:

Aren't I flattered! Thank you so much for your appreciation! You two were such a delight to work with. I knew right from the start how much the ceremony meant to both of you and I was so pleased to make you happy. Thank you, thank you!

Laura B. · Married on 12/10/2019

Home Wedding Thanksgiving Weekend

After many hurdles, Abey and I obtained a marriage license the Tuesday before Thanksgiving. As our friends and family were coming for dinner on that Saturday we decided to include a wedding.
The next job was to find an officiant. A friend recommended Sarah and lucky for us she was available. I had a couple of conversations with Sarah explaining our relationship and what we wanted in a wedding.
Sarah took those conversations and was able to make our wedding day so personal and special. She knew who to acknowledge t during the ceremony and made sure everyone felt part of the event.
Sarah worked with us at the event which was an at home wedding with last minute friends, neighbours showing up. There were even a few dogs thrown in for good luck. She kept us both on track and made suggestions to keep things running smoothly. i think she may have even stirred a pot or two and dinner was being cooked during the ceremony.

Sarah is intuitive and kind. She thinks of things a couple may forget, or not even consider. Our wedding was such a happy occasion and a lot of that can be attributed to Sarah's guidance.
Laura and Abey

Sent on 09/01/2020

Sarah Bunnett-Gibson's reply:

All so warm and exciting! With the many last minute touches, and some surprises. You, Laura, decided to host all your friends, family and dogs with a huge Thanksgiving feast! And! Also be the bride at your own home wedding! Amazing. Somehow, you stayed calm, beautiful, and made it appear that it was all no big deal. Hey Laura, it was so fun! And yes, my dear, it was a Big Deal! I loved being part of all the warmth, happiness and intimacy of your wedding day happy vision (you wonder woman!).

Me, very 'thankful" to be part of your Thanksgiving home wedding. Thank you for such a kind and thoughtful review. It was such a pleasure to officiate your ceremony.

With caring,

Sarah

Kristen K. · Married on 05/10/2019

Excellent Officiant

We strongly recommend Sarah. Her seamless and well-organized process ensures that you get a beautiful and unique ceremony that the perfectly reflects the individual personalities of the couple. Several of our guests commented on her friendly demeanor and on how lovely the ceremony was. If you are looking for an officiant, I highly recommend that you meet with Sarah.

Sent on 28/10/2019

Sarah Bunnett-Gibson's reply:

Thank you Kristen! Your wedding day was lovely - with such a warm and friendly atmosphere. We even got a few laughs, didn't we? It was a beautiful occasion at the Albany Club. Wishing you both an incredible married life!

Amanda G. · Married on 14/09/2019

Ceremony that felt like us

Sarah officiated our wedding on September 14th, 2019. We selected Sarah has our wedding officiant after reading many positive reviews on the internet and having our first meeting with Sarah. Although we did not know Sarah personally before we embarked on our wedding planning, Sarah was able to make our wedding ceremony incredibly touching and true to who we are as a couple, which was exactly what we hoped for and wanted in our ceremony. The homework that Sarah provides you to get to know you as a couple is so invaluable to complete and she had the most eloquent way of pulling all of that together to create a beautiful story of our love to share with our guests. Thank you Sarah - we had so many guests sharing with us how much they loved our ceremony and that it felt like 'us'.

Sent on 08/11/2019

Sarah Bunnett-Gibson's reply:

Amanda, I have great memories from your very beautiful and happy wedding ceremony at SteamWhistle. So glad you were able to be outside. Thank you sincerely for your kind and thoughtful words! This means a lot to me. I'm really glad to hear you and Adam enjoyed the process of doing the homework together. Delighted to know the guests enjoyed hearing about your love story! Wishing you both a bright and happy future!

Yvonne · Married on 06/09/2019

Patient and Accommodating

We contacted Sarah within a month of our ceremony after reading countless reviews about her amazing service. We opted for an intimate wedding and really liked the reviews that stated how personalized her service was. The initial phone call was very relaxed. She asked us questions to get a better idea of what kind of couple we are, and she gave us a summary of her work and how she would go about crafting a ceremony uniquely for us. Sarah has been in the business for a long time and her expertise is definitely reflective of that. Once booked, she invited us to her home to go over the details of the ceremony and what to expect on the day. She was kind and patient with all of the questions that we had, and included us in the editing process for the readings that she had written. She also made sure to go over both the readings and itinerary multiple times so that we understood all that was required. With less than a month to go, Sarah made us feel welcomed in her home and prepared for the ceremony. On the day of, her words brought tears to our eyes and evoked laughter from our guests. We would absolutely recommend having Sarah for your ceremony and honestly cannot say enough good things about her service.

Sent on 12/09/2019

Sarah Bunnett-Gibson's reply:

Thank you so much for your review, Yvonne. I am so pleased to have given you a service that you loved! You both had a beautiful wedding day and were fortunate to be surrounded by such a close group of loved ones. I really enjoy doing services for couples with intimate ceremonies like your own - there is something very sweet and sentimental about it, but also something very real. You are both very blessed to have each other in your lives. I know you are going to grow old together in love. Wishing you all the best in the next chapter of your lives!

Sonja · Married on 24/08/2019

Wonderful Ceremony

We were married on Aug 24th and were so delighted that Sarah was our officiant! Her warmth and enthusiasm was apparent at each meeting and
Sarah created the most beautiful service for us, our family and guests haven't stopped talking about it to this day. If you would like a ceremony customized and tailored to both of you, we would highly recommend Sarah to every couple about to embark on the wedding journey!

Sent on 01/10/2019

Sarah Bunnett-Gibson's reply:

Thank you Sonja! I am delighted that you both were so happy with the service. You both are so artistic and it was lovely to see that artsy side in every aspect of your wedding day. You and Kelly have something very special together, and I have no doubt that there are exciting adventures awaiting you. Wishing you many happy things in this new chapter of your lives!

Sadaf H. · Married on 23/08/2019

A warm and friendly service!

Very professional and experienced. Made the day go flawlessly

Sent on 28/09/2019

Sarah Bunnett-Gibson's reply:

Thank you for leaving this review, Sadaf. It was a pleasure to officiate your beautiful wedding day!

Ainsley G. · Married on 03/08/2019

A personalized, unique ceremony!

Sarah officiated our wedding this summer, and created a unique and personalized ceremony that reflected the two of us as a couple. It was the perfect blend of serious and lighthearted, and many of our guests commented on how lovely they found the ceremony. We enjoyed working with Sarah and her assistant, Gloria over the past year of wedding planning, as they were always quick to respond, flexible, and accommodating. Thank you so much, Sarah, for making our day so wonderful!

Sent on 26/08/2019

Sarah Bunnett-Gibson's reply:

Thank you very much, Ainsley! It was such a delight for me to be a part of your wedding day and such a pleasure to work with you both as well. You and Alex make a wonderful couple! I am so happy you were this pleased with your ceremony. Best wishes and so much happiness to you both in this next chapter of your lives!

Louise · Married on 27/12/2018

Sarah Bunnett-Gibson perfect for simple, low-key and informal nuptials

Sarah is highly recommended for couples who wish to have a low-key, informal and simple ceremony. We found Sarah's advertised officiant service on-line a month before our wedding date. All correspondence prior to the "big day" was conducted via email, including the formulation of our personal vows. Our first face-to-face meeting with Sarah was on our wedding day and we found her to be the ultimate professional officiant. She explained the process clearly and succinctly. The ceremony lasted less than 30 minutes and the paperwork proceeded smoothly. In conclusion, our wedding day was a magical experience and Sarah's involvement was a part of making the day one that we will always remember.

Sent on 29/01/2019

Sarah Bunnett-Gibson's reply:

Thank you Louise, you are very kind. I am glad that you and Art had a magical wedding day and am so pleased to have been a part of your special union. Wishing you both an amazing 2019 and a blissful married life!

Amy J. · Married on 03/11/2018

Wonderful and professional!

Sarah officiated our wedding in November and we couldn't have been happier! She really took the time to get to know us and deliver a service that was perfectly "us," and so many of our family and friends commented on how lovely it was and how she really captured the essence of our relationship. We highly recommend Sarah!

Sent on 29/01/2019

Sarah Bunnett-Gibson's reply:

Amy, thank you for your review! I am happy that you are happy! You and Andrew were such a wonderful couple and I enjoyed writing you a special service. Wishing you both a beautiful, happy marriage!