Reviews for Officiant on the go
Awards
37 User photos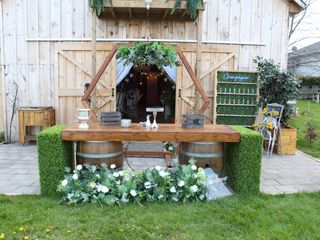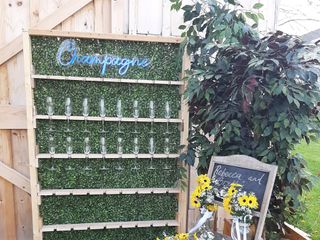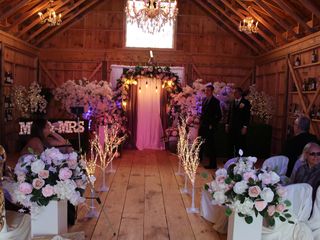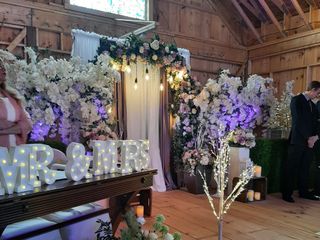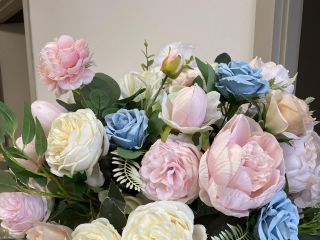 Rebecca A. · Married on 15/05/2021

Amazing Wedding!

Marlene was nothing short of professional and excellent to work with, especially during these hard covid times! Planning a wedding in the middle of a pandemic was not easy in the slightest! Everything we had set in stone pre-covid was torn down, so I reached out a few months before our wedding as a last minute decision as we could not have our giant party as planned. She was amazing! She was so responsive, answered any questions I had, she was easy to work with and had so many ideas. We had a set budget and she worked with that, even put a little more into it than I had expected. She made everything so beautiful for the day of, it could not have been a more perfect, intimate ceremony!

Sent on 17/05/2021

Officiant on the go's reply:

Thank you Rebecca

You and Brett were such an awesome couple and so easy to work with. Thank you for giving me the opportunity and I wish you both great success and happiness in your married life.

Meera · Married on 03/04/2021

Over the Moon about our Wedding!

We are so glad we went with Marlene and had our wedding at her little chapel that backs on to a vineyard! Marlene was easy to work with and offered great suggestions. Especially during these difficult times, it's important to have someone that is willing to listen and is very flexible. We loved our Covid wedding and highly recommend this venue!

Sent on 11/04/2021

Officiant on the go's reply:

Thank you Meera. It was a pleasure. You are amazing and easy to work with. Hope to see you and your husband again

Cynthia · Married on 12/12/2020

Best officiant

Marlene walked us through it from the beginning to the end. She answered all my many questions, and guided me through every part of the process. I cannot say enough how amazing she is. She made our ceremony so special, and fun, and exactly a reflection of who we are and what we wanted. It was better than I could have ever hoped for or imagined. If you need an officiant, she is ,look no further. it was all on zoom, and still you could feel every emotion. We all loved her beautiful decorations. All of them are handmade. It all shows how dedicated she is. Thank you marlene for making our big day memorable.

Sent on 08/01/2021

Officiant on the go's reply:

Thank you Cynthia

You and your husband and your dog were so awesome. All the very best in your married life

Colin G. · Married on 08/12/2020

Very kind and talented

Marlene is the most talented and super kind. Her prices were very reasonable. I gave her a budget and she made sure my ceremony was most memorable. I highly recommend her.

Sent on 20/01/2021

Anida M. · Married on 19/11/2020

Rustic themed micro wedding

My sister had her wedding here with Marlene this past fall, it was my job to find a venue within our budget and theme. Marlene was exceptionally helpful especially considering the situation with Covid-19 and bans on large gatherings. She worked with us to create the right package. We were able to find the officiant, venue, and decor all together. She even arranged for champagne and cake! Thank you Marlene, everything was stress free and perfect!

Sent on 20/01/2021

Winnie G. · Married on 31/10/2020

My dream wedding!


We were blessed to have a beautiful soul Marlene officiate and plan our wedding for us😇 You and Ryan were amazing for planning the event and not forgetting the minute details that added a personal touch to our wedding 💒 Her place was amazing, we could not have imagined anywhere better than this for our wedding! Thank you again Marlene for making our dreams come true! You're an angel! Keep up the good work!!

Sent on 03/11/2020

Officiant on the go's reply:

Winnie. Thank you for the beautiful review. I feel blessed to have such an opportunity to get people like you married. Appreciate everything

Tasha M. · Married on 24/10/2020

Helpful Officiant in Niagara on the Lake

I met with Marlene to discuss officiant services for my wedding next year. She did a very thorough consultation and and her prices are quite reasonable. She gave me lots of great wedding ideas and a list affordable venues within my budget that are in the area. I look forward to her officiating my wedding next summer!

Sent on 11/11/2019

Arlen P. · Married on 24/10/2020

Wonderful, kind, friendly and flexible!

I had a wonderful experience with Marlene Gallyot for my wedding ceremony. She was extremely helpful in the planning and executing of my picture perfect day.
She was very flexible and understanding, and helped me plan everything from flowers, to cake and more. She gave us a variety of options to suit our interest and budget.
Her location with a small chapel is so sweet and charming, and she has lovely decorations to accompany the beautiful scenery. It is very charming and intimate.
Although we planned everything fairly quickly, Marlene did an amazing job planning and decorating. When it came to our day, everything was just perfect!
She communicated clearly with us, and we felt like we were always on the same page.
I would absolutely recommend having an event at her location!

Sent on 29/10/2020

Officiant on the go's reply:

Thank you for your beautiful review. It was such a pleasure meeting you and your husband and getting you both married.

Jessye J. · Married on 03/10/2020

Best day of my life

Marlene was amazing and extremely helpful throughout the planning process even though it was being navigated through COVID. She knew exactly what we wanted our wedding to be like even before we told her. The entire wedding was far beyond our expectations and she really puts love into her work. If your looking for an amazing wedding experience go to Marlene.

Sent on 14/10/2020

Jordan K. · Married on 08/08/2020

Nothing could have been better

I wish I could get married again for the experience Marlene gave us. From communication before to decor , professionalism , food, staff, it was the most perfect wedding I could ever imagine. She has a true passion for doing this and make you feel like you've known her your whole life. A lot of people are nice but Marlene was amazing. Highly recommend , amazing property , amazing people

Sent on 15/08/2020

Officiant on the go's reply:

Thank you for your review. You and Samantha were such a pleasure to work with. Thank you for giving me the opportunity to be part of your special day. I wish you both nothing but the best.