Reviews for Meaningful Ceremonies
Awards

13 User photos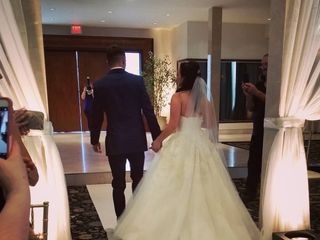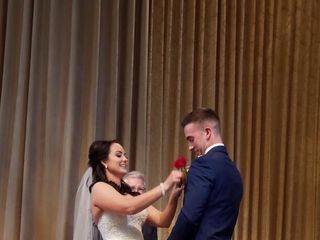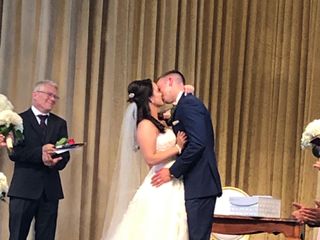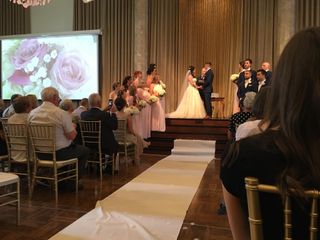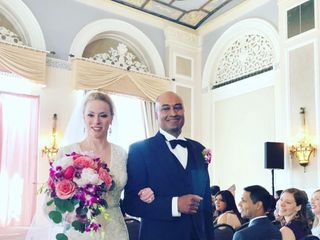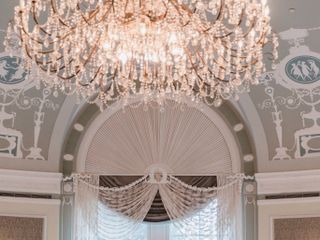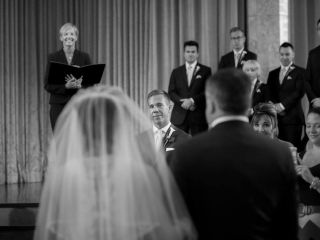 Amanda Schulz · Married on 29/09/2018

The perfect day!

If you are on the search for someone to officiate your wedding, stop. There is no need to look any further. Tammy did an excellent job. We had so many guests tell us what a beautiful ceremony we had and how amazing Tammy was. Many people told us it was the best ceremony they had been too. She made everything so easy and comfortable for us, we couldn't have asked for a better experience. Thank you so much Tammy!

Sent on 04/10/2018

Meaningful Ceremonies's reply:

Amanda and John - there were so many sweet things about your wedding ceremony! The three little sweeties that were your flower girls and ring bearer - so shy, and they were perfect when they needed to shine. The love that every person in that room could feel when you said your vows and how amazing everyone looked. So happy to have been a part of it :)

Brittney · Married on 29/09/2018

Weight off our shoulders!

Our wedding ceremony was easily the least stressful part of our wedding day, thanks to Tammy's flexibility, creativity and professionalism throughout the planning process. She worked with us to ensure that our ceremony was personalized and meaningful to us. We would definitely recommend Tammy!

Sent on 15/10/2018

Meaningful Ceremonies's reply:

Brittney and Matt - it was so very clear how much your ceremony meant to the both of you! I am so glad it felt so personal. The U of A Gardens was a beautiful back drop to a marriage journey that literally began when you are children. How sweet!

Daina Bonnah-Vink · Married on 15/09/2018

Tammy was awesome!

Tammy was a great officiant who explained the process, helped us write our perfect ceremony, and made everything easy and fun. She was positive, funny and a great person to put in charge of our special day. She asked us what we wanted, but also suggested different ideas to help us along. I would recommend Tammy to anyone.

Sent on 09/10/2018

Meaningful Ceremonies's reply:

Daina and Lowell - you are an officiants dream couple - didn't let the fact that there was snow on the ground on September 15th for gosh sake - make a bit of difference to the loveliness of your ceremony. We seamlessly moved it inside and it was perfect! Your dancing groomsmen were hilarious! I always love to laugh when performing ceremonies :). Thanks for making me a part of it.

Jenilee Buhler · Married on 18/08/2018

Backyard Wedding

Tammy took the time and effort
in getting to know my husband and I to create the ceremony we had been dreaming of. She was a very personable and professional officiant that helped make our day as perfect as it was. She was a pleasure to work with!

Sent on 24/09/2018

Meaningful Ceremonies's reply:

Your exquisite backyard ceremony was a feast for the eyes. So many details perfectly executed. The warmth of your friends and family so apparent. It was a pleasure to be a part of it!

Kailee Brownbridge · Married on 04/08/2018

Perfect Officiant for a Perfect Day

Tammy was incredibly lovely to work with. She was organized, well-spoken, and genuine. We loved that Tammy created a beautiful ceremony for us that incorporated our love story. She also gave us a folder with all of our wedding documents and copy of the ceremony after the wedding. We would HIGHLY recommend her!!

Sent on 16/08/2018

Meaningful Ceremonies's reply:

Hi Kailee and Tim - such a lovely setting, gorgeous wedding party, stunning bride and groom....... my favourite part was when your fur baby, Bean the sweet golden retriever came up the isle with your groomsmen! It was the cherry on top of a truly memorable wedding ceremony. Loved being a part of your special day! Say hi to Bean :)

Sam K · Married on 28/07/2018

Married Couple

To Tammy,

We wanted to send a big thank you for all of your help and support through the ceremony process. Your professionalism is second to none and we really enjoyed your friendly demeanor. In conjunction to the above, we thoroughly appreciated your personable touch and encouraging tone at the time of our vows - you helped to calm us down and relish in the moment.

You were such a joy to work with and helped make our day that much more special. We will never forget your contribution and are so thankful to have had you as part of our Wedding.

We wish you all the best and will be recommending your services to all of our friends and family.

Thank you again!


Sent on 12/08/2018

Meaningful Ceremonies's reply:

Hi Sam and Christina - you were such a pleasure to perform your ceremony! Your ceremony was a so lovely. It was so obvious what a special moment in time it was for you both. Thank you for making me a part of it!

Rawdah · Married on 20/05/2018

Amazing service

We recently got married in Edmonton and Tammy was our marriage officiant. From the very beginning, we felt comfortable and welcomed by Tammy. She walked us through our ceremony options and was willing to make it a meaningful and cherished experience for us! I would highly recommend Tammy for any engaged couple! 100% all the way :)

Sent on 26/05/2018

Meaningful Ceremonies's reply:

Nabiha and Dougal, it was such a pleasure to be a part of your nuptials at the lovely Oasis Centre. It was a spectacular day and your ceremony was a real reflection of the two of you! Lovely!

C Winegarden · Married on 19/05/2018

Interracial Perfection xoxo

I came upon Tammy at my Bestie's wedding in which I was a Bridesmaid and really enjoyed the way Tammy work with my friend to deliver the perfect ceremony for them. When I then got engaged, there was no hesitation at all in considering who I wanted to have as our Officiant - clearly it was Tammy. Tammy customized our interracial ceremony perfectly, I think she was even prepared to catch me if I fainted (thankfully not needed). She started our perfect and beautiful day with such professionalism and care; she set the standard for the whole days events which we truly appreciate.

Thank you Tammy for all you did for us and starting us off on the right foot, it was spectacular!!

Sent on 21/06/2018

Meaningful Ceremonies's reply:

It was such a pleasure to officiate your ceremony Christine and Sameer. I know your day was filled with elements from both sides of your family - which in itself made it an unique wedding day! The Fairmont MacDonald was the perfect backdrop for your gorgeous dress and Sameer's dashing suit :). I loved sharing details about Sameer's romantic engagement caper too!

Chris · Married on 12/05/2018

Fantastic Officiant!

Tammy was an amazing officiant. She made the process really seamless and has a great system for personalizing the ceremony as much (or as little!) as you'd like. She was fun, responsive, and professional.

Sent on 21/05/2018

Meaningful Ceremonies's reply:

Chris and Kaitlyn - it is always so nice to work with couples who care so deeply about their ceremony. Every piece really felt authentic to the two of you. Such a pleasure to be a part of your big day!

Allison · Married on 18/02/2018

Modern officiant for a modern wedding

Tammy was simply phenomenal. We are a modern couple who wanted a modern ceremony to celebrate our commitment. The combination of Tammy's own words plus our individual vows, gave our ceremony the intimate and individual feel that we were looking for. I was nervous about the lack of rehearsal, but her professionalism and ability to turn our phone conversations and emails into reality on the day was more than we could have hoped for. We would recommend Tammy to future couples who are looking to celebrate both the day and the marriage. The ceremony and her words will be cherished in our home for years to come. Love, Alli + Brayden

Sent on 24/04/2018

Meaningful Ceremonies's reply:

Alli and Brayden - your ceremony was such an amazing example of how a small intimate ceremony can be so beautiful! Your venue was remarkable: all of the exquisite touches and of course the two of you. A modern couple with a contemporary vision for their wedding day. So glad you loved your ceremony and thank you for choosing me as your officiant.