Reviews for Meaningful Ceremonies
Awards

19 User photos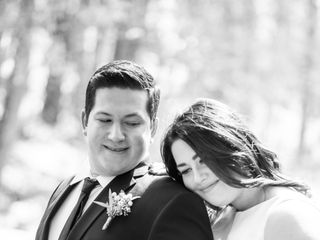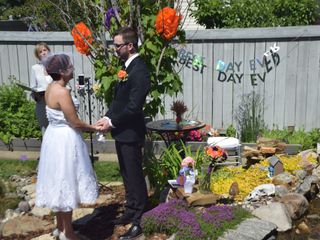 Featured

Shelby C. · Married on 04/07/2020

Our Fairy God Mother

We had planned to get married in July of 2020 but ended up getting married April 11th of 2020 because of Covid-19. Though the process of changing the date was stressful, we view Tammy as our fairy god mother. Without her flexibility, professionalism, and her gigantic heart, we would not have had the most perfect day. From the very beginning, she was so open to our ideas and plans, and when it came to asking her to officiate our new wedding date 2 weeks before the date, she stopped at nothing to ensure our day was perfect.

We cannot recommend Tammy enough; her level of diligence, attention to detail, and professionalism is unmatched by anyone we have ever spoken to.

There will always be a very special place in our hearts for Tammy, she is such a compassionate and loving woman.

Sent on 07/05/2020

Meaningful Ceremonies's reply:

Shelby and Ryan - I know this Covid-19 thing has really thrown couples for a loop. What I love about your story is how you handled the change from your big summer wedding plans to the winterish day in April.

What didn't change was the love between you when you shared your vows. What didn't change is how great you both looked in your Wedding regalia, surrounded by Mother Nature. What didn't change, is starting you married life together - the very most important part! I was so happy to be a part of it. Thank you!

Sophie F. · Married on 03/10/2020

Perfect Ceremony

Tammy was great! She was super quick to respond and provided a great sampling of ceremonies and readings to choose from. Tammy was very flexible and even with having a change in venue she was very accommodating. Our ceremony was exactly what we wanted, it felt very personal and apparently many guests "were romantically touched by it".

Sent on 13/10/2020

Meaningful Ceremonies's reply:

Sophie and Steven - it was so much fun to create your funny and romantic love story! Clearly your guests loved it :)

I loved your Love Story. Your willingness to just go with the flow under COVID implications resulted in the perfect venue on a perfect fall day! Thank you for making me a part of it.

Warmly,

Tammy

Stan B. · Married on 22/08/2020

Caring and Personal

Tami was a wonderful support in our journey. We appreciate how responsive and flexible she was. She truly cared and made our day special. I would highly recommend her.

Sent on 31/08/2020

Meaningful Ceremonies's reply:

Stan and David. What a lovely afternoon ceremony! Surrounded by people who cared so much. Your vows were amazing - all of it perfect.

Such an honour to be a part of it. Thank you!

Lindsay · Married on 22/06/2020

Personalized Ceremony

Tammy was amazing to work with. She was so helpful in providing us with the tools to create our customized wedding ceremony that was special to us. Even as we managed the uncertainty of Covid-19, Tammy continued to ensure us she would be with us on June 22 to marry us. This was a huge relief as there was no many changes and uncertainty leading up to the big day. She was very personable, friendly and helpful. I highly recommend Tammy as she made the entire experience so easy and personal to us. She is a wonderful, caring person, who looks to ensure your wedding is exactly what you want and captures the couple. Thank you again Tammy for all your guidance and support. ~ Anders & Lindsay MacPherson 06.22.20

Sent on 25/06/2020

Meaningful Ceremonies's reply:

What a beautiful day it turned out to be! Lindsay, your vintage wedding dress was so unique and it suited you to perfection. I loved how you had turned the backyard into a colourful oasis complete with a babbling brook. You and Anders standing in the middle of it all saying your vows - wow! One of my favourite parts of the ceremony was when your adoring dad brought you to Anders. Summer 2020 has brought some challenges - but intimate, beautiful, meaningful ceremonies still reign! Thank you for making me a part of yours. All the very, very best to you both!

Brittany · Married on 30/11/2019

Felt like Home

Tammy made my better half and I so comfortable and made sure everything flowed. The ceremony was so personalized and made it feel like we were all family.

Sent on 02/12/2019

Meaningful Ceremonies's reply:

"Made if feel like we were all family" - what a lovely thing to say. In that beautiful and intimate space it did feel like we were all family. Thank you for making me a part of it. Thee most gorgeous decoration was you in your Wedding Dress, Brittany. It was so clear how much the ceremony meant to you both.

Kali K. · Married on 02/11/2019

Excellent Officiant!

Tammy was kind, clear, and made planning our entire ceremony easy and enjoyable. The whole process of wedding planning can be overwhelming, but she really eased our minds. She did a lovely job when it came to the actual ceremony. If I ever get married again (haha) I'll call her.

Sent on 08/11/2019

Meaningful Ceremonies's reply:

The thing I loved about your ceremony most is when your sweet little guy, Dawson joined us at the front to be with his Mommy and Daddy just as they were saying their vows! What great photos that would make. Your ceremony was simple and sweet and really felt like the two (three) of you :). Thank you for choosing me to be a part of this special moment in your lives. PS - wedding officiants are never looking for repeat business ha! ha!

Laura K. · Married on 19/10/2019

11/10 stars- the best!

Tammy was amazing! We absolutely loved her. She was so professional and knew exactly what do to to ensure a perfect ceremony and it was. She was super easy and friendly to deal with. She was also very organized and able to corral people during the rehearsal!
The ceremony was so great as she added in a cute little story of us and how we met.

Sent on 23/10/2019

Meaningful Ceremonies's reply:

Hey Laura and Phil - I had so much fun performing your ceremony:) Your groomsmen had me in stitches before we started! Phil was so sweet and sooo nervous, waiting to see his gorgeous bride. Good thing I specialize in nervous grooms :). I know your whole day would have been filled with love and laughter. Wishing you both all the very best.

Kristy C. · Married on 19/10/2019

Perfect ceremony

Tammy was very helpful and made our ceremony very special. She guided us every with every step. She had many options ready for the type of ceremony we wanted (short and sweet) or if we wanted something different she would work with us. We aren't the types to write our own vows or do anything elaborate so we went with what she had and it was perfect. Our ceremony was one of the most special moments of my life.

Sent on 29/10/2019

Meaningful Ceremonies's reply:

Hi Kristy and Joe- those words are music to an officiant's ears. "our ceremony was one of the most special moments of my life". It was so heartwarming to witness how much your ceremony meant to you both. I love when couples are just sooo in the moment - as you two were. Thank you for making me a part of it!

Shandy W. · Married on 26/09/2019

Tammy Was Wonderful

Tammy made our ceremony memorable and personal. She was incredibly flexible and helpful leading up to our wedding day, she pulled together a bunch of beautiful outlines for us to choose from or add to and was very receptive of my ideas as well. On the day of my wedding it was hectic and windy/rainy/cold and she was perfect at tying everything together and leading our guests' attention. I definitely reccomend Tammy and Meaningful Ceremonies!

Sent on 06/10/2019

Meaningful Ceremonies's reply:

Shandy and Tarron - we were not going to let a little rain, wind and freezing cold weather put a damper on you ceremony. So many parts of your ceremony to love. Tarron giving Kieva the locket was absolutely so sweet. Your wedding party were such good sports to be in that weather. The warmth of family and friends made all the difference.

Kelsey · Married on 07/09/2019

Tammy @ meaningful ceremonies

I'm so glad we hired Tammy as our officiant. She took all the stress out of the ceremony and had great ideas for us. We really had no idea where to start with a ceremony, but Tammy took care of everything. I can't recommend her enough!

Sent on 19/09/2019

Meaningful Ceremonies's reply:

Thanks so much Kelsey and Kevin! What a beautiful day at Hastings Lake Gardens. Turns out I knew some of your family, which is always sweet for me :). It was so fun to tell your love story, too. All the very best to you both!